Updated as of Nov 2017
The Chanel Flap Bags have been one of the most coveted bags of all time and comes in two classic styles, the Reissue 2.55 and the Timeless Classic flap bag. In the 1920s, Coco Chanel has designed the classic flap bag to make her hands move freely during social events. As she made her return to the fashion industry she has redesigned the flap bag for modern women, which was released in February 1955, hence, the name "2.55". Over the years, these two flap bags have been the brand's signature bags. There have been different variations of these two flaps, the Reissue 2.55 and the Timeless Classic Flap bag. 
Summary of Differences
The closures are different as the Reissue uses a 'Mademoiselle' turnlock, while the Timeless Classic uses a double 'CC' turnlock closure
The leather typically is more marbled or given the worn-in look on the re-issue, sometimes appears metallic
The chain on the Reissue is not interwoven with leather compared to the Timeless Classic, (a summary of the different Chanel chains can be found here).
Slight sizing differences for both, see below
Summary of Similarities
Pricing for both bags are along the same lines so the decision to buy is mainly based on style
Both have been made in gold and silver hardware
The bags appear slightly different in vintage, namely both were less rounded than the current iterations
A large double CC will typically appear on the second flap in the interior pocket; although, certain sizes such as the Jumbo Vintage 2.55 CC bags did not have a second interior pocket.
Chanel Reissue 2.55 Bag

The Chanel Reissue 2.55 Bag is a quilted flap bag that features a Mademoiselle turn lock and has an all metal chain. The Reissue 2.55 bag is available in different kinds of leather like Patent, Python, and Alligator, but the most common is the Aged Calfskin. It is available in four sizes, 224, 225, 226 and 227. There used to be a 228 size but has been discontinued in 2008.
Style, Price & Size
| Style | Price | Size |
| --- | --- | --- |
| Chanel Reissue 2.55 224 Bag | $5,100.00 (USD) | 5.7" x 7.9" x 3 |
| Chanel Reissue 2.55 225 Bag | $5,400.00 (USD) | 6.3" x 9.4" x 3" |
| Chanel Reissue 2.55 226 Bag | $5,900.00 (USD) | 6.7" x 11" x 3.3" |
| Chanel Reissue 2.55 227 Bag | $6,400.00 (USD) | 7.5" x 12.6" x 3.7" |
Chanel Timeless Classic Flap Bag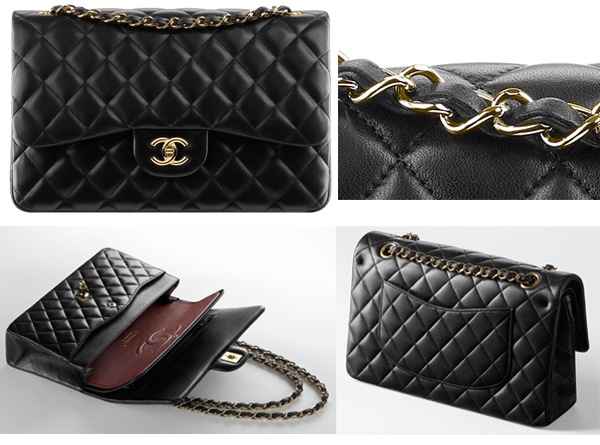 The Chanel Timeless Classic Flap is another quilted flap bag which features the interlocking CC closure. It has the leather interwoven chain handles. The Timeless Classic Flap has a modern appeal, while the Reissue has a vintage look. It has also been made available in different materials, the most common are the Lambskin and Caviar. Available in five sizes, Mini, Small, Medium, Jumbo and Maxi.
Style, Price & Size
| Style | Price | Size |
| --- | --- | --- |
| Chanel Timeless Classic Flap Mini Bag | $3,300.00 (USD) | 5.5" x 6.5" x 2.5" |
| Chanel Timeless Classic Flap Small Bag | $5,100.00 (USD) | 5.7" x 9.3" x 2.6" |
| Chanel Timeless Classic Flap Medium Bag | $5,400.00 (USD) | 6.3" x 10" x 3" |
| Chanel Timeless Classic Flap Jumbo Bag | $5,900.00 (USD) | 7.9" x 11.8" x 3.9" |
| Chanel Timeless Classic Flap Maxi Bag | $6,400.00 (USD) | 9.1" x 13.4" x 3.9" |
Source: Chanel