Mini bags are still very much in trend. Now that's it's almost Summer season, the mini bag is a great accessory for casual trips or evening events. The most iconic handbag from Dior, the Lady Dior has two mini variations to choose from. We have made a comparison between the Mini Lady Dior and Micro Lady Dior bags. These two bags may look the same in its appearances but the space and size are very different from each other.
Check out these photos from fashion blogger/stylist Hanneli Mustaparta carrying the Lady Dior Mini and Micro bags on separate events.

Here's a comparison picture between the two tiny bags from Dior.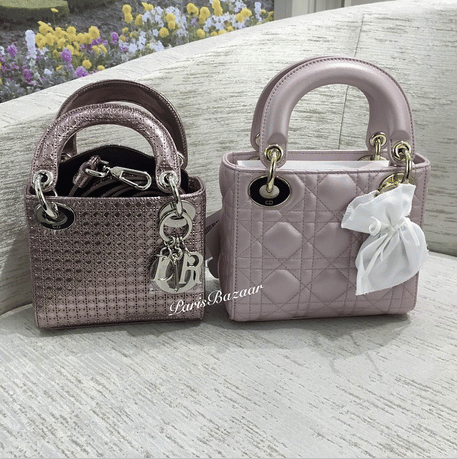 Lady Dior Mini

Measuring at 6.7" x 5.9" x 2.8", the Lady Dior Mini Bag can carry essentials like small wallet, phone, sunglasses and keys. The bag includes a removable shoulder strap. Depending on the bag design, the strap comes in chain or leather. The Lady Dior is available in a variety of designs, from the iconic Cannage pattern to embellished and sequinned jacquard. The Lambskin Lady Dior is priced at $2,900.00 (USD) for the leather strap and $3,100.00 (USD) for the chain strap.
Lady Dior Micro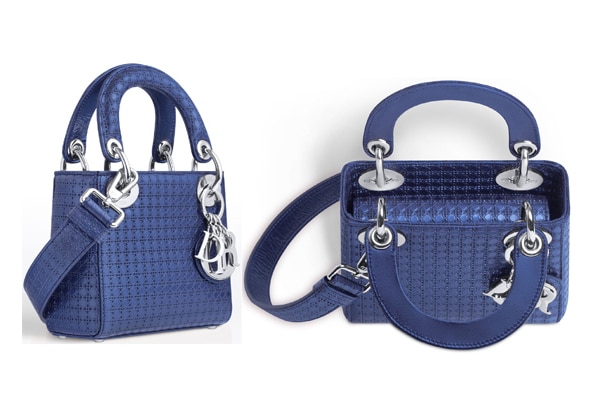 The Lady Dior Micro Bag 5.7" x 4.7" x 2.4" is available in different designs for Spring/Summer and Pre-Fall 2015 Collections. Lambskin leather in pop of colors like Neon Yellow, Pink, Red and Blue are available this season. Also new is the perforated Lady Dior which comes in metallic colors featuring the "micro-cannage" motif. The micro size is obviously very small and can only fit few items like phone, lipstick and keys. The bag comes with a removable thick strap. The Lady Dior Micro Bag in Lambskin is available for $2,100.00 (USD), while the Metallic Perforated is at $2,350.00 (USD).
Conclusion
Although the Lady Dior Micro Bag is cheaper for few hundred dollars than the Mini size, the Mini size still wins this round. It can hold more of your basic essentials compared to the Micro which is so small, the things you can bring are very limited. Both bags presents a classic and timeless style though, as they are both elegant for day and night use.