We hope you love the products we recommend! Just so you know, when you buy through links on our site, we may earn an affiliate commission. This adds no cost to our readers, for more information read our earnings disclosure.
For this new version of Bag Versus, we have compared two Fendi handbags, the new Dotcom bag and the classic Peekaboo Bag. Both bags features a top handle with a structured shape. These two tote bags are perfect for everyday use with spacious interior and versatile design. Let's check out the difference between the two.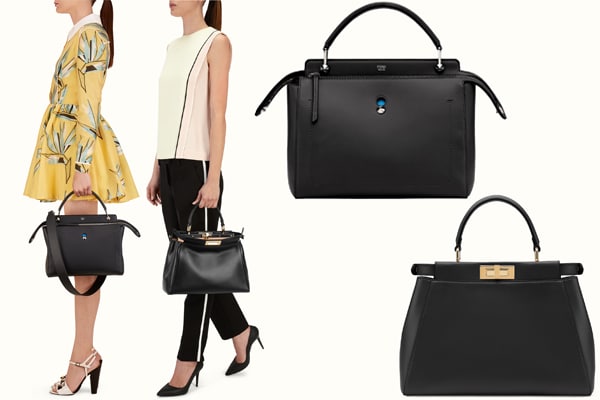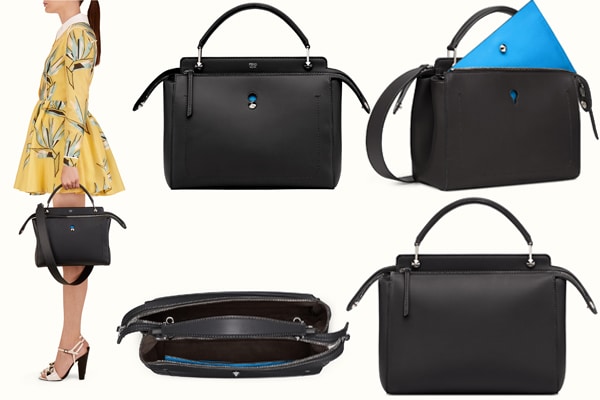 The Fendi Dotcom Bag is the brand's latest design. Introduced for the Resort 2016 Collection, its unique feature is the contrasting removable pouch which has a metal stud, visible on the bag's exterior, hence the name Dotcom. This pouch can be used on its own, as a clutch bag. The Dotcom Bag includes a detachable shoulder strap. It has two zipped compartments and 2 internal flat pockets. It is currently only available in one size, which measures at 9.5″ H x 11.8″ W x 5.5″ D. Retails for $2,400.00 (USD).
The Fendi Peekaboo Bag has been one of the brand's most popular designs. It first came out for Fendi's Spring/Summer 2009 Collection. Even after seven years, the Peekaboo Bag has still remained its popularity. The Peekaboo comes in various sizes, Micro, Mini, Small, Medium and Large. It has been made available in different kinds of materials, Calfskin, Python, Fur, Shearling to name a few. The bag has a twist lock closure, and can be left open to reveal the bag's interior which is also available in a variety of styles. It includes a single removable/adjustable shoulder strap. The Medium size measures at 10 ½" H x 15 ½" W x 6 ½" D and retails for $3,750.00 (USD) for the regular calfskin.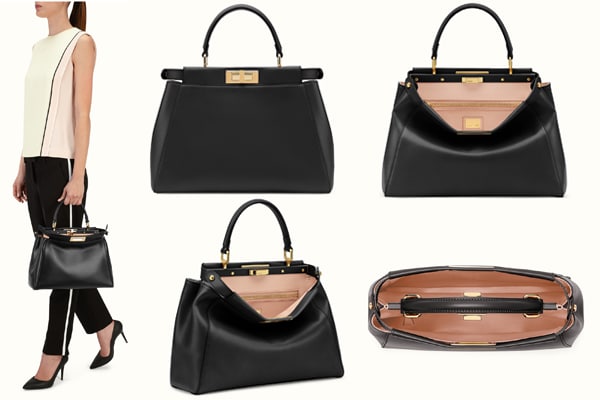 Conclusion
The Fendi Dotcom and Peekaboo Bags are both fashionable and functional tote bags. However, between the two, the Peekaboo wins the round. The Peekaboo Bag is an iconic piece, which has a classic and timeless design. The bag's unique features make it a more stand out show piece than the Dotcom. Also, there is a variety of designs and sizes to choose from, depending on your style.