If you're wondering what the best and most trustworthy online shop where you can buy designer bags with confidence is - we're here to help you out.
Whether you're at your first purchase or a long-time collector, this article is for you.
The most important aspect to consider when buying luxury designer bags is the authenticity, price, condition, refund policy, and customer service.
We looked at all these factors and here are some things to keep in mind.
It's crucial to ensure that the shops you're buying from offer authentic designer bags. Look at reviews, their about page, and their contact page.
Make sure they have a real address and phone number you can reach out to.
The price is also important when buying designer bags - if you see incredibly low prices or "too good to be true" offers, it may be a scam.
Designer bags are expensive and rarely - almost never - you can find them "new" or "good as new" at a discount price.
If you're interested in pre-owned designer bags, look carefully at the photos and read the description to see if they have marks, scratches, or other issues. A good website will attach plenty of photos where you can see the bag from every angle.
Customer service is extremely important when it comes to buying such expensive products. You should be able to call or chat with a REAL human being, not with a bot, who can answer any questions you may have regarding the item you're interested in buying.
We did all the research for you, and below we're recommending the very best online shops you can buy your next gorgeous bag.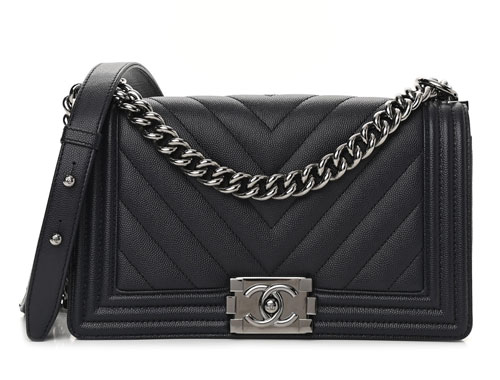 Caviar Chanel Boy Bag
Caviar Chevron Quilted Medium Boy Flap Black
Fashionphile is our number one choice when it comes to buying and selling pre-owned designer bags.
The variety is immense and they are a trustworthy and serious company. Before any bag is published for sale, their team of experts verifies everything: authenticity and condition.
They have an interesting product condition "rating" system: from giftable (which means, as new with the original box and everything) to flawed (which means in overall good condition, but with some wear marks that are very noticeable).

The shipping is free in the United States and you have a return policy within 30 days of the purchase date.
---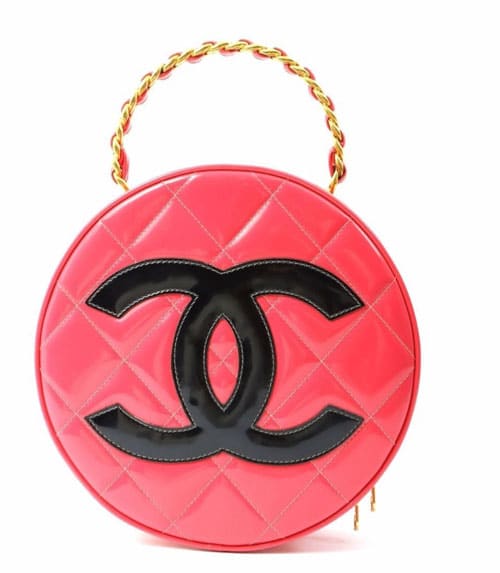 1995 Diamond Quilted Bag
1995 CC diamond-quilted vanity bag
---
Farfetch is another great site that will offer you the ultimate luxury shopping experience for pre-owned bags.
Their selection of designer bags is huge with Dior, Chanel, Hermes, Prada, Celine, and other luxury brands.
It's also a great place to sell the bags that you don't use anymore.
---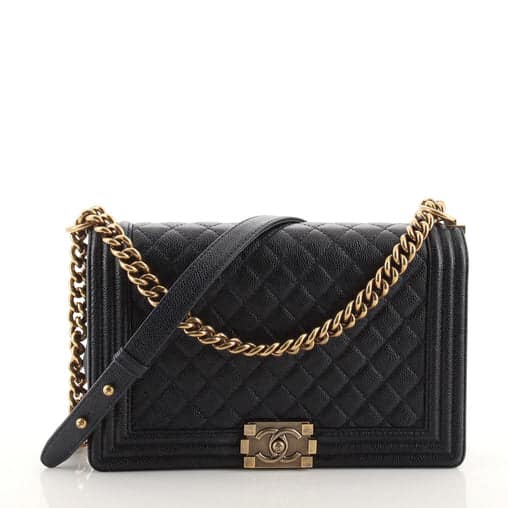 Boy Flap Bag Quilted Caviar Gold
Chanel Boy Bag Medium
---
With brands like Louis Vuitone, Celine, Chanel, Bottega Veneta, Hermes, Goyard, and dozens more - Rebag is another favorite of ours. You can be sure everything you buy there is authentic and verified by their experts.
They do ship internationally and offer returns in the US, as long as the items are returned in the same condition (which is of course, fair). Their customer service is fantastic, so you can be sure you're being offered the best treatment as a customer.
---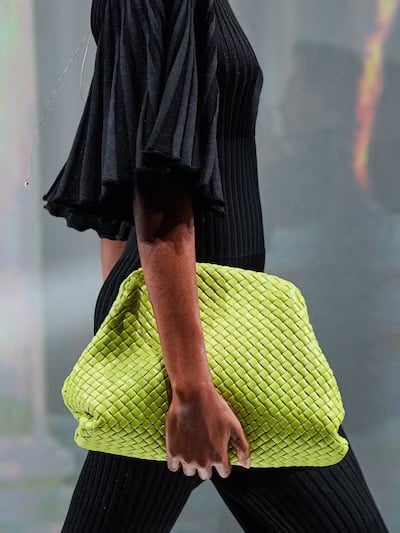 Founded in Florence, Italy, in 1930, Louisvisaroma is a great place to buy your next bag, as it offers an exclusive selection of new collections from over 600 established designers.
From brands like Gucci, Saint Laurent, and Burberry, to Bottega Veneta, Alexander Mcqueen, and Valentino - they have great picks.
Plus, they ship everywhere in the world!
---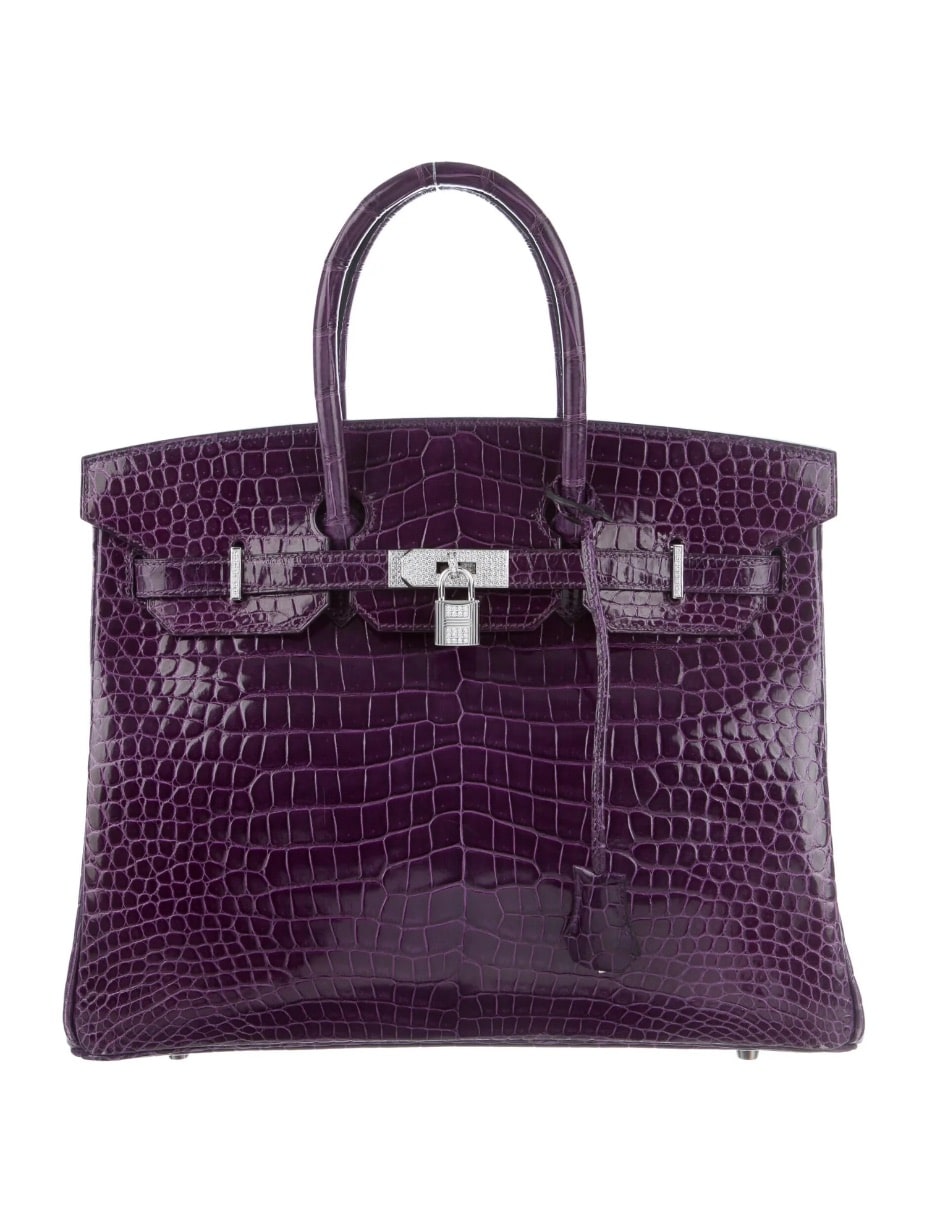 Another great pick is TheRealReal, the place where you can find an extensive selection of designer bags.
With their cheaper items ranging around $100 and their expensive ones ranging up to $150k, you will certainly find something you love and within your budget.
The options are endless. As you're already used to, TheRealReal also has a team of experts that ensure quality and authenticity before any bag gets listed.
---
Vestiare Collective is known all over the world for its amazing selections of luxury items.
You have access to over 25k new items every day and you are assured by VC that everything you are looking for you'll find it on their site.
Every bag that is listed has an authenticity guarantee so you could relax, and shop with ease and trust.
From brands like Chanel, Goyard, Hermes, Vivienne Westwood, YSL, and Celine - VC has incredible bags (and more).
---
StockX is the new hype in 2023 - it is the current culture marketplace that offers the hottest apparel, handbags, sneakers and more, in the smartest way possible.
Every item sold gets to be verified multiple times by their expert authenticators.
They have really hard-to-find items, coveted items that are sold all over the world. They handle everything to make sure your buying (or selling) experience goes flawless.
It has an interesting buying system - it's all about buying at real-time prices that reflect the demand. It's all done by bidding - which is amazing because you can really meet in the middle with the Seller and get the best price for you.
Be aware that once you win the bid, you can't cancel your order.
These were our best favorite pics that are still relevant in 2023. Enjoy your shopping experience. Let us know in the comments what's your favorite place to buy designer bags.
---
Maybe it's not your first choice, but it is an extremely popular choice for bag collectors out there.
The issue with eBay is "fakes", but there are steps you can take to make sure you don't get scammed and you always 100% get what you paid for.
If you do vigorous research on the buyer and look at the feedback scores and reviews, you can already get a good hunch that the buyer is serious and the product he/she is selling is authentic.
After you receive the bag, you triple-check everything, and you can go and authenticate the bag at official stores. If the bag is a fake, then eBay protects you and you can return the product right away.
It takes more time as you need to authenticate the product yourself, but in the end, you can really find gems there and pay less than you would on other ebsites listed above.
---
These were our best favorite pics that are still relevant in 2023. Enjoy your shopping experience. 🙂 Let us know your favorite bag reseller website in the comments below.