Who doesn't love a good Chanel handbag?
The iconic brand has been continuously giving us reasons to be luxurious, and fun and to splurge a little, and their Spring-Summer 2022 pre-collection is definitely worth checking out.
Chanel has taken a very chic and playful approach to their designs, Can you say FRESH?
Some of you are really going to love this collection, we are seeing plenty of pinks, purple, and other summery colors!
But don't worry, if you're into black & white, Chanel still sticks to its classic themes and codes.
In this collection, you'll see a series of cute and playful Chanel printed denim handbags, colorful maxi shopping bags, Chanel 19s in eye-candy colors, fresh new colors for Chanel Boy, and all the oh-so-cute SLGs and more
If you're looking for a new bag to add to your collection, these bags are sure to turn heads and get you noticed!
So, which one will you choose? Check out the rest of the collection below.
Chanel Denim Handbags
| Style | US Price | EU Price |
| --- | --- | --- |
| Chanel Printed Denim Blue Multicolor Maxi Hobo Bag | $4,600 (USD) | € 4,000 |
| Chanel Printed Denim Black Multicolor Maxi Shopping Bag | $4,600 (USD) | € 4,000 |
| Chanel Printed Denim Black Multicolor Large Flap Bag | $4,400 (USD) | € 3,800 |
| Chanel Printed Denim Blue Multicolor Bucket Bag | $4,200 (USD) | € 3,600 |
| Chanel Printed Denim Blue Multicolor Small Flap Bag | $4,200 (USD) | € 3,600 |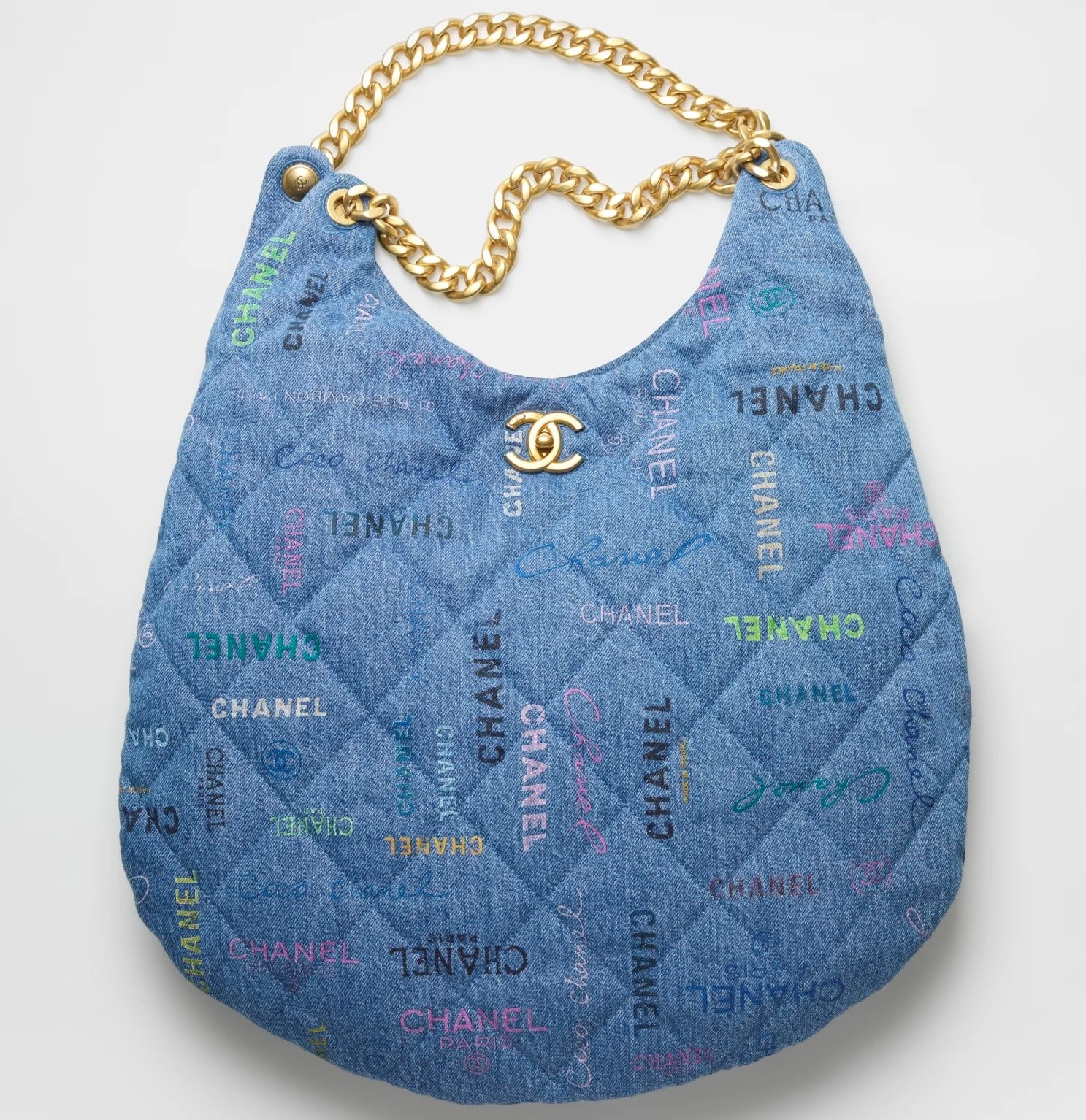 Chanel 19
| Style | US Price | EU Price |
| --- | --- | --- |
| Chanel 19 White & Multicolor Handbag | $6,300 (USD) | € 5,400 |
| Chanel 19 Gold Metallic/Iridescent Light Purple & Blue | $5,800 (USD) | € 5,000 |
| Chanel 19 | $5,700 (USD) | € 4,900 |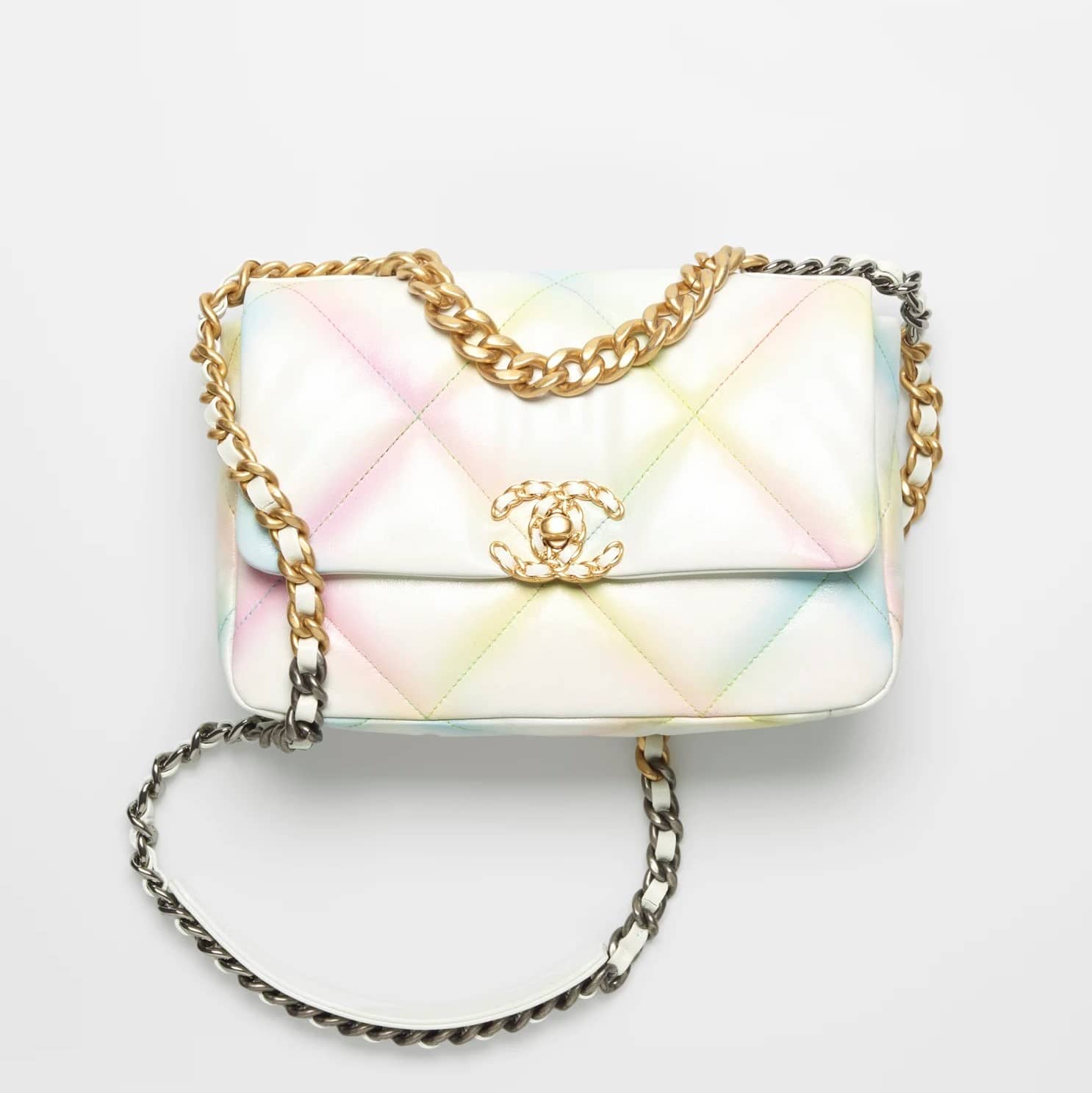 Chanel Classic Bags
| Style | US Price | EU Price |
| --- | --- | --- |
| Chanel Black Shiny Crumpled Calfskin Classic Handbag | TBD | TBD |
| Chanel Black Embroidered Tweed Classic Handbag | $10,300 (USD) | € 9,000 |
| Chanel Coral/Red Tweed Classic Handbag | $8,600 (USD) | € 7,340 |
| Chanel Printed Fabric Black & White Classic Handbag | $8,400 (USD) | € 7,230 |
| Chanel Mini Flap Bag | $4,900 (USD) | € 4,200 |
| Chanel Mini Flap Bag w/ Top Handle | $4,800 (USD) | € 4,100 |
| Chanel Light Yellow Grained Calfskin Mini Flap Bag | $4,300 (USD) | € 3,700 |
| Chanel Yellow/Purple Braided Tweed Mini Flap Bag | $4,100 (USD) | € 3,500 |
| Chanel Dark Pink Silk Jacquard Mini Flap Bag | $4,000 (USD) | € 3,470 |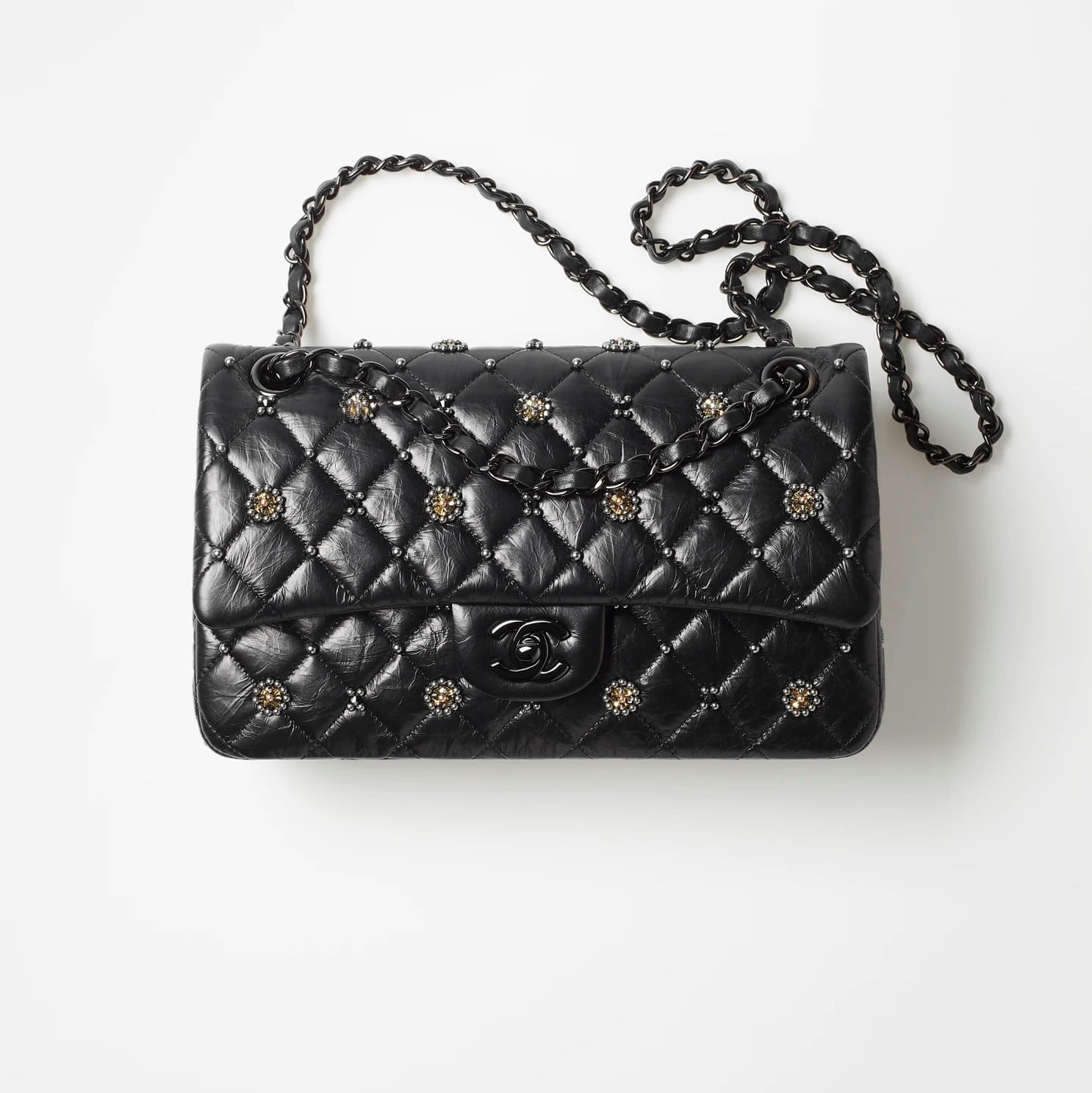 Chanel Boy
| Style | US Price | EU Price |
| --- | --- | --- |
| Chanel Boy Handbag | $5,900 (USD) | € 5,100 |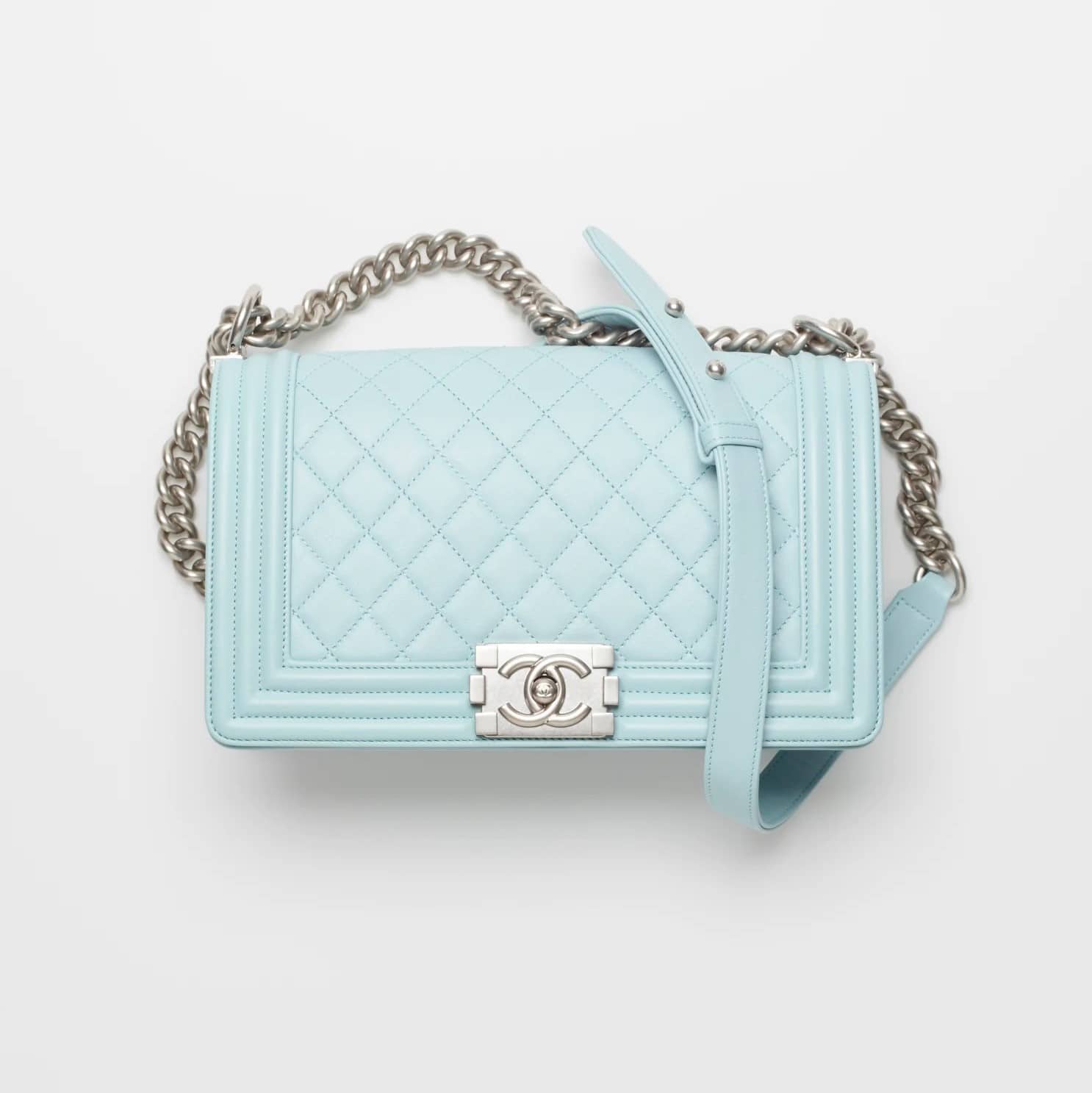 Chanel 2.55
| Style | US Price | EU Price |
| --- | --- | --- |
| Chanel 2.55 Large Handbag | $9,500 (USD) | € 8,400 |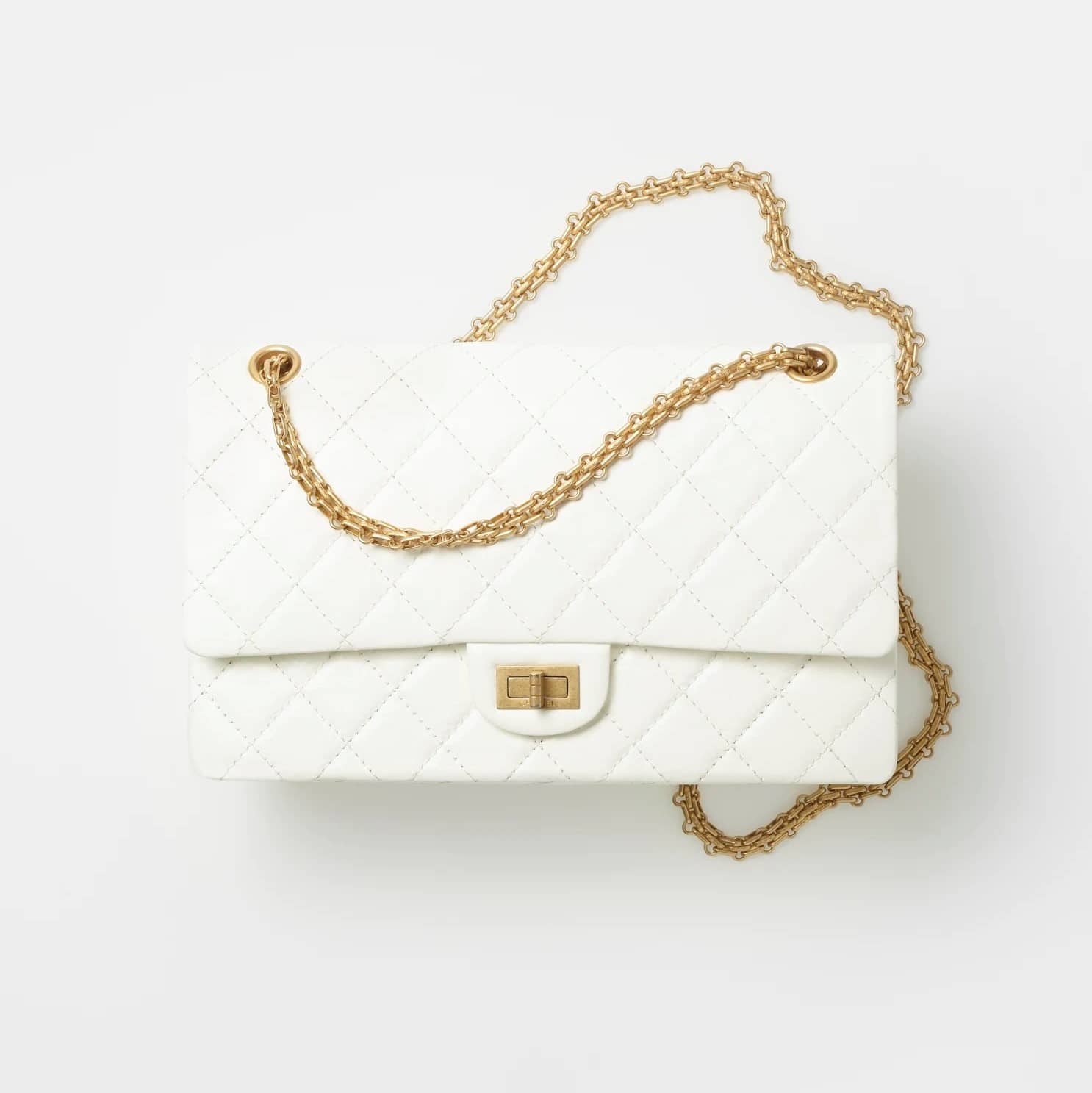 Small Leather Goods
| Style | US Price | EU Price |
| --- | --- | --- |
| Chanel Black Small Box With Chain | $5,075 (USD) | € 4,500 |
| Chanel White Airpods Case With Chain | $3,925 (USD) | € 3,500 |
| Chanel Light Blue Clutch with Chain | $2,650 (USD) | € 2,250 |
| Chanel Light Pink Card Holder with Chain | $1,300 (USD) | € 1,150 |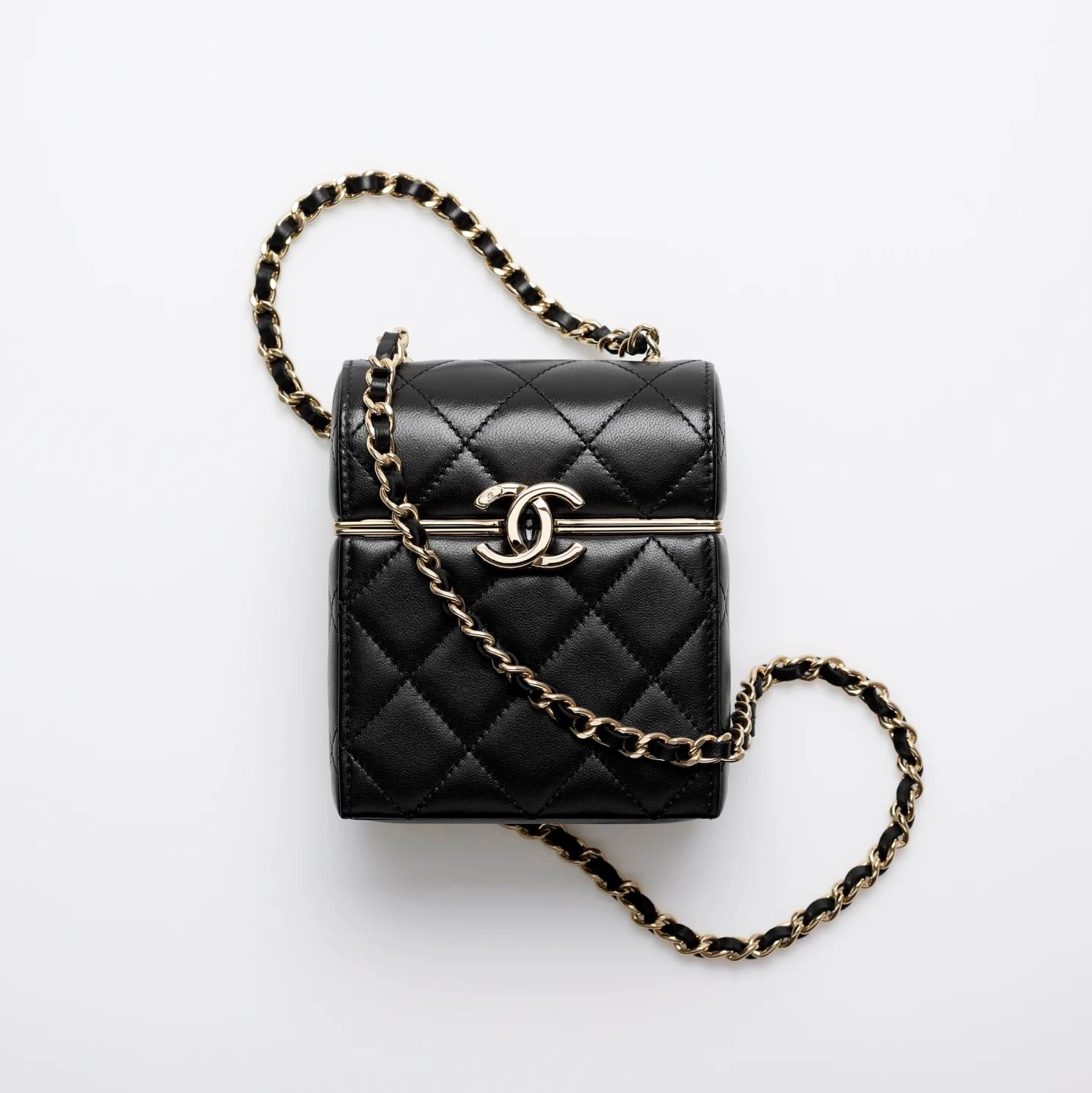 Style & Price
| Style | US Price | EU Price |
| --- | --- | --- |
| Chanel Set of 3 Minaudieres | TBD | TBD |
| Chanel Black Calfskin Maxi Shopping Bag | $6,000 (USD) | € 5,200 |
| Chanel Black Nylon Maxi Bowling Bag | $5,600 (USD) | € 4,800 |
| Chanel Black Lambskin Small Vanity Case | $5,200 (USD) | € 4,500 |
| Chanel Black Nylon Maxi Shopping Bag | $5,100 (USD) | € 4,400 |
| Chanel Black Lambskin Bucket Bag | $5,100 (USD) | € 4,400 |
| Chanel Black Grained Calfskin Backpack | $5,100 (USD) | € 4,400 |
| Chanel Black Lambskin Hobo Handbag | $5,000 (USD) | € 4,300 |
| Chanel Black Nylon Large Travel Bag | $4,900 (USD) | € 4,200 |
| Chanel Black Nylon Travel Bag | $4,400 (USD) | € 3,800 |