We hope you love the products we recommend! Just so you know, when you buy through links on our site, we may earn an affiliate commission. This adds no cost to our readers, for more information read our earnings disclosure.


Here's another edition of "Bag Versus" featuring the Christian Dior promenade pouches, the Miss Dior Pouch and the New Lock Pouch.
The pouch bags appears almost the same as they both have similar features. The Miss Dior Pouch and New Lock Pouch have removable chain straps. The interior is also the same with one large compartment, one flat pocket and six card slots.  Both can be carried by hand, on the shoulder or across the body. Chain length is both at 120 cm / 47″ . The bags also has the signature Dior Cannage pattern.  The differences are summarized individually below.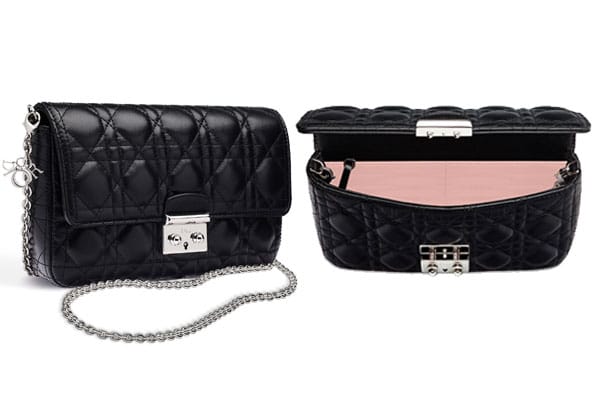 A mini version of the iconic Miss Dior bag, the Miss Dior Promenade Pouch bag includes small DIOR charms on the chain handles. The bag's interior also has a contrasting lining. The attachment for the chain is discreet, as it is kept on the outer edge on the interior of the bag. The Cannage pattern is featured all over the bag including the sides.  The frame is more rounded at the base compard to the new lock pouch. It is available in Patent, Aged Calfskin and Lambskin.
The Miss Dior Pouch measures 21 cm x 14.5 cm and retails for $1,600.00 (USD)/€1,100.00.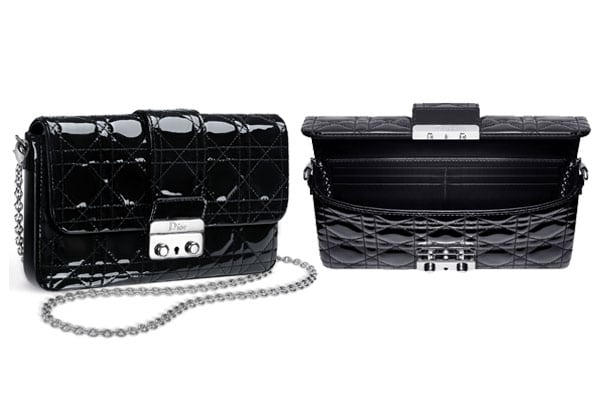 The Dior New Lock Pouch was named after "New Look" which was coined by Christian Dior himself back in 1947, and features the original clasp. The Cannage pattern is featured only in front and back, and it does not have a contrasting interior.  The attachment for the chain is on the sides of the bag making it more noticeable when the chain is kept in the interior.  It is mostly available in patent, so it is easier to maintain.
The New Lock Pouch measures 21.5 cm x 10 cm and is similarly priced at $1,600.00 (USD)/€1,100.00.
Conclusion
As these pouch bags have the same price, it seems that the better option is the Miss Dior Promenade Pouch. You get value for your money given that the Cannage pattern is featured throughout the whole bag including the sides. The classic Dior styling is almost more updated with contrasting interior and the bonus DIOR charms.  However, everyone's style is different so which would you choose?