Here's a new edition of the "Bag Versus" featuring Fendi's Mini Bags, the 2Jours Mini Bag and the 3Jours Mini Bag.  A little history of the Fendi 2Jours and 3Jours bag:
Both bags features top handles with detachable and adjustable shoulder strap. Although they appear to be the same there are a wide variety of differences.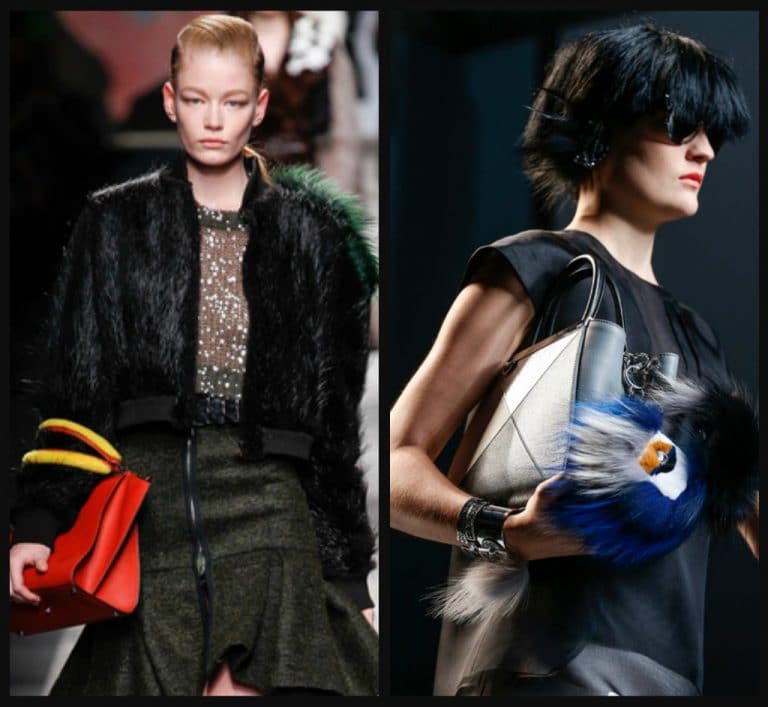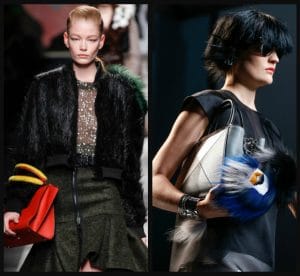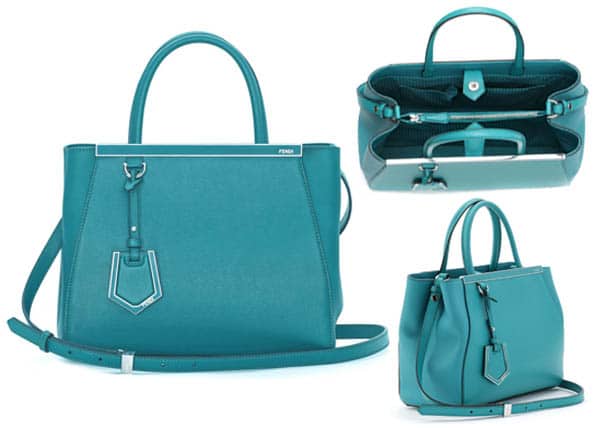 The 2Jours Mini Bag has a metal and enamel bar logo on top.  The most important feature is the longer strap that enables the bag to be worn crossbody.  The 3jours Mini on the other hand includes a shoulder strap that isn't long enough to go crossbody.  The interior is also different as it has a divider that cinches the sides slightly, while the 3jours has wide open gussets.
The 2Jours is slightly smaller at 10"W versus the 3Jours 11.5"W but its more shallow versus the deeper 3Jours.
It measures 10 ¼" W x 8 ¼ " H x 5" D, with 4" handle drop and 23" maximum strap drop. The 2Jours Mini Bag comes in different colors and designs as the bag has been out longer.
The Mini 3Jours Bag has taken its inspiration from the 2Jours Bag. The bag also has metal trims on top of it; however, they do not make the length of the bag. The 3Jours Bag features different colored interiors and includes an additional removable internal leather pouch.  The bag can be fully opened and is not restricted by a center divider.  This makes fitting a long wallet much easier than the 2Jours.
As the bag has only been released for Fall / winter 2014, there are limited colors.  There is an added version of the mink handles, which make it a great accessory for winter wear.   It measures 11.8" W x 9.5" H x 3.9" D, the shoulder strap has a 15.5 drop.
| Style | Price |
| --- | --- |
| Fendi 3Jours Mini Bag | $2,550.00 (USD) |
| Fendi 3Jours Mini Bag with Mink Handles | $2,800.00 (USD) |
Conclusion
The unique and updated design of the 3Jours makes it a more worthy investment. The larger opening and structured stature makes it a great everyday bag.  The only pitfall is the lack of a long enough strap; however it does still allow to be worn on the shoulder.  The mink handles also give the bag a unique look with the addition of the handy interior pochette in case your wallet doesn't fit.  The bag versus winner is the Fendi 3Jours Mini Bag!