Updated as of August 2022
Introducing the European Chanel Price List Reference for countries listed under the Euro from Paris updated as of November 2021, as a result of the increases in Chanel Classic and 2.55 bag prices.
The increases are reflected below and in full in the respective collection links. Below are the comparative prices from current to prior prices.
These prices are gathered directly as listed by Chanel.com for France, typically prices in other Euro countries are consistent except for the VAT. Since France is typically where bags are finished it would in theory be the least expensive to buy.
This is also the same for countries under the EU due to free trade practices making other EU countries like Italy comparable.
For the North American US dollar guide Visit Here.
Prices in Europe are VAT included thus a traveler should consider the potential refund when exiting.
Read the guide on obtaining a tax refund in European countries.
For more information on different styles of Chanel Handbags, visit the Chanel Bag Reference Guide.
Best Buys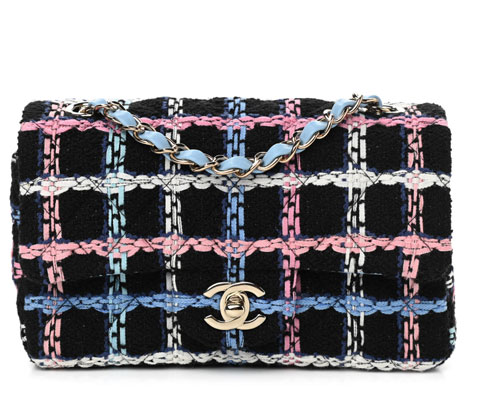 2022 Tweed Quilted Chanel
Tweed Quilted Mini Rectangular Flap Black Blue Multicolor
---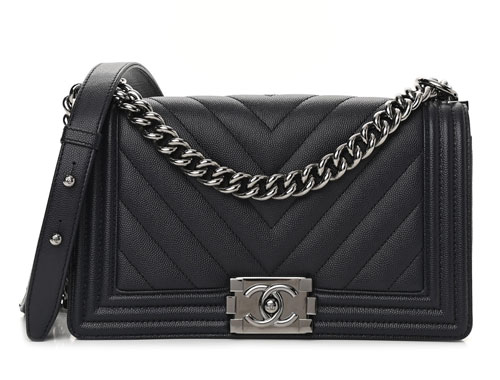 Caviar Chanel Boy Bag
Caviar Chevron Quilted Medium Boy Flap Black
---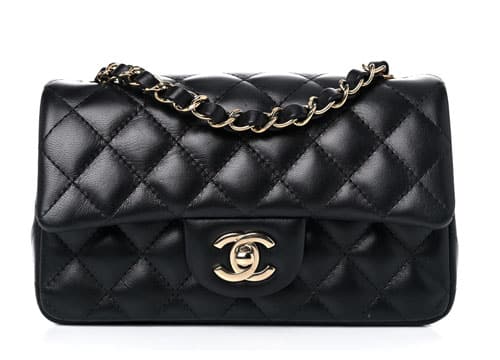 Classic Flap Bag
Lambskin Quilted Mini Rectangular Flap Black
---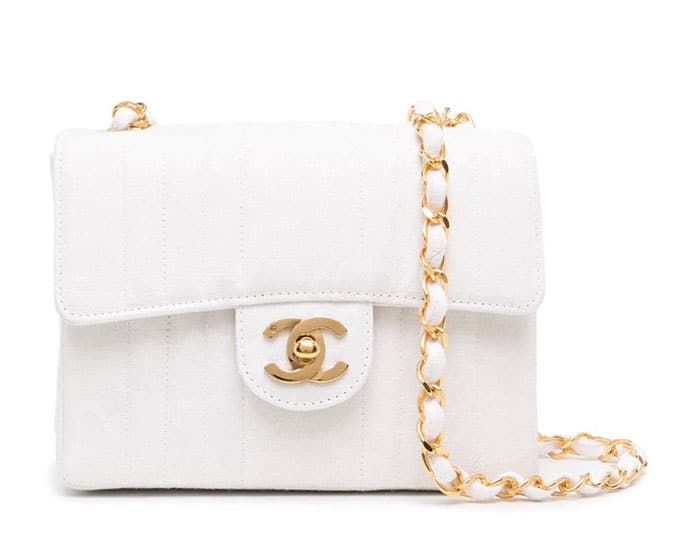 Pre-owned Chanel Bag
1992 Mademoiselle schoudertas met omslag
---
Current Season Styles
| Style | EU Price |
| --- | --- |
| Chanel Mini Flap Bag (Tweed) | € 3,800.00 |
| Chanel Classic Mini Flap Bag | € 3,800.00 |
| Chanel Small Flap Bag w/ Imitation Pearls | € 4,500.00 |
| Chanel Small Flap Bag Embellished Glass Pearls | € 6,100.00 |
| Chanel Large Flap Bag with Gold Metal Chain | € 5,200.00 |
| Classic Handbag Black & White | € 7,800.00 |
| Light Pink Velvet Mini Flap Bag | € 3,900.00 |
| Black Velvet Flap Bag | € 4,200.00 |
| | |
| --- | --- |
| | Current Price |
| Chanel Mini Tweed Flap Bag | € 3,800.00 |
| Chanel Small Flap Bag Imitation Pearls Black | € 4,500.00 |
| Chanel Small Flap Bag Embellished Glass Pearls Black | € 6,100.00 |
| Chanel Light Green Grained Calfskin Classic WOC | € 2,550.00 |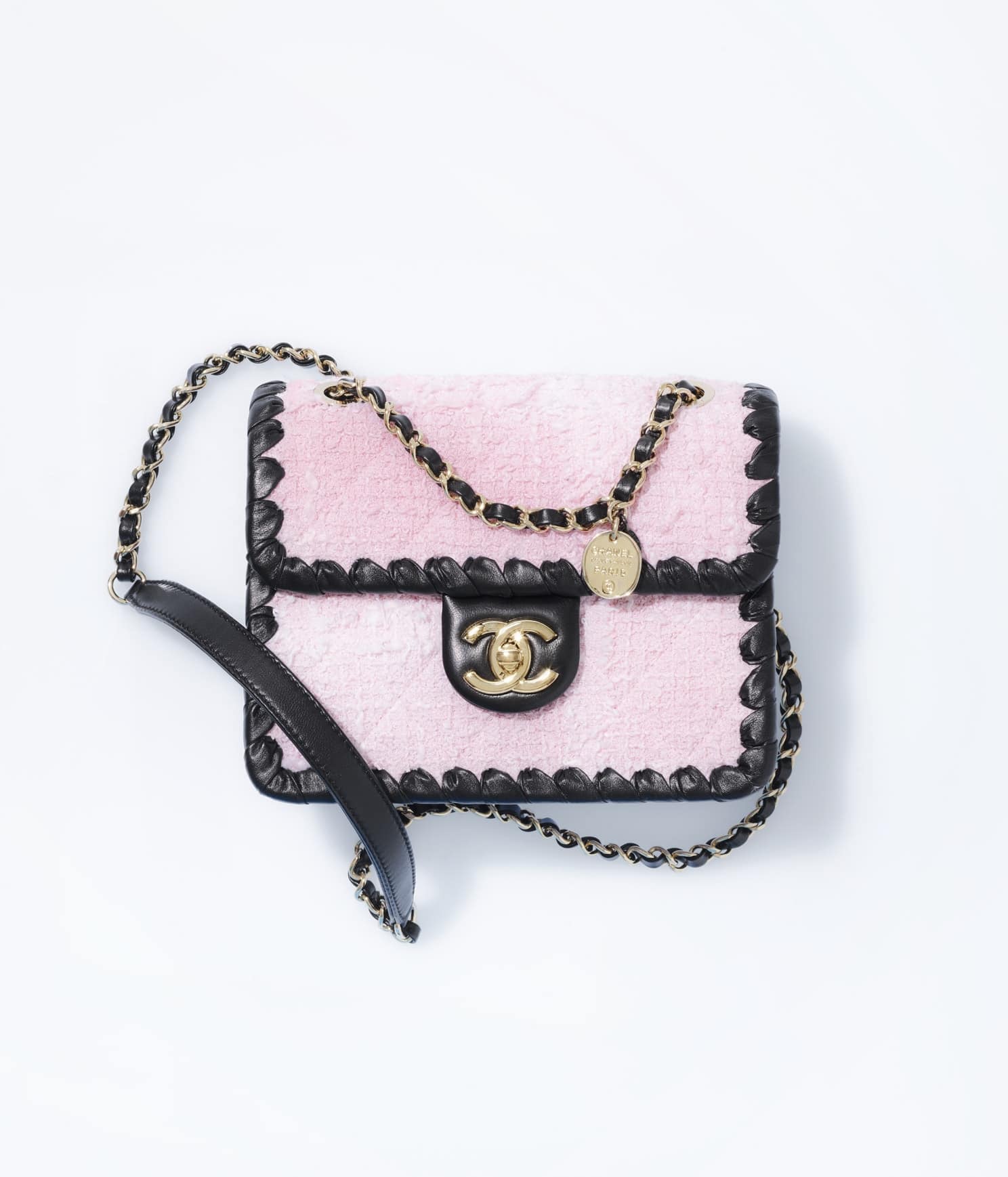 | | |
| --- | --- |
| Fall-Winter 2021 Act 2 Bag Collection | Current Price |
| Chanel Gold Metallic Mesh Mini Flap Bag | € 9,000.00 |
| Chanel Printed Fabric Multicolor Flap Bag | € 3,400.00 |
| Chanel Black Velvet Glass & Crystal Pearls Mini 2.55 Handbag | € 9,000.00 |
| Chanel Black Lambskin Clutch With Chain | € 2,400.00 |
| Chanel Faded Metallic Mesh Mini Bucket Bag | € 9,500.00 |
| Chanel Plexi Mini Evening Bag | € 9,000.00 |
| *for all prices check the collection guide link | |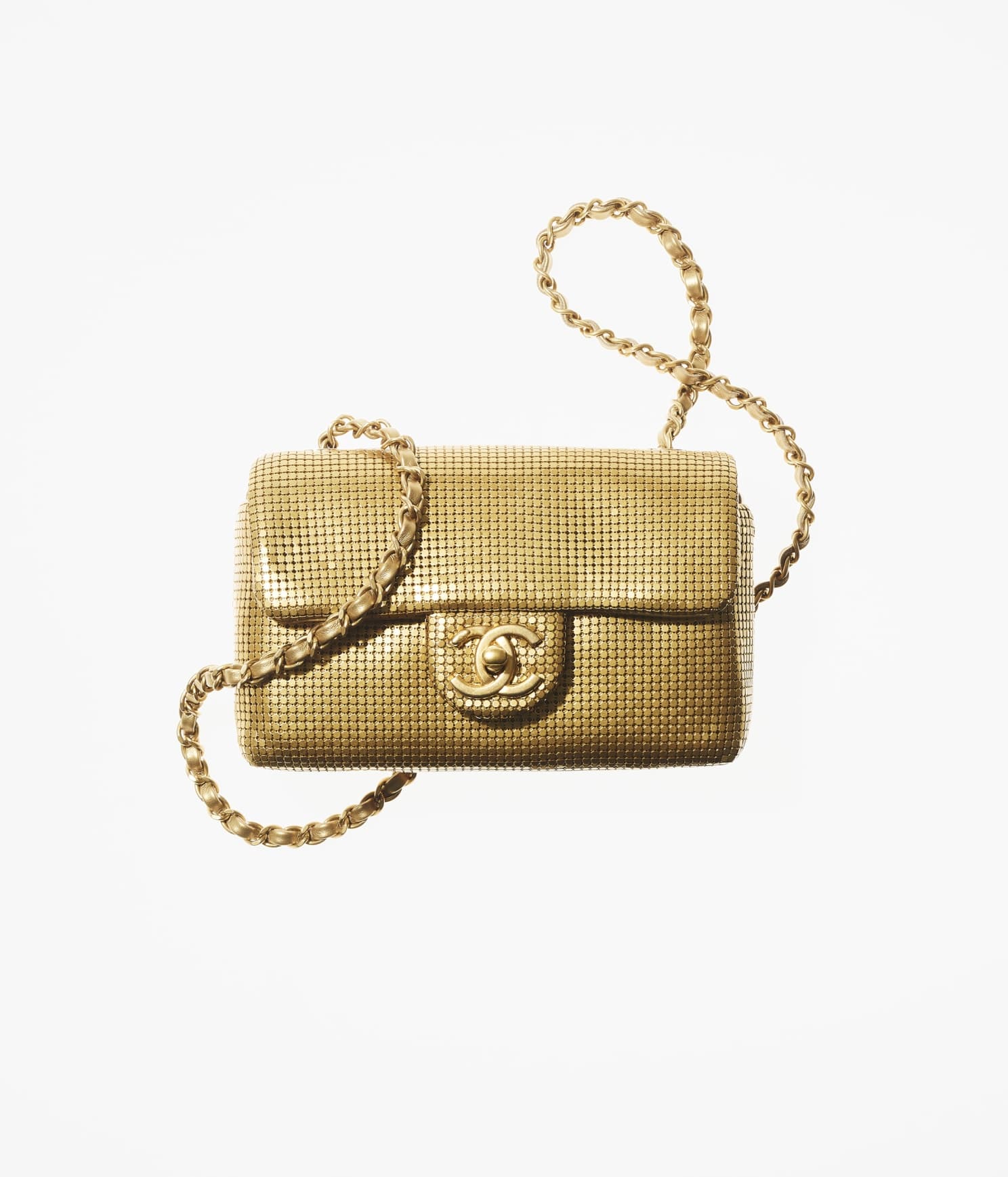 | | |
| --- | --- |
| Pre-Fall 2021 Bag Collection | Current Price |
| Chanel Velvet Camellia Bag | €3,400.00 |
| Chanel Shearling Checkered Drawstring Bag | €5,000.00 |
| Chanel Shearling Checkered Flap Bag | €4,400.00 |
| Chanel Pearl Drawstring Bag | €4,500.00 |
| Chanel Top Handle Coin Purse Flap with Chain | €1,600.00 |
| Chanel Hexagon Vanity Case | €4,200.00 |
| *for all prices check the collection guide link | |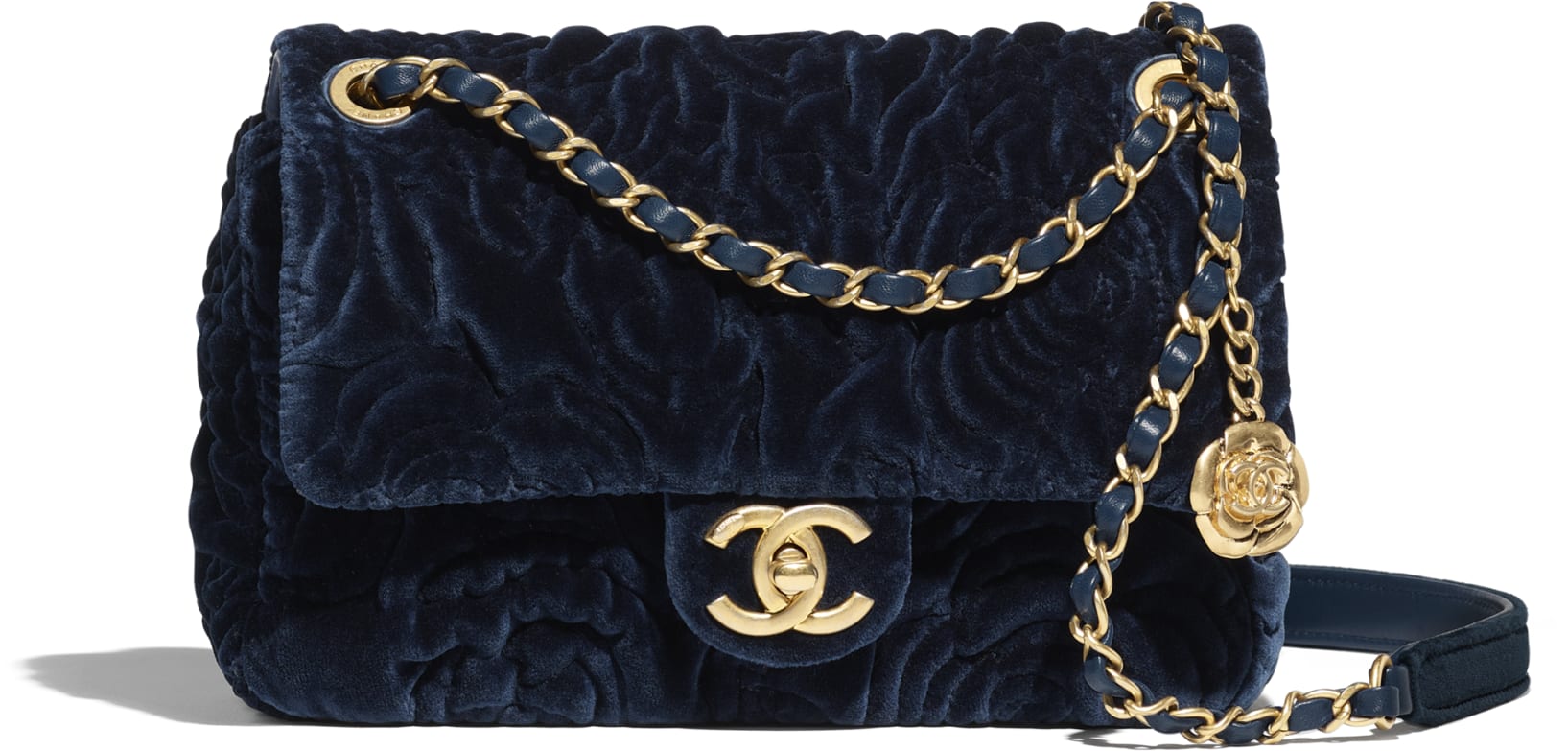 | | |
| --- | --- |
| Pre-Spring 2021 Bag Collection | Current Price |
| Chanel Raffia Deauville Tote Bag | €4,200.00 |
| Chanel 19 CC Printed Fabric Bag | €4,500.00 |
| Chanel Rainbow Metal Blue Flap Bag | €6,500.00 |
| Chanel Scarf Entwined Chain Yellow Flap Bag | €3,500.00 |
| Chanel Sequin with CC Logo Large Flap Bag | €5,200.00 |
| Chanel Red Drawstring Bag with Entwined Chain | €4,500.00 |
| Chanel See Through Flap Bag | €3,800.00 |
| Chanel Large Drawstring Tote with Chain Bag | €4,500.00 |
| *for all prices check the collection guide link | |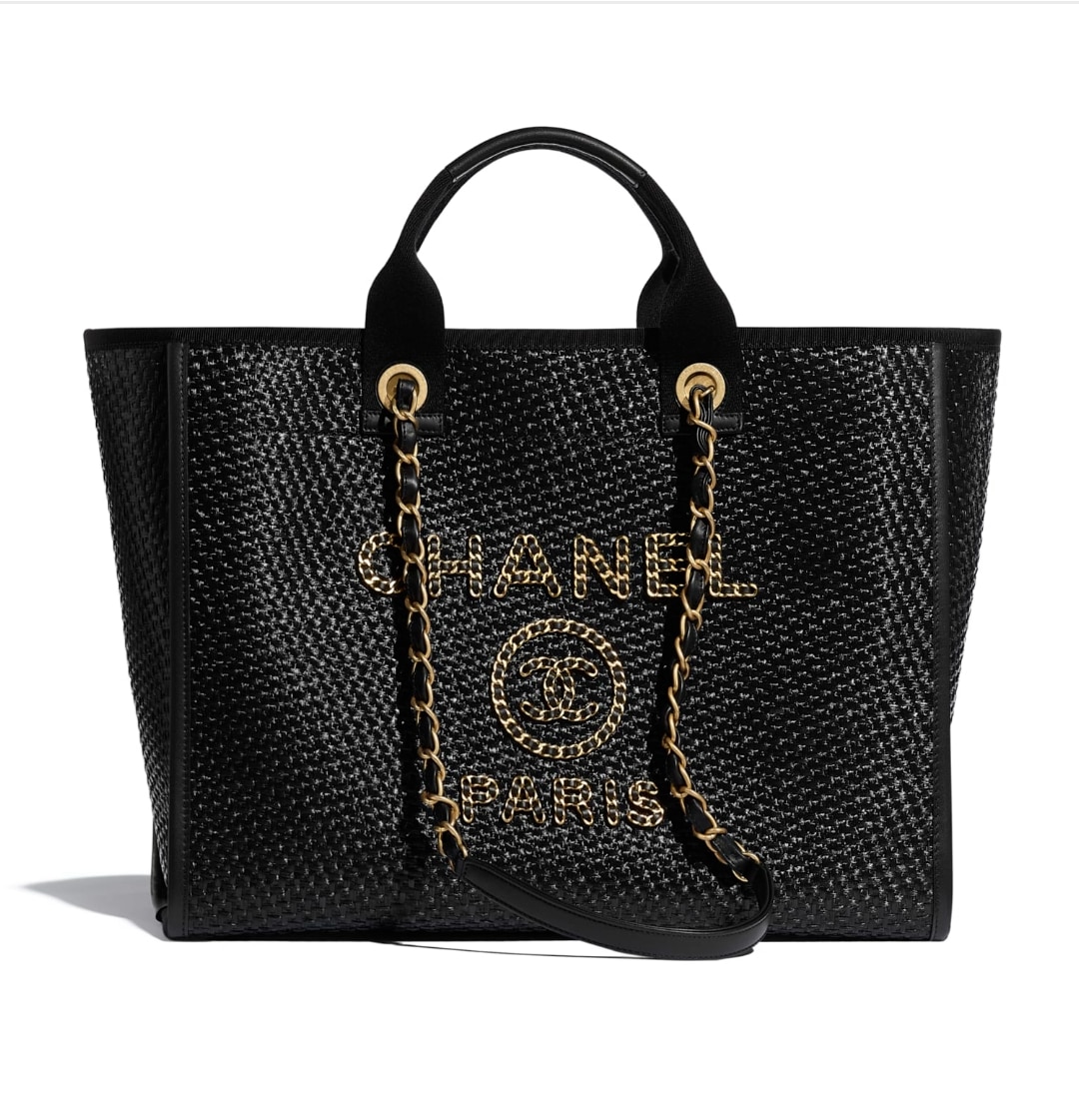 | | |
| --- | --- |
| Cruise 2021 Bag Collection | Current Price |
| Chanel Mixed Fibers Mini Flap Bag | €5,700.00 |
| Chanel Calfskin/Crochet Chanel 19 Flap Bag | €5,400.00 |
| Chanel Coco Charms Flap Bag | €4,400.00 |
| Chanel Lambskin and Crystal Vanity Case Bag | €4,800.00 |
| Chanel My Everything Flap Bag | €3,900.00 |
| Chanel Tweed/Lambskin Small Hobo Bag | €3,100.00 |
| Chanel Mixed Fibers Large Shopping Bag | €3,500.00 |
| Chanel Lambskin Evening Bag | €4,500.00 |
| *for all prices check the collection guide link | |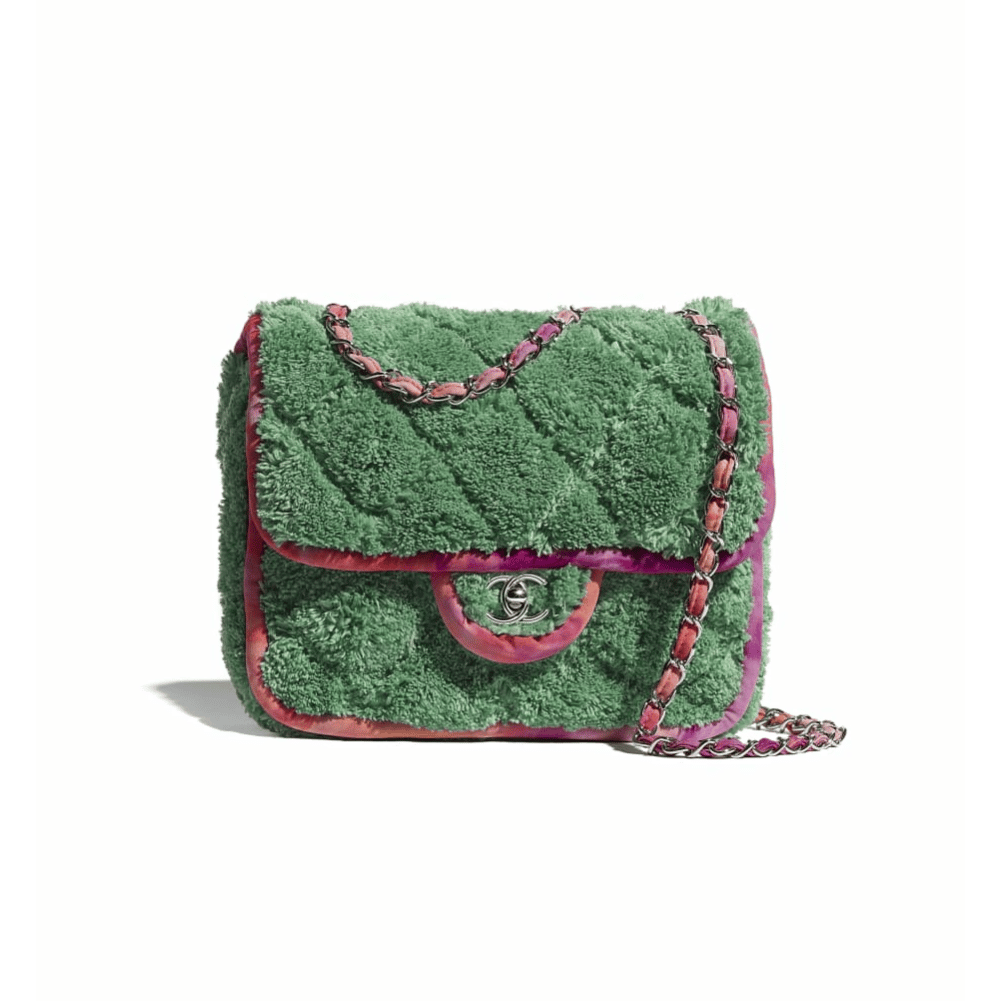 Classic Bag Prices
Classic Bags
New Price
(NOV 2021)
Old Price
(JULY 2021)
% Increase
Chanel Classic Small Flap Bag
€ 7,200
€ 6,300
14%
Chanel Classic Medium Flap Bag
€ 7,850
€ 6,850
15%
Chanel Classic Jumbo Flap Bag
€ 8,500
€ 7,400
15%
Chanel Classic Maxi Flap Bag
€ 9,085
€ 7,900
15%
Chanel Reissue 225 Bag
€7,800
€6,850
14%
Chanel Reissue 226 Bag
€8,400
€7,400
14%
Chanel Reissue 227 Bag
€8,900
€7,900
14%
Chanel 19 Bags
Chanel 19 Bags
New Price
(May20)
Old Price
(Nov19)
% Increase
Chanel 19 Small Bag
€4,600.00
€4,200.00
9.5%
Chanel 19 Large Bag
€5,000.00
€4,700.00
6.3%
Chanel 19 Maxi Bag
€5,500.00
€5,150.00
6.7%
Chanel Boy Bags
Chanel Boy Bags
New Price
(May20)
Old Price
(Nov19)
% Increase
Chanel Small Boy Bag
€4,300.00
€4,120.00
4.3%
Chanel Old Medium Boy Bag
€4,700.00
€4,480.00
4.9%
Chanel New Medium Boy Bag
€4,980.00
€4,980.00
No Change
| | | | |
| --- | --- | --- | --- |
| WOC BAGS | CURRENT PRICE (May 20) | PREVIOUS PRICE (Nov 19) | % Change |
| Chanel Classic Quilted WOC Bag | €2,350.00 | €2,150.00 | 9.3% |
| Chanel Boy WOC Bag | No Change | €2,340.00 | |
| Chanel 19 WOC | No Change | €2,800.00 | |
See MORE for archived prices
Fall/Winter 2020 Bag Collection
Current Price
Chanel Diamond Bag
€2,800.00
Chanel Bag Romance Square Mini Flap Bag
€3,500.00
Chanel Calfskin and Crystal Pearls Small Flap Bag
€4,000.00
Chanel Shearling Lambskin and Strass Bucket Bag
€7,000.00
Chanel Get Round Vanity Case Bag
€3,900.00
Chanel Shearling Lambskin Mini Reissue 2.55 Bag
€3,470.00
Chanel Velvet Chanel 19 Flap Bag
€4,070.00
Chanel Mini Coco Handle Bag
€3,400.00
*for all prices check the collection guide link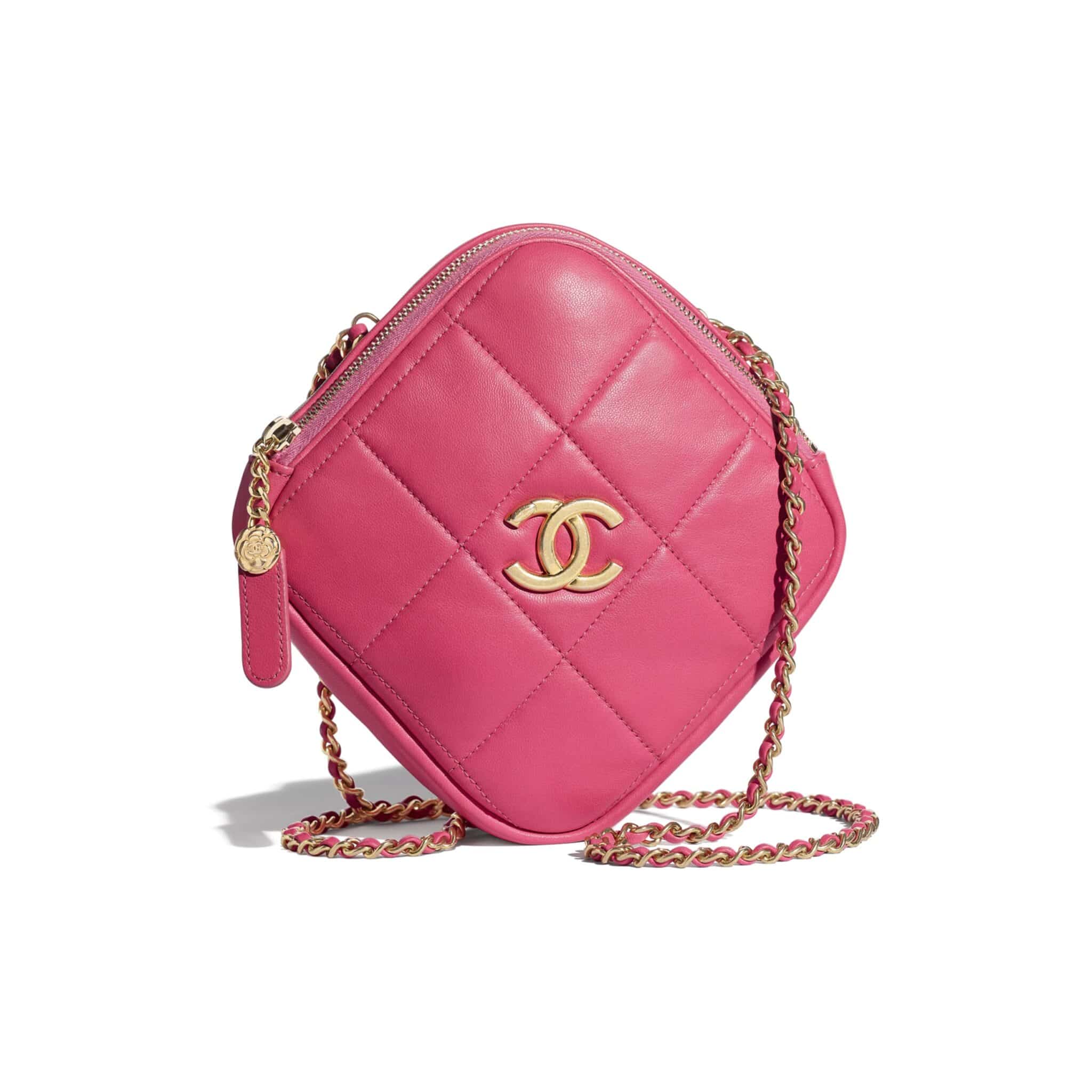 | | |
| --- | --- |
| Métiers d'Art Pre-Fall 2020 Bag Collection | Current Price |
| Chanel Lambskin with Onyx and Pearls Mini Flap Bag | €5,700.00 |
| Chanel Velvet Pearl Crush Bag | €3,900.00 |
| Chanel Small Accordion Bag | €3,600.00 |
| Chanel Velvet with Gold Tone Metal Classic Flap Bag | €8,500.00 |
| Chanel Multicolor Metallic Goatskin 2.55 Reissue Bag | €6,050.00 |
| Chanel Shearling Sheepskin Flap Bag | €3,700.00 |
| Chanel So Black Coco Handle Bag | €4,250.00 |
| Chanel Knit Chanel 19 Flap Bag | €4,930.00 |
| *for all prices check the collection guide link | |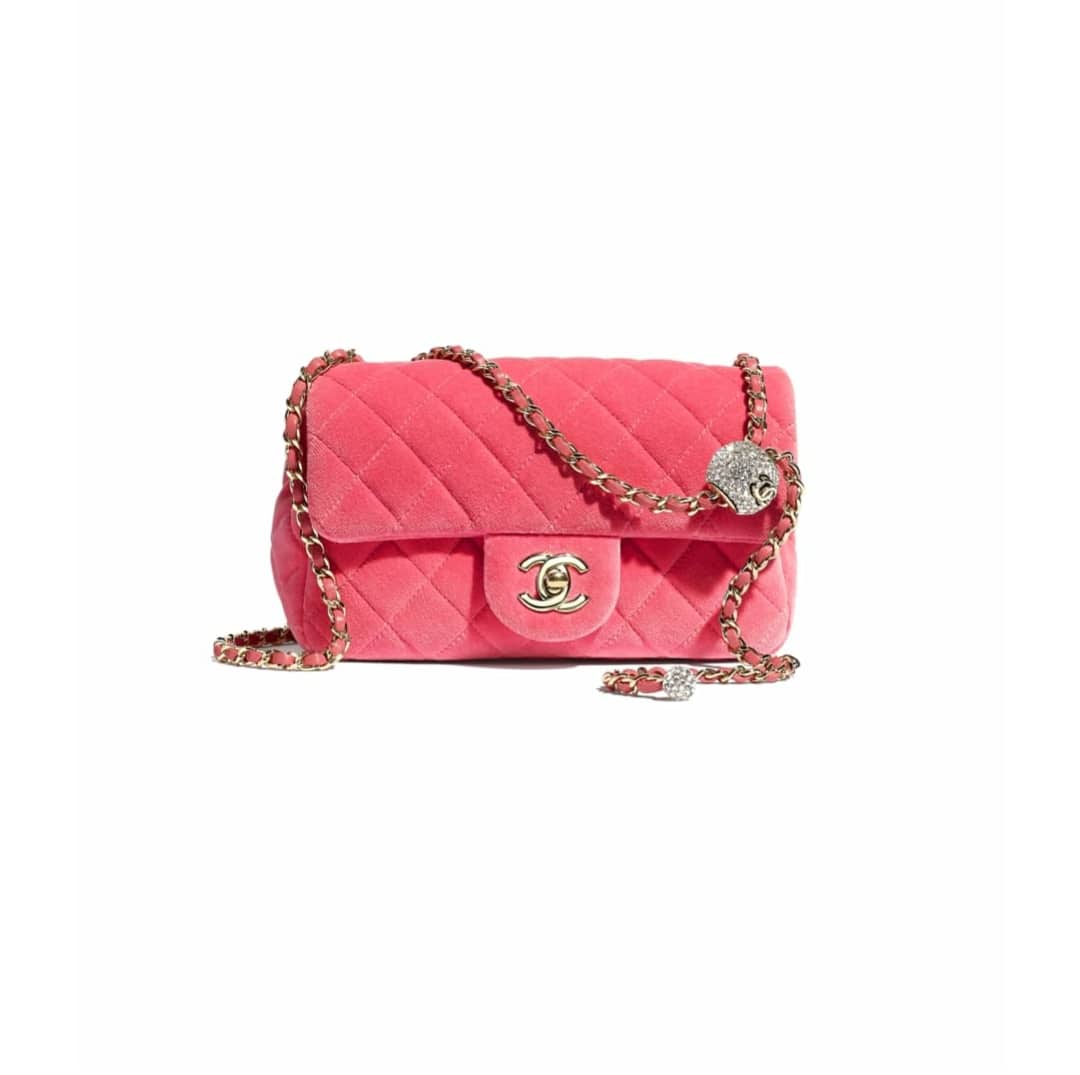 | | |
| --- | --- |
| Spring/Summer 2020 Act 2 | Current Price |
| Chanel Classic Tweed Red Flap Bag | €5,150.00 |
| Chanel Ombre Mini Sequins Flap Bag | €3,200.00 |
| Chanel Matte Hardware Flap Bag | €3,400.00 |
| Chanel 19 Maxi Graphic Textile Bag | €4,300.00 |
| Chanel Filigree Chain Small Vanity Bag | €5,450.00 |
| Chanel Pearl Deauville Bag | €3,300.00 |
| Chanel Flap Metal Bar Clutch Bag | €3,900.00 |
| Chanel Pleats Classic Flap Bag | €4,100.00 |
| *for all prices check the collection guide link | |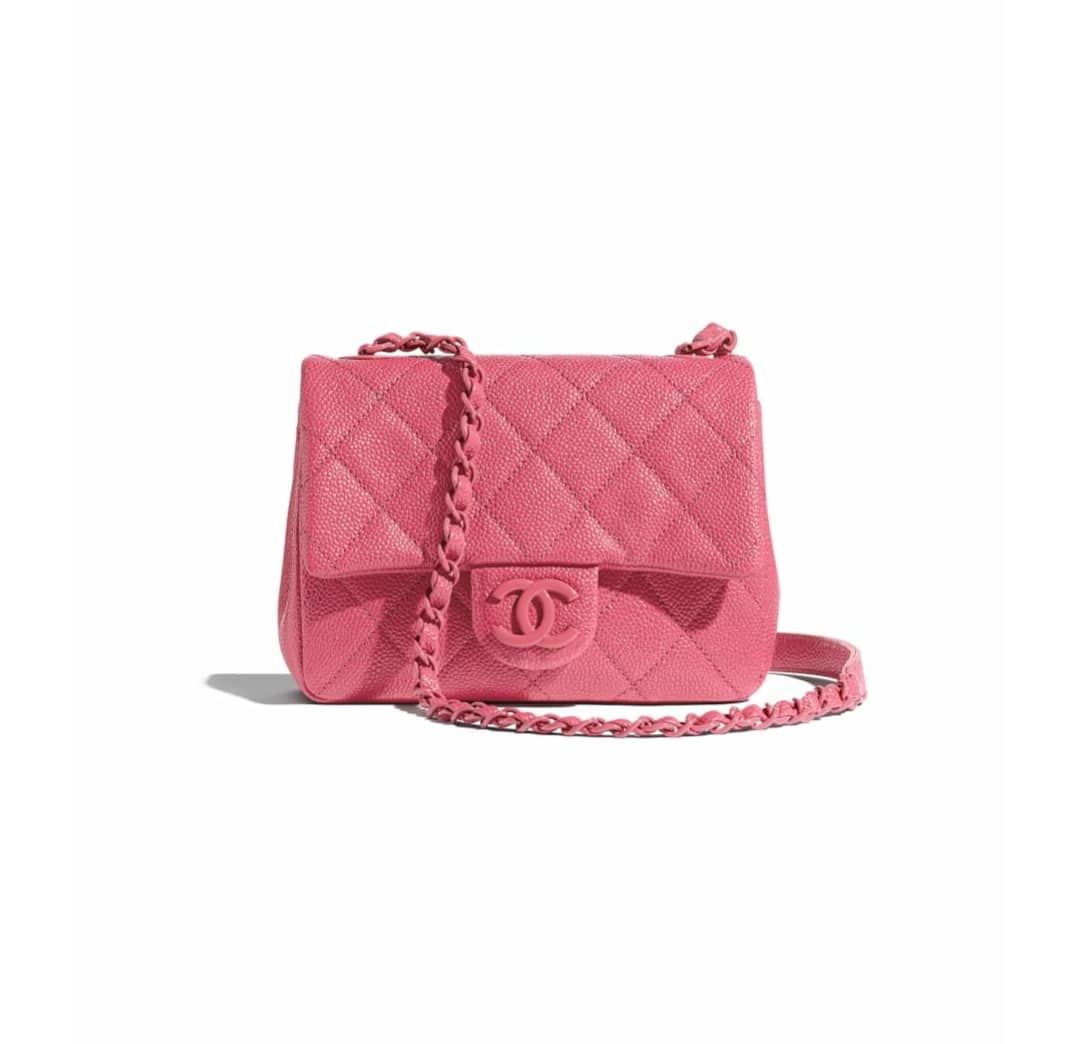 | | |
| --- | --- |
| Chanel Pre-Spring 2020 | Current Price |
| Chanel 19 Pink Small Bag | €4,200.00 |
| Chanel 19 Large Bag Navy | €4,700.00 |
| Chanel Logo Gabrielle Small Bag | €4,400.00 |
| Chanel Coco Handle So Black Bag | €4,200.00 |
| Chanel Leather Deauville Bag | €3,500.00 |
| Chanel Mini 224 Re-Issue Bag | €2,700.00 |