The new iPhone 6 and Iphone 6 plus has finally been released.  Inspired by this video by Desgettier, we also ask whether it fits most of the mini bags that are on the market.
If you are wondering if the new iPhone will fit the hottest luxury mini bags, worry not, as even the smallest bag which is the Louis Vuitton Petite Malle Bag can hold the new iPhone. Although, the iPhone 6 Plus is very snug leaving only a 1.0" room in the interior. Other bags like the popular Chanel Classic Flap Mini bag and Wallet on Chain have ample room.  The WOC is featured in Desgettier's video above showing that it can easily hold the Iphone 6 plus.
Here are some of the popular designer bags measurements against the new iPhone:
The iPhone 6 measures at 5.44"H x 2.64"W x 0.27"D
The iPhone 6 Plus is slight larger measuring at 6.22"H x 3.06"W x 0.28"D.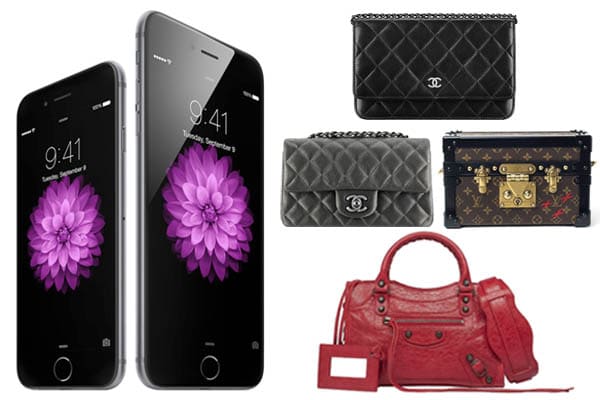 | Style | Price | Size | Does it Fit (Iphone 6 / Plus) |
| --- | --- | --- | --- |
| Chanel Classic Quilted Wallet On Chain Bag | $2,100.00 (USD) | 7.7" W x 4.9" H x 1.8" D | Yes / OK |
| Chanel Classic Flap Mini Bag | $2,900.00 (USD) | 7.9" W x 4.9" H x 2.8" W | Yes / OK |
| Louis Vuitton Petite Malle Bag | $4,400.00 (USD) | 7.2" W x 4.6" H x 1.8" D | Yes / Tight Squeeze |
| Balenciaga Classic Mini City Bag | $1,325.00 (USD) | 9" W x 6.2" H x 3.5" | Yes / Yes |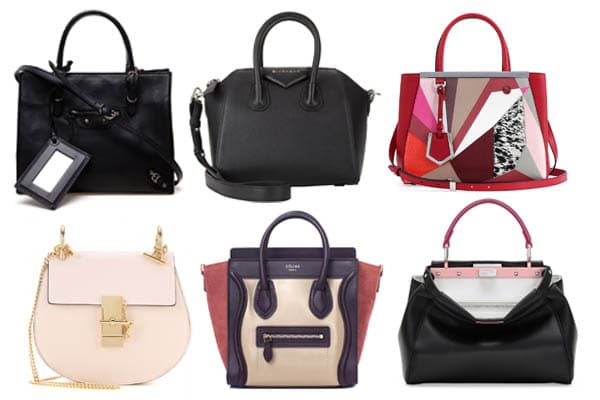 | Style | Price | Size | Does it Fit? (Iphone 6 / plus) |
| --- | --- | --- | --- |
| Balenciaga Mini Papier A4 Bag | $1,245.00 (USD) | 8.6" W x 6.6" H x 3.9" D | Yes / Yes |
| Givenchy Mini Antigona Bag | $1,495.00 (USD) | 8.7" W x 7.7" H x 5.3" D | Yes / Yes |
| Fendi 2Jours Mini Bag | $2,350.00 (USD) | 10" W x 8" H x 5" D | Yes / Yes |
| Chloe Drew Shoulder Bag | $1,560.00 (USD) | 7.75" W x 7.5" H x 2.75" D | Yes / Yes |
| Celine Nano Luggage Bag | $2,700.00 (USD) | 8" W x 8" H x 4" D | Yes / Yes |
| Fendi Peekaboo Mini Bag | $3,450.00 (USD) | 7" W x 9" H x 4 ¼" D | Yes / Tight Squeeze |