We hope you love the products we recommend! Just so you know, when you buy through links on our site, we may earn an affiliate commission. This adds no cost to our readers, for more information read our earnings disclosure.
Updated February 2021
Prices are updated as of February 1, 2021 for US and UK price increase on Dior Bags
Introducing the Dior Cruise 2021 Bag Collection.
The runway show was held back in July, and the collection is set to launch this coming November.
The brand introduces their new flap this season, the Dior Caro. This new bag style comes in a soft leather and fabric material with their iconic Cannage pattern.
It features a CD turn lock with a chain leather strap.
The popular vanity is back in the collection, made available in lambskin leather.
The Book Tote and Lady Dior bags are seen in beautiful floral prints and beadings.
The Diorcamp is featured in perforated material, while a new top handle bag is included in the collection which has the CD logo.
Information on the Hibiscus Capsule collection can be found here!
Dior Vanity Leather Cannage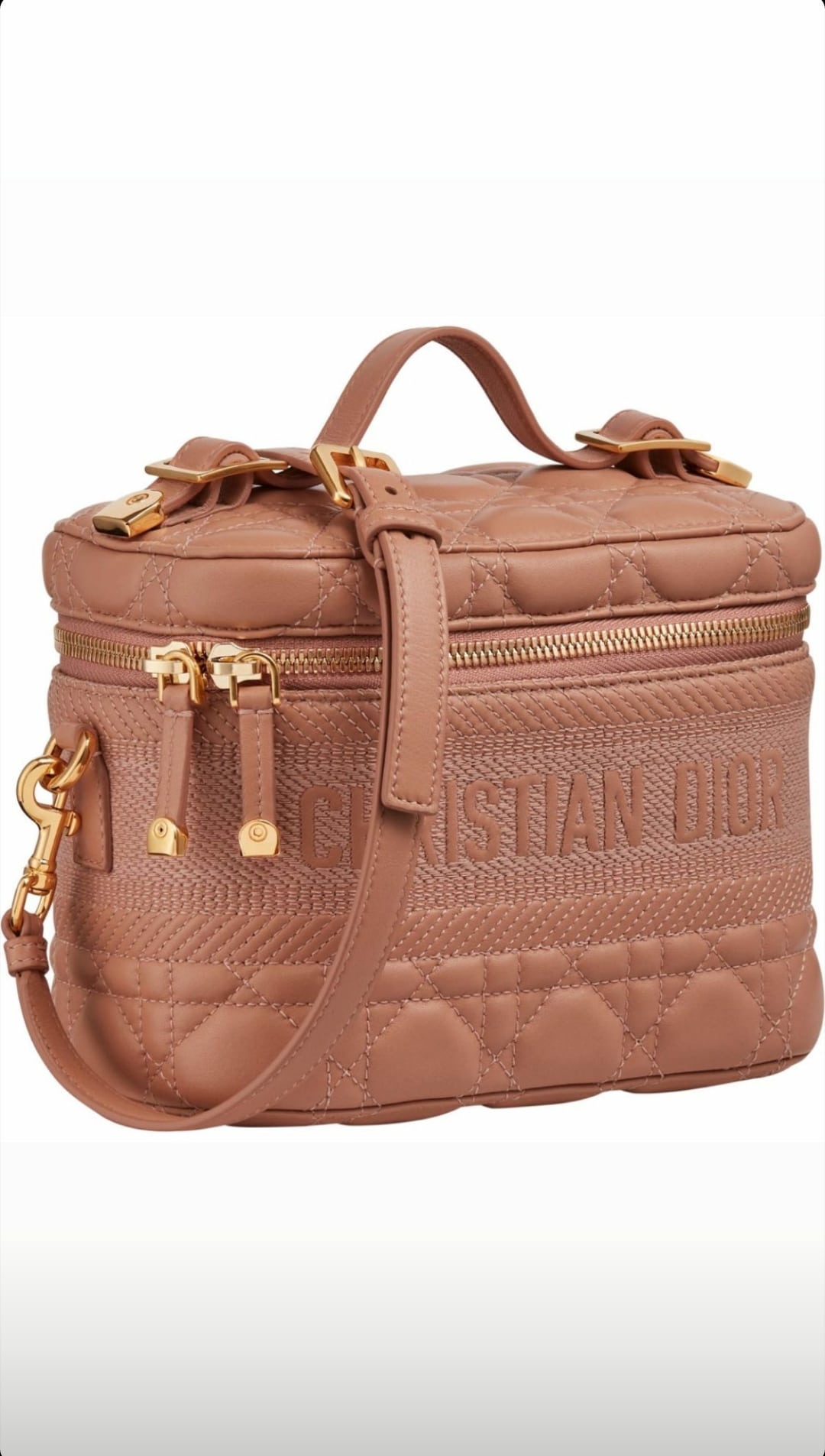 | Style | Price |
| --- | --- |
| Dior Cannage Lambskin DiorTravel Vanity Case Bag | $3,000.00 (USD) |
*No Change on Dior Travel*
Dior Caro Soft Cannage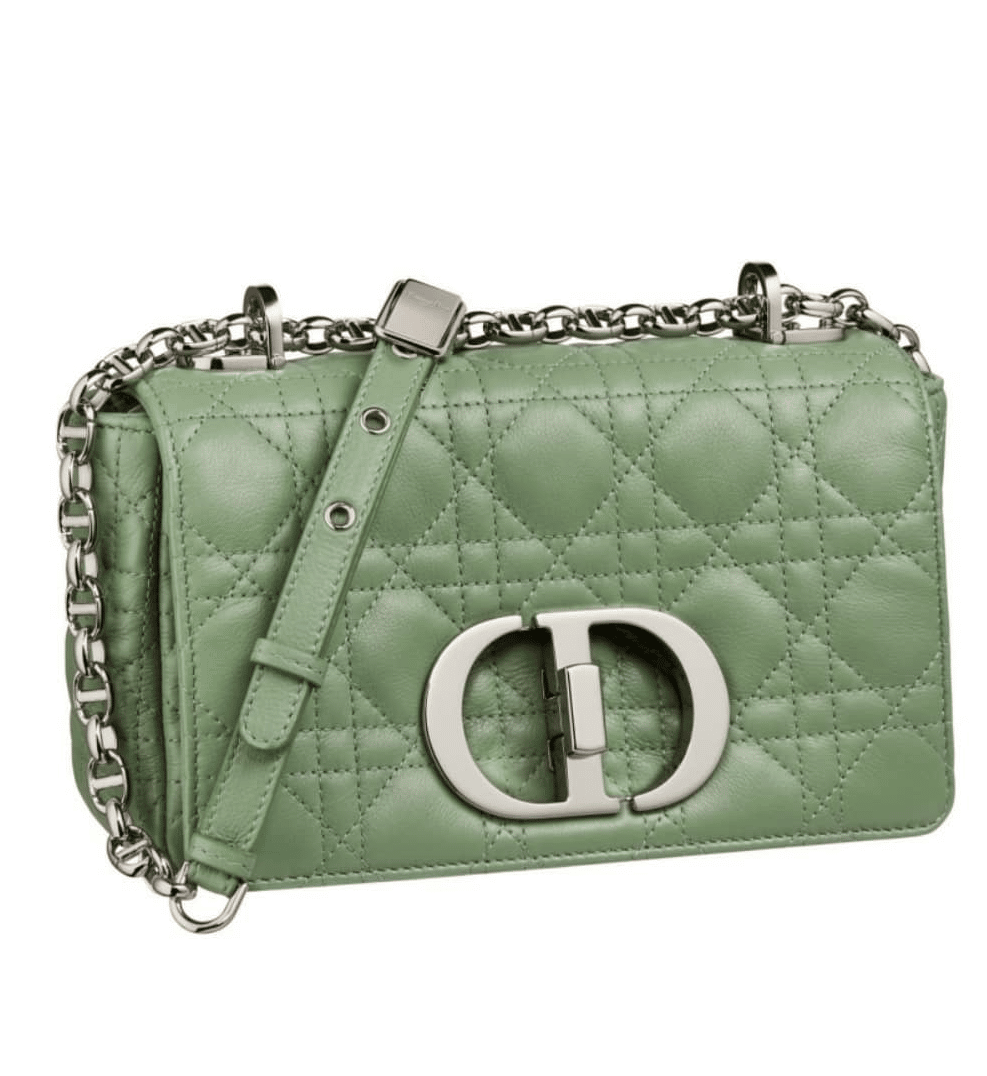 | Style | Old Price | New Price |
| --- | --- | --- |
| Dior Caro Small Bag | $3,800 USD | No Change |
| Dior Caro Large Bag | $4,600 USD | $4,700 USD |
Dior Shearling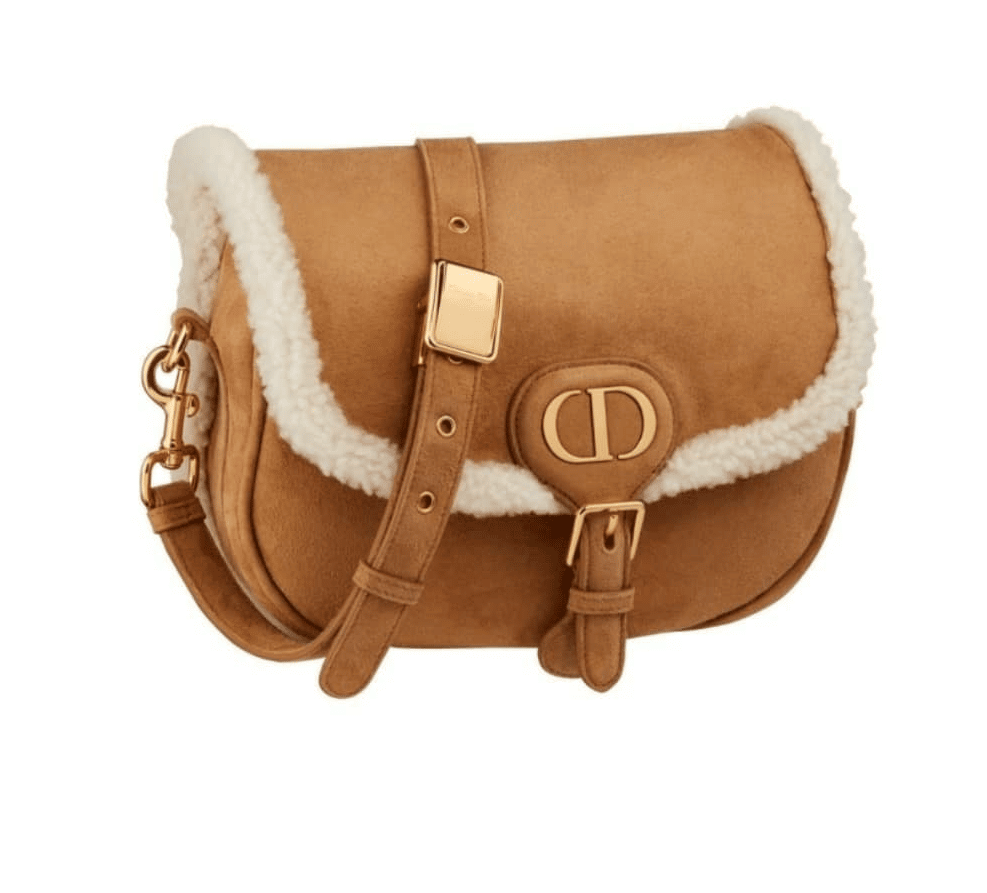 | Style | Old Price | New Price |
| --- | --- | --- |
| Dior Shearling Medium Bobby Bag | $4,500.00 (USD) | $4,600.00 (USD) |
| Dior Shearling Large Caro Bag | $5,100.00 (USD) | $5,700.00 (USD) |
| Dior Shearling Small Caro Bag | $4,600.00 (USD) | $4,700.00 (USD) |
Dior Book Tote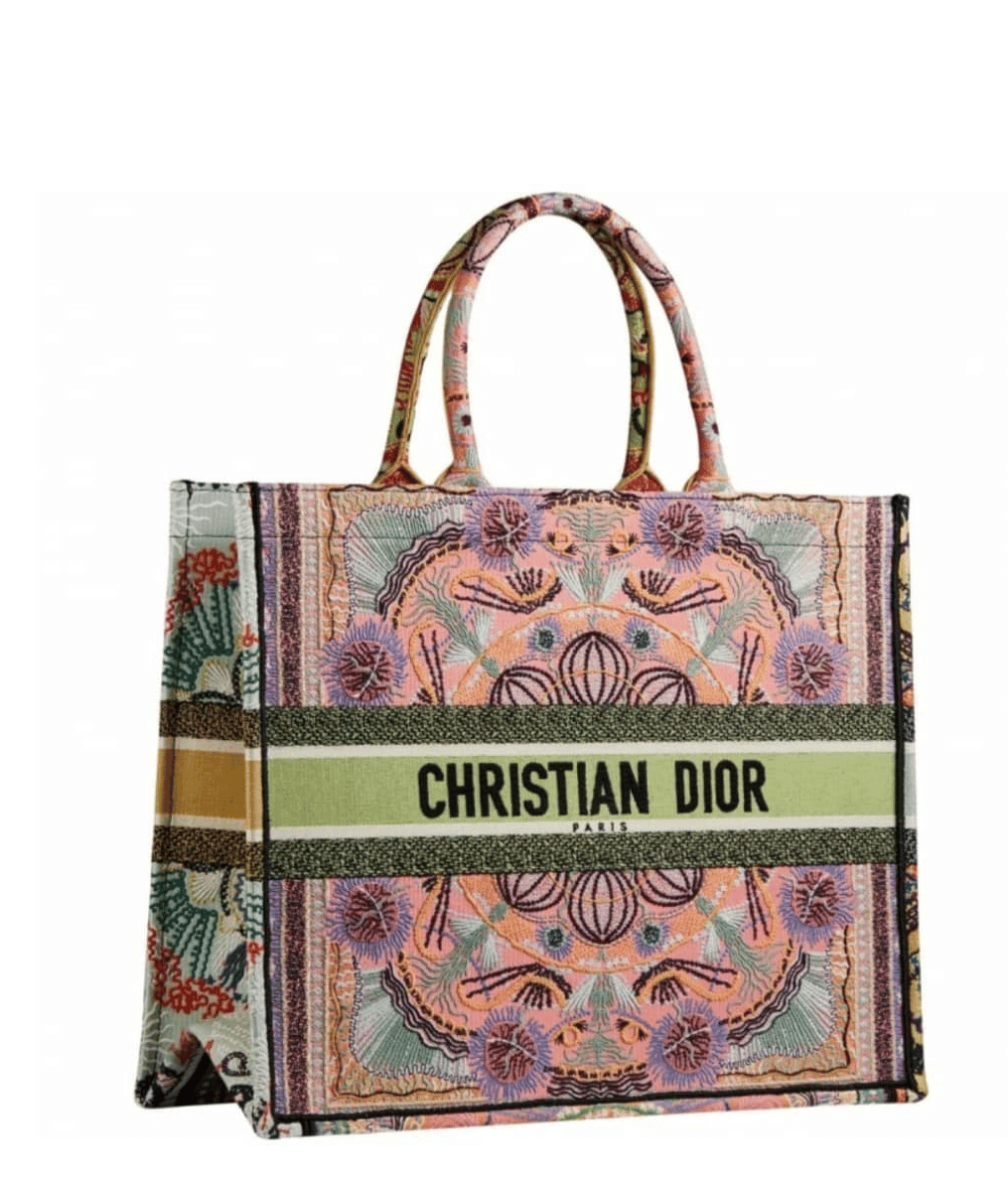 | Style | Old Price | New Price |
| --- | --- | --- |
| Dior In Lights Embroidery Book Tote Bag | $3,500.00 (USD) | $3,600.00 (USD) |
| Dior Zodiac Embroidery Book Tote Bag | $3,500.00 (USD) | $3,600.00 (USD) |
| Dior Mille Fleurs Embroidery Small Book Tote Bag | $3,400.00 (USD) | $3,500.00 (USD) |
| Dior Mesh Embroidery Small Book Tote Bag | $3,250.00 (USD) | No Change |
| Dior Patchwork Embroidery Small Book Tote Bag | $3,400.00 (USD) | $3,500.00 (USD) |
| Dior Tie and Dior Embroidery Book Tote Bag | $3,500.00 (USD) | $3,600.00 (USD) |
| Dior Fleurs Bibliques Embroidery Vertical Book Tote Bag | $2,900.00 (USD) | No Change |
Dior Lady Dior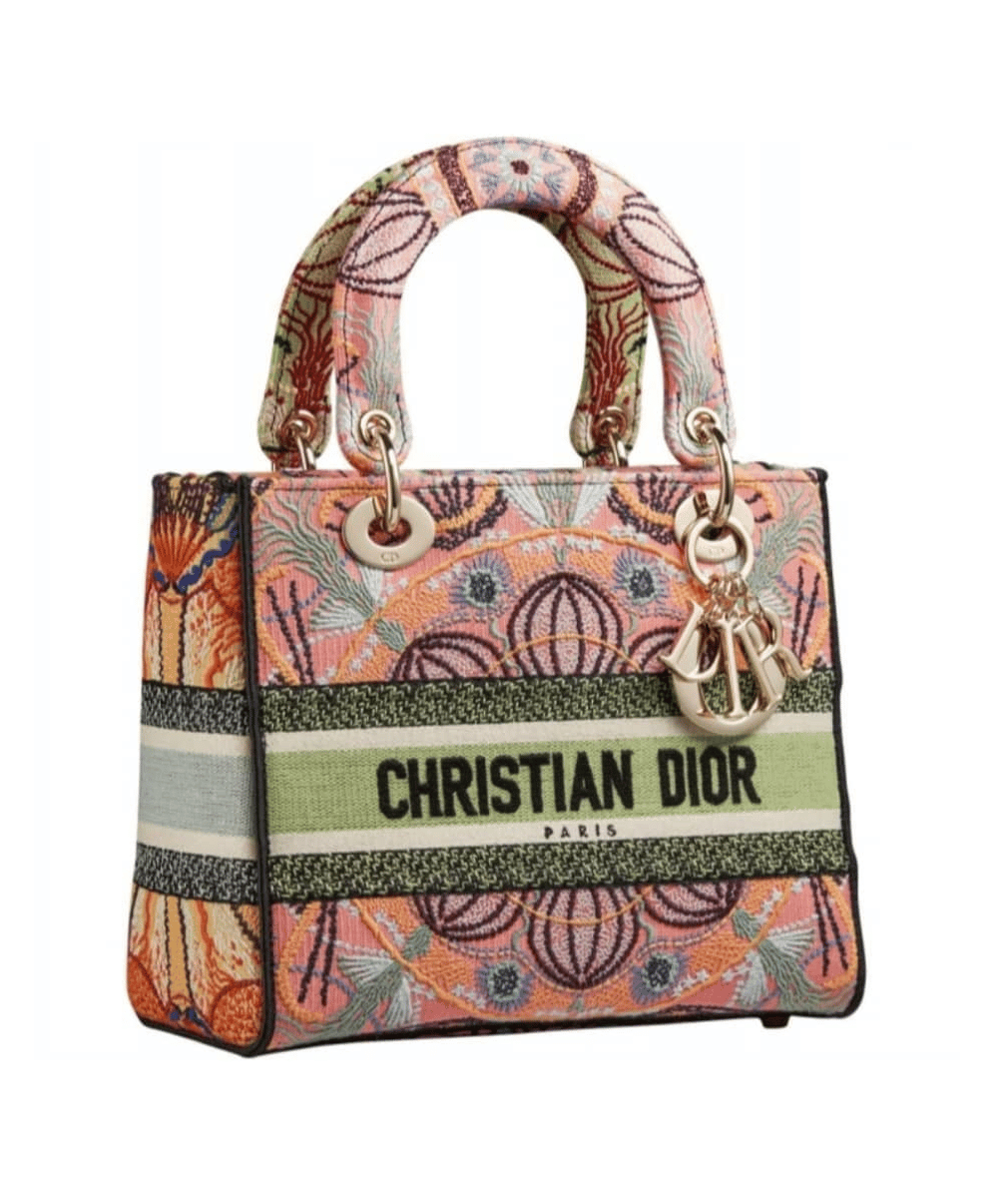 | Style | Old Price | New Price |
| --- | --- | --- |
| Dior In Lights Embroidery Medium Lady D-Lite Bag | $5,100.00 (USD) | $5,300.00 (USD) |
| Dior Mille Fleurs Embroidery Medium Lady D-Lite Bag | $5,100.00 (USD) | $5,300.00 (USD) |
| Dior Tie and Dior Embroidery Medium Lady D-Lite Bag | $5,100.00 (USD) | $5,300.00 (USD) |
| Dior Cannage Embroidery Medium Lady D-Lite Bag | $4,500.00 (USD) | $4,900.00 (USD) |
| Dior In Lights Pearl and Thread Embroidery Medium Lady Dior Bag | $6,800.00 (USD) | TBD |
| Dior Cannage Lambskin Medium Lady Dior Bag | $5,300.00 (USD) | $5,400.00 (USD) |
Dior Bobby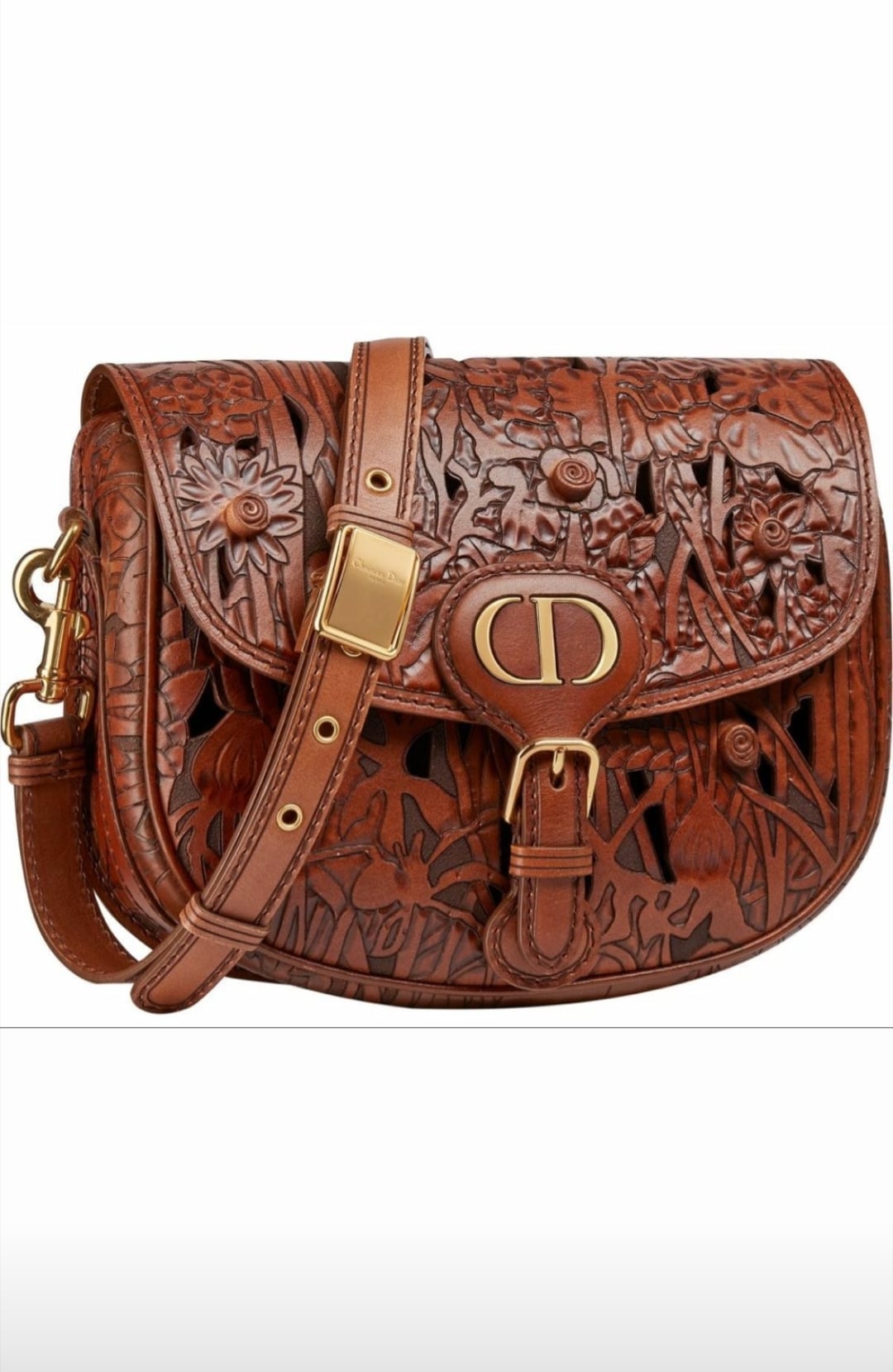 | Style | Old Price | New Price |
| --- | --- | --- |
| Dior Box Calfskin with Oblique Strap Large Bobby Bag | $4,100.00 (USD) | $4,400 (USD) |
| Dior Box Calfskin Medium Bobby Bag | $3,550.00 (USD) | $3,800 (USD) |
| Dior Box Calfskin Small Bobby Bag | $3,250.00 (USD) | $3,500 (USD) |
Dior Saddle and 30 Montaigne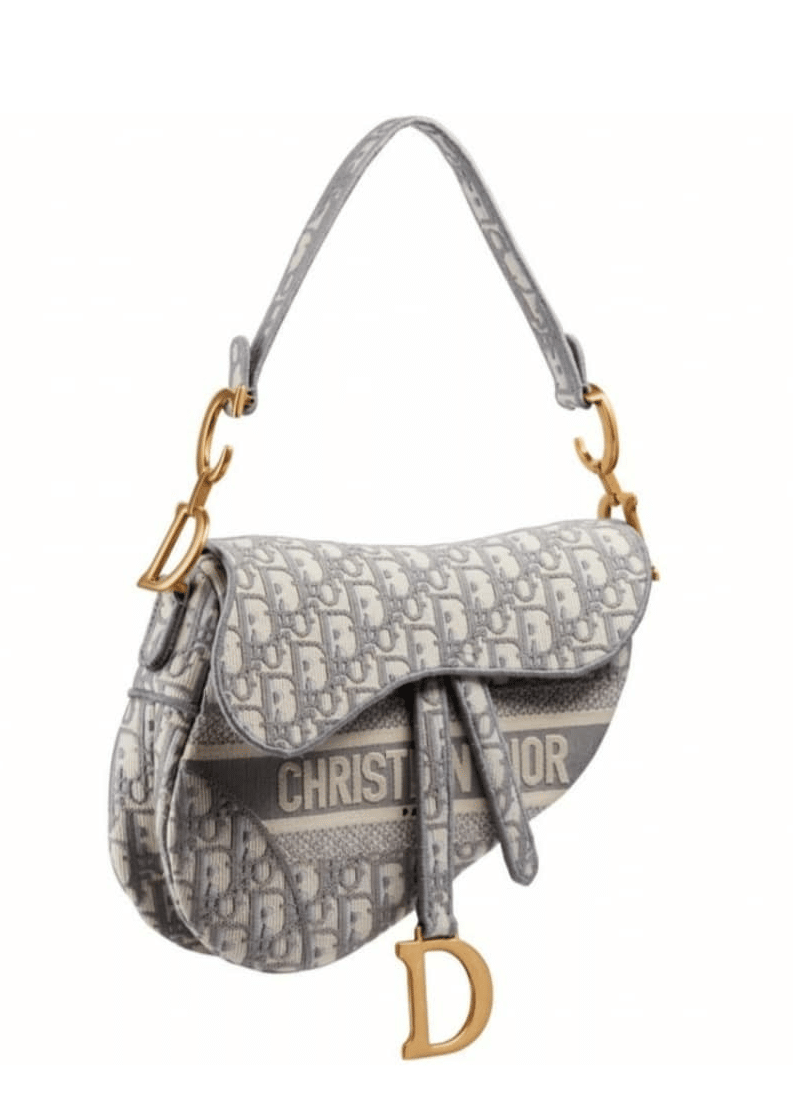 | Style | Old Price | New Price |
| --- | --- | --- |
| Dior Shiny Goatskin Saddle Bag | $3,350.00 (USD) | $3,800.00 (USD) |
| Dior Oblique Grey Saddle Bag | $3,700.00 (USD) | $3,950.00 (USD) |
| Dior In Lights Saddle Bag | TBD | |
| Dior Leather Lasercut Saddle | TBD | |
Other Bags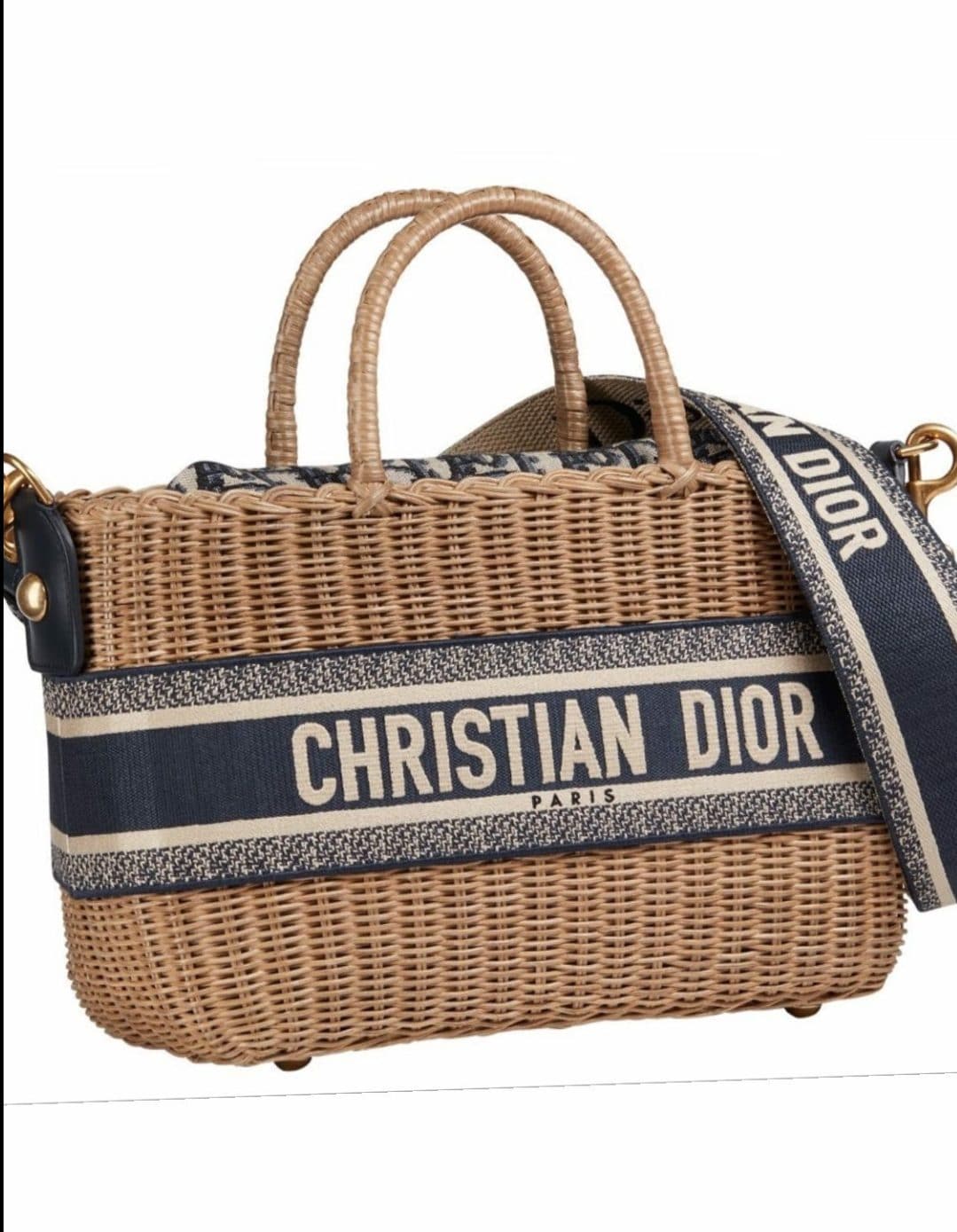 | Style | Old Price | New Price |
| --- | --- | --- |
| Dior Wicker Basket Bag | $5,500.00 (USD) | $5,700.00 (USD) |
| Dior Wicker Bucket Bag | $5,100.00 (USD) | $5,300.00 (USD) |
| Dior Mesh DiorCamp Bag | $2,900.00 (USD) | $3,350.00 (USD) |
| Dior Medium St Honoré Tote Bag | $4,500.00 (USD) | $4,600.00 (USD) |
| Dior Large St Honoré Tote Bag | $4,600.00 (USD) | $5,000.00 (USD) |
| Dior Catherine Tote Bag | $3,900.00 (USD) | $4,200.00 (USD) |
Euro Prices for Dior Cruise 2021 Bag Collection
Dior Vanity Leather Cannage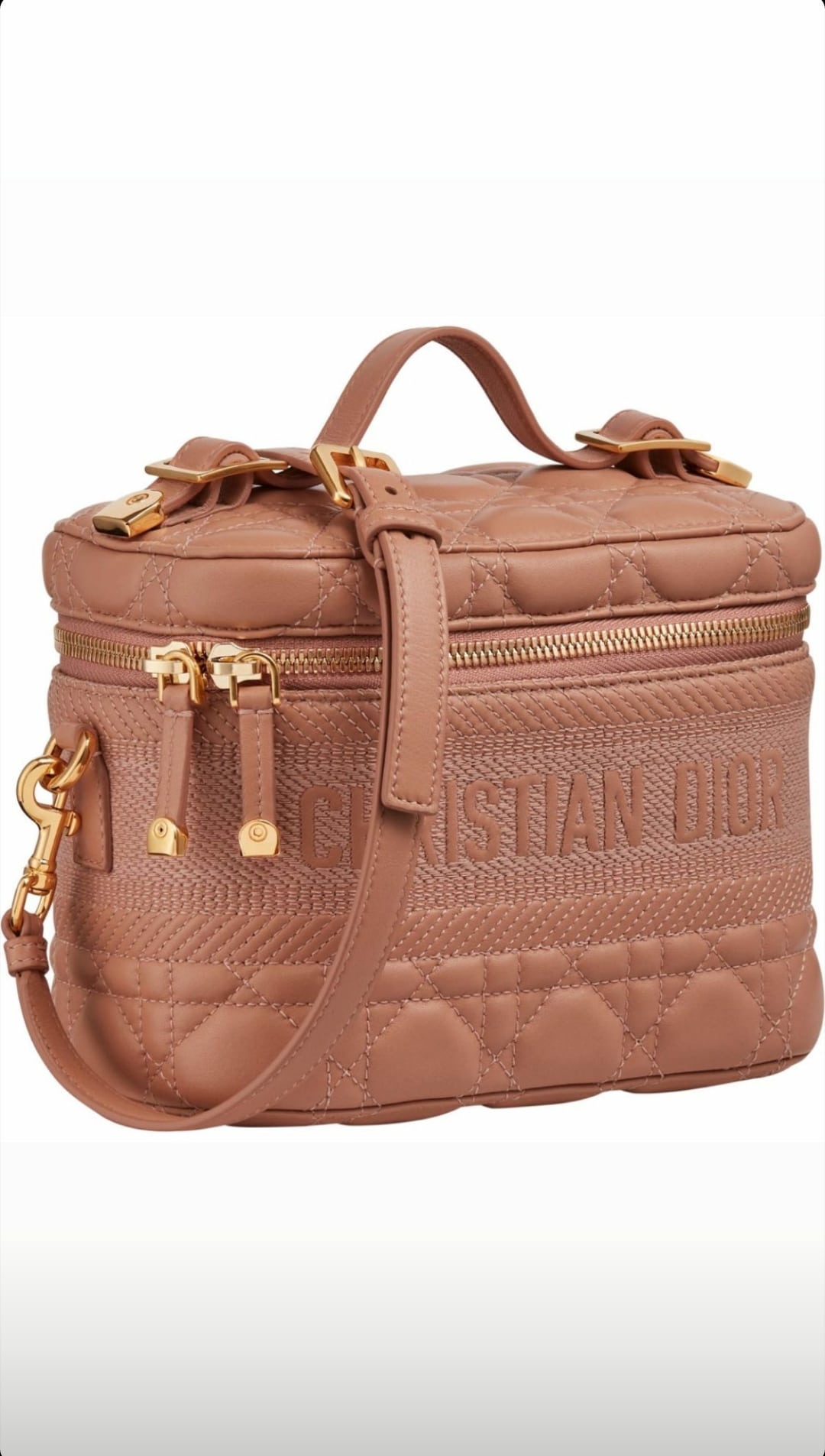 | Style | Price |
| --- | --- |
| Dior Cannage Lambskin DiorTravel Vanity Case Bag | €2,300.00 |
Dior Caro Soft Cannage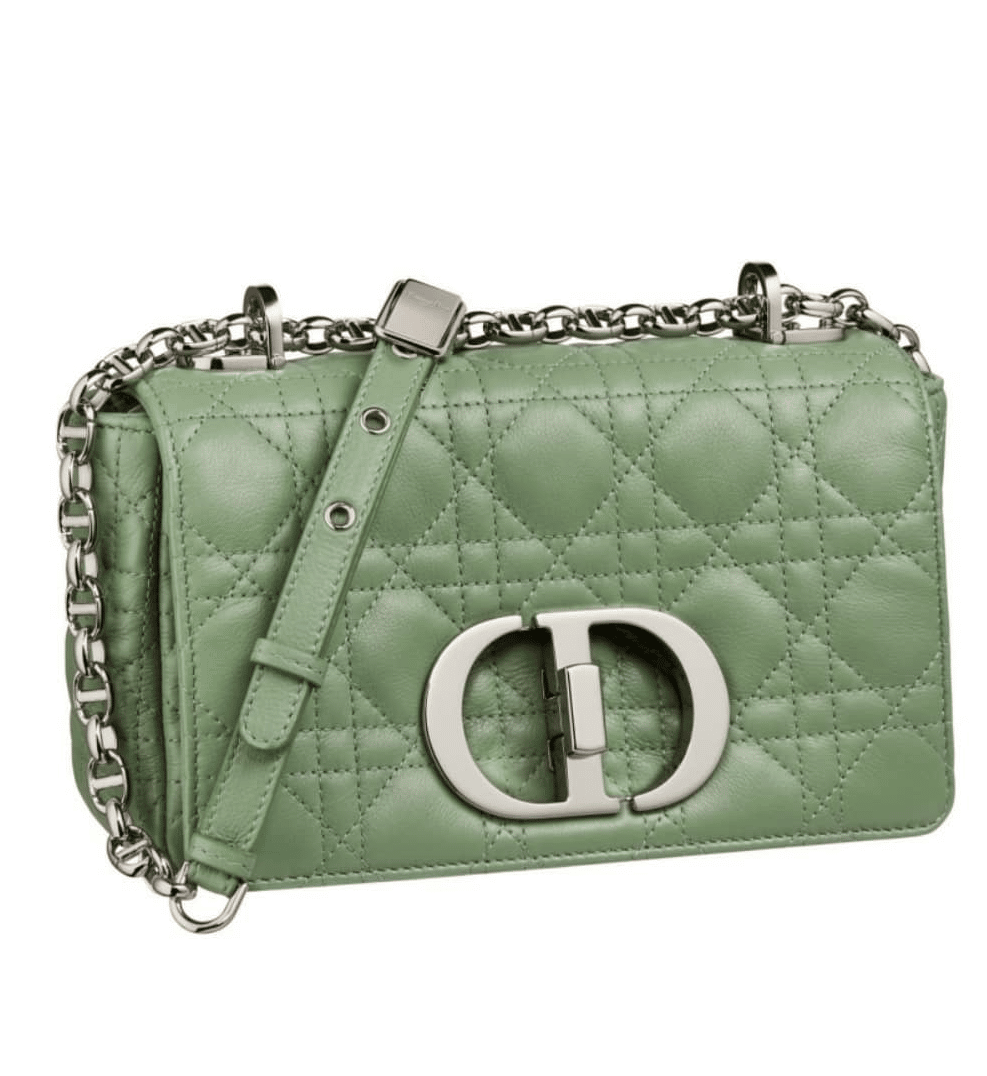 | Style | Price |
| --- | --- |
| Dior Caro Small Bag | €2,900.00 |
| Dior Caro Large Bag | €3,500.00 |
Dior Shearling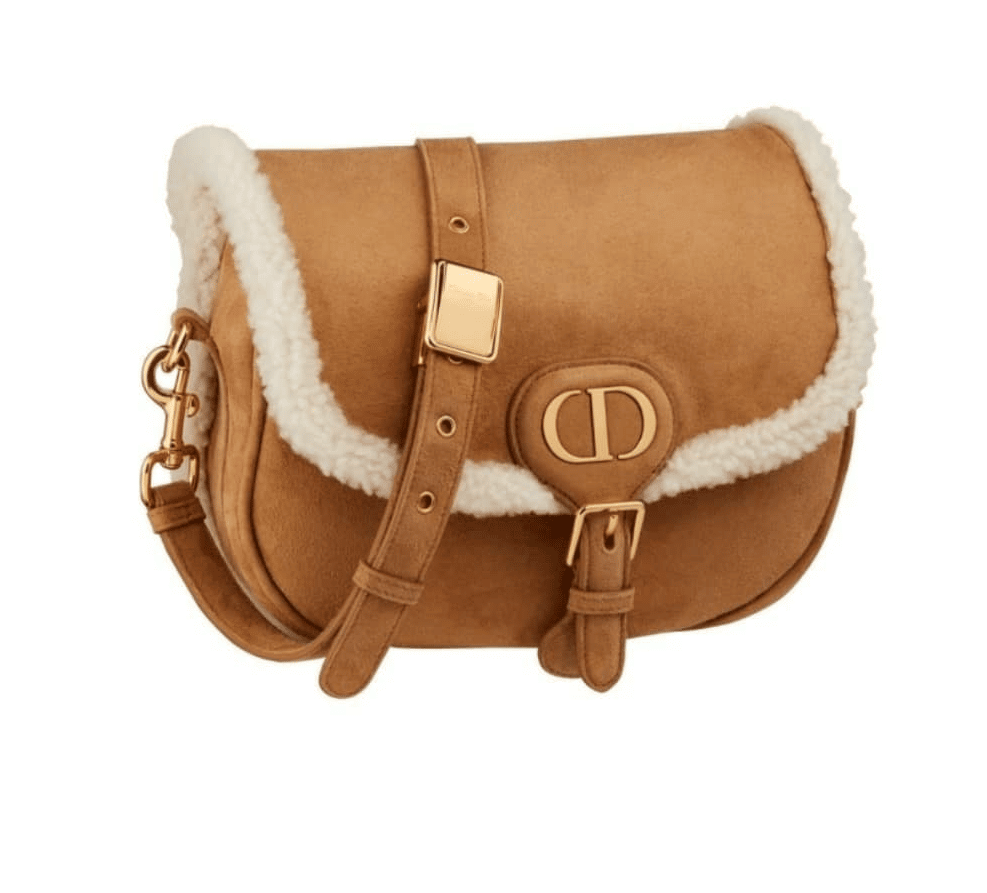 | Style | Price |
| --- | --- |
| Dior Shearling Medium Bobby Bag | €3,400.00 |
| Dior Shearling Large Caro Bag | €4,200.00 |
| Dior Shearling Small Caro Bag | €3,500.00 |
Dior Book Tote
| Style | Price |
| --- | --- |
| Dior In Lights Embroidery Book Tote Bag | €2,700.00 |
| Dior Zodiac Embroidery Book Tote Bag | €2,700.00 |
| Dior Mille Fleurs Embroidery Small Book Tote Bag | €2,600.00 |
| Dior Heart In Lights Embroidery Small Book Tote Bag | €2,600.00 |
| Dior Heart In Lights Embroidery Velvet Lambskin Book Tote Bag | €5,800.00 |
| Dior In Lights Embroidery Perforated Calfskin Book Tote Bag | €5,500.00 |
| Dior Tie and Dior Embroidery Book Tote Bag | €2,700.00 |
| Dior Laser Cut Book Tote Bag | €5,300.00 |
| Dior Laser Cut Small Book Tote Bag | €5,100.00 |
Dior Lady Dior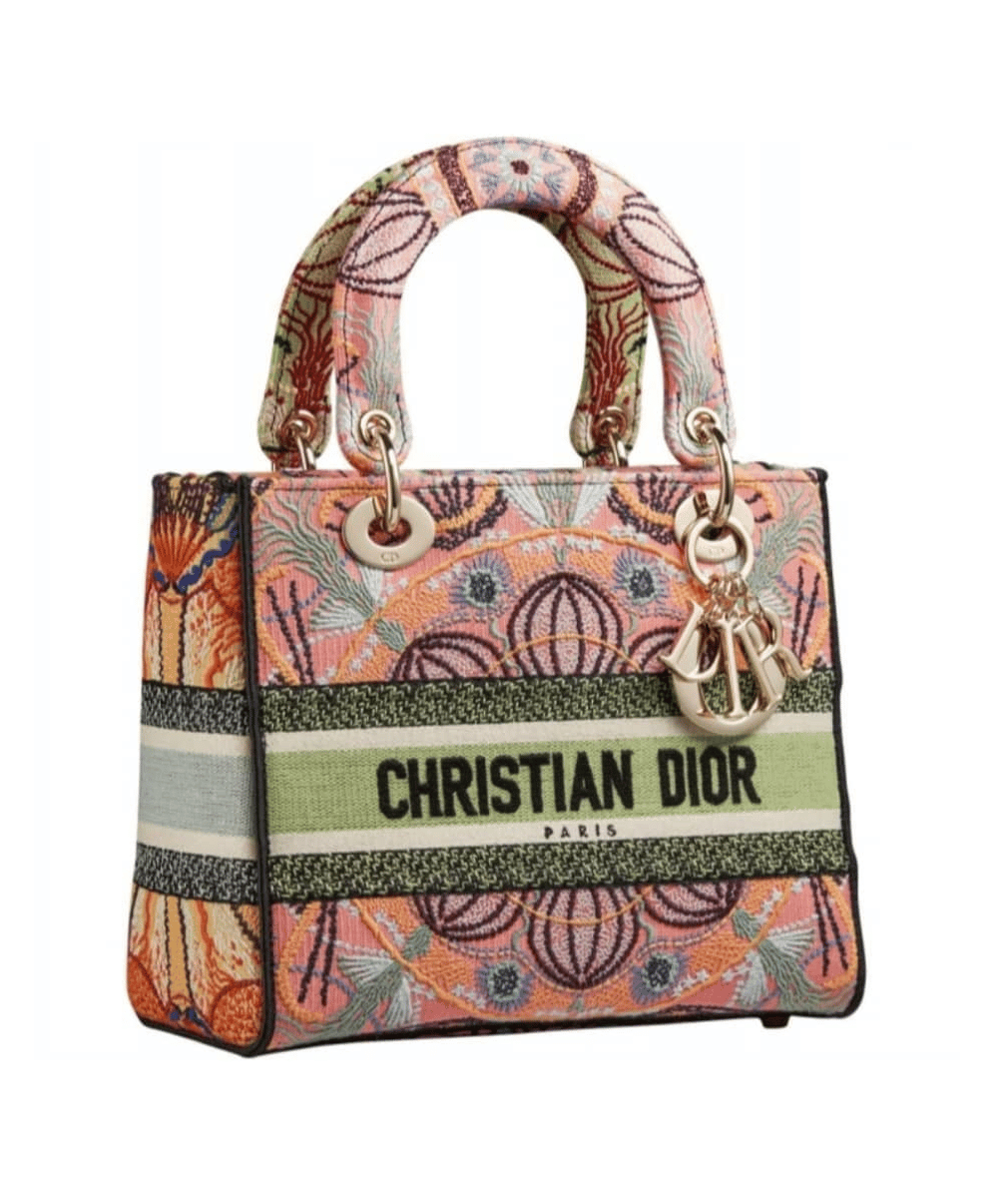 | Style | Price |
| --- | --- |
| Dior In Lights Embroidery Medium Lady D-Lite Bag | €3,900.00 |
| Dior Tie and Dior Embroidery Medium Lady D-Lite Bag | €3,900.00 |
| Dior Cannage Embroidery Medium Lady D-Lite Bag | €3,600.00 |
| Dior Heart In Lights Embroidery Medium Lady Dior Bag | €5,200.00 |
| Dior Metallic Embroidered Mini Lady Dior Bag | €3,800.00 |
| Dior In Lights Pearl and Thread Embroidery Medium Lady Dior Bag | €5,200.00 |
| Dior Cannage Lambskin Medium Lady Dior Bag | €3,900.00 |
| Dior Laser Cut Medium Lady Dior Bag | €5,500.00 |
| Dior Laser Cut Large Lady Dior Bag | €5,900.00 |
Dior Bobby
| Style | Price |
| --- | --- |
| Dior Laser Cut Medium Bobby Bag | €4,700.00 |
| Dior Box Calfskin with Oblique Strap Large Bobby Bag | €3,300.00 |
| Dior Box Calfskin Medium Bobby Bag | €2,900.00 |
| Dior Box Calfskin Small Bobby Bag | €2,600.00 |
Dior Saddle and 30 Montaigne
| Style | Price |
| --- | --- |
| Dior Oblique Saddle Bag | €3,200.00 |
| Dior In Lights Embroidered Saddle Bag | €4,400.00 |
| Dior Embossed In Lights Print Saddle Bag | €3,700.00 |
| Dior Shiny Goatskin Saddle Bag | €2,600.00 |
| Dior Laser Cut Saddle Bag | €4,200.00 |
Other Bags
| Style | Price |
| --- | --- |
| Dior Wicker Basket Bag | €4,200.00 |
| Dior Wicker Bucket Bag | €3,900.00 |
| Dior Net Tote Bag | €2,200.00 |
| Dior Fishnet Embroidery Diorcamp Bag | €2,800.00 |
| Dior Medium St Honoré Tote Bag | €3,400.00 |
| Dior Large St Honoré Tote Bag | €3,700.00 |
| Dior Catherine Tote Bag | €3,100.00 |
UK Pound Prices for Dior Cruise 2021 Bag Collection
Dior Vanity Leather Cannage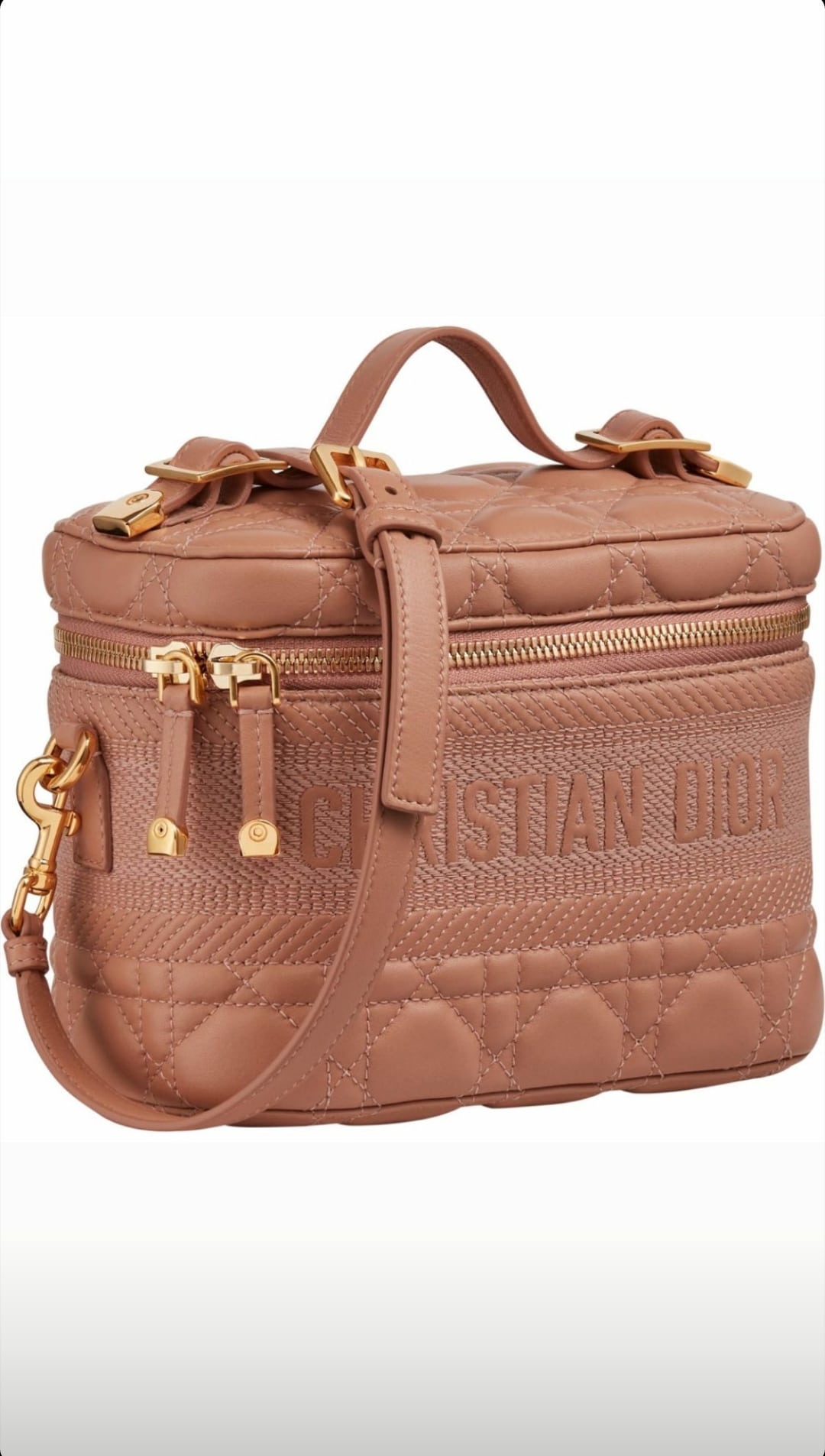 | Style | New Price | Old Price |
| --- | --- | --- |
| Dior Cannage Lambskin DiorTravel Vanity Case Bag | No Change | £2,150.00 |
Dior Caro Soft Cannage
| Style | New Price | Old Price |
| --- | --- | --- |
| Dior Caro Small Bag | £2,800.00 | £2,750.00 |
| Dior Caro Large Bag | No Change | £3,350.00 |
Dior Shearling
| Style | New Price | Old Price |
| --- | --- | --- |
| Dior Shearling Medium Bobby Bag | £3,250.00 | £3,150.00 |
| Dior Shearling Large Caro Bag | No Change | £4,000.00 |
| Dior Shearling Small Caro Bag | No Change | £3,350.00 |
Dior Book Tote
| Style | New Price | Old Price |
| --- | --- | --- |
| Dior In Lights Embroidery Book Tote Bag | £2,650.00 | £2,550.00 |
| Dior Zodiac Embroidery Book Tote Bag | TBD | £2,550.00 |
| Dior Mille Fleurs Embroidery Small Book Tote Bag | £2,550.00 | £2,450.00 |
| Dior In Heart Lights Embroidery Small Book Tote Bag | TBD | £2,450.00 |
| Dior In Heart Lights Embroidery Velvet Lambskin Book Tote Bag | £5,500.00 | £5,400.00 |
| Dior In Lights Embroidery Perforated Calfskin Book Tote Bag | TBD | £5,100.00 |
| Dior Tie and Dior Embroidery Book Tote Bag | £2,650.00 | £2,550.00 |
| Dior Laser Cut Small Book Tote Bag | £4,900.00 | £4,700.00 |
Dior Lady Dior
| Style | New Price | Old Price |
| --- | --- | --- |
| Dior In Lights Embroidery Medium Lady D-Lite Bag | TBD | £3,600.00 |
| Dior Tie and Dior Embroidery Medium Lady D-Lite Bag | £3,700.00 | £3,600.00 |
| Dior Cannage Embroidery Medium Lady D-Lite Bag | £3,450.00 | £3,350.00 |
| Dior In Heart Lights Embroidery Medium Lady Dior Bag | £5,000.00 | £4,800.00 |
| Dior Metallic Embroidered Mini Lady Dior Bag | £3,600.00 | £3,500.00 |
| Dior In Lights Pearl and Thread Embroidery Medium Lady Dior Bag | £5,000.00 | £4,800.00 |
| Dior Cannage Lambskin Medium Lady Dior Bag | £3,700.00 | £3,600.00 |
| Dior Laser Cut Medium Lady Dior Bag | £5,200.00 | £5,100.00 |
| Dior Laser Cut Large Lady Dior Bag | £5,600.00 | £5,500.00 |
Dior Bobby
| Style | New Price | Old Price |
| --- | --- | --- |
| Dior Laser Cut Medium Bobby Bag | £4,500.00 | £4,400.00 |
| Dior Box Calfskin with Oblique Strap Large Bobby Bag | £3,150.00 | £3,100.00 |
| Dior Box Calfskin Medium Bobby Bag | £2,800.00 | £2,700.00 |
| Dior Box Calfskin Small Bobby Bag | No Change | £2,500.00 |
Dior Saddle and 30 Montaigne
| Style | New Price | Old Price |
| --- | --- | --- |
| Dior Oblique Saddle Bag | £2,800.00 | £2,450.00 |
| Dior In Lights Embroidered Saddle Bag | £4,200.00 | £4,100.00 |
| Dior Embossed In Lights Print Saddle Bag | £3,500.00 | £3,450.00 |
| Dior Shiny Goatskin Saddle Bag | £2,800.00 | £2,450.00 |
| Dior Laser Cut Saddle Bag | £4,000.00 | £3,900.00 |
Other Bags
| Style | New Price | Old Price |
| --- | --- | --- |
| Dior Wicker Basket Bag | £4,000.00 | £3,900.00 |
| Dior Wicker Bucket Bag | £3,70.00 | £3,600.00 |
| Dior Net Tote Bag | £2,100.00 | £2,050.00 |
| Dior Fishnet Embroidery Diorcamp Bag | £3,650.00 | £2,600.00 |
| Dior Medium St Honoré Tote Bag | £3,250.00 | £3,150.00 |
| Dior Large St Honoré Tote Bag | £3,500.00 | £3,400.00 |
| Dior Catherine Tote Bag | £2,950.00 | £2,850.00 |