Dior has always been a staple in high fashion, and they continue to produce beautiful collections season after season. Introducing the newest Dior Vibe collection fuses house heritage with the world of sportswear.
This collection features sleek silhouettes and innovative materials that are perfect for the stylish woman on the go.
Originally unveiled at the brand's Cruise 2022 show in Athens, Dior finally released this trendy and sporty collection last January 06. Featured in the sporty trend and the Y2K resurgence are two hybrid creations, the Hobo bags and Zip Bowling Bags.
Dior's classic Zip bowling bag includes a crossbody strap with a military-inspired buckle and comes in different colorways such as black, white, and various metallics.
Other designs are inspired by the imagery of Greece and its fan-favorite monogram design. The coveted style is printed with the brand's signature logo on the sides, as well.
As for the Dior Hobo bag the minimal silhouette, which was also a hit in the 2000s, comes in a quilted exterior, featuring a gold chain handle and a removable shoulder strap.
The brand's 'CHRISTIAN DIOR PARIS' signature adorns the bottom of the bag, and its versatile design can be worn on the shoulder or as a crossbody for that sportier look.
So, whether you're going to work or out for the night, these pieces will have you looking your best. So be sure to check out the Dior Vibe collection today!
Dior Vibe Hobo Bag
| Style | US Price | EU Price |
| --- | --- | --- |
| Dior Vibe Small Hobo Bag | $3,400.00 | € 2,600.00 |
| Dior Vibe Medium Hobo Bag | $3,800.00 | € 2,900.00 |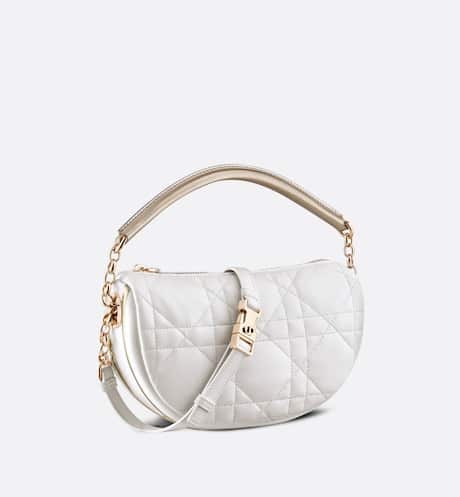 Dior Vibe Zip Bowling Bag
| Style | US Price | EU Price |
| --- | --- | --- |
| Dior Vibe Medium Zip Bowling Bag Padded Black Silver Calfskin | $5,100.00 | € 3,900.00/td> |
| Dior Vibe Medium Zip Bowling Bag White Calfskin | $4,700.00 | € 3,600.00 |
| Dior Vibe Medium Zip Bowling Bag White & Gold Padded Macrocannage Calfskin | $5,100.00 | € 3,900.00 |
| Dior Vibe Medium Classic Bowling Bag White & Gold Perforated Calfskin | $5,300.00 | € 4,100.00 |
| Dior Vibe Large Classic Bowling Bag Blue Athletes | $5,700.00 | € 4,400.00 |
| Dior Vibe Large Zip Bowling Bag Multicolor D-Cariatides | $7,000.00 | € 5,400.00 |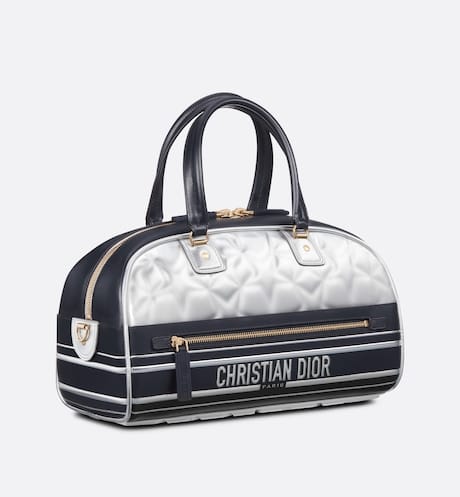 Other Dior Vibe Bags
| Style | US Price | EU Price |
| --- | --- | --- |
| Dior Vibe Book Tote | $3,350.00 | € 2,500.00 |
| Dior Vibe Medium Caro Bag | $4,500.00 | € 3,300.00 |
| Dior Vibe Medium Lady D-lite Bag | $4,400.00 | € 3,300.00 |