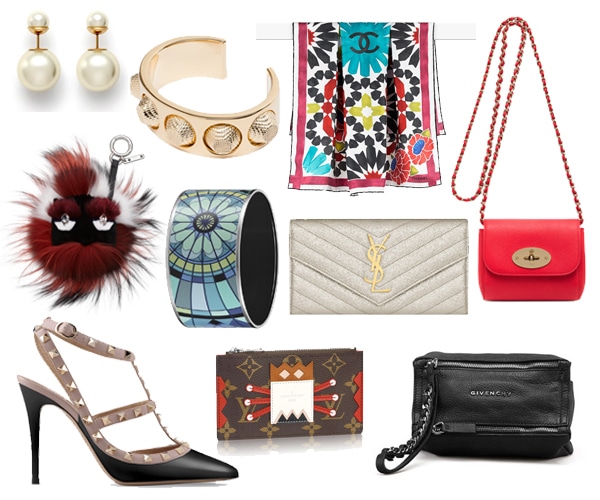 Holiday season is just around the corner and here are some of the options that are currently available to complete gift giving for that person with discerning taste. If you're not looking to be gift giving at this point these are great pieces to complete your current wardrobe, from the adorable Fendi Crystal Eyed Strangee Bug to the new Saint Laurent Metallic Matelasse Wallets.  Here's a list of some of the hottest items currently available.
For more options make sure to also check-out the new HOLIDAY SHOP.
Dior Mise En Dior Tribal Earrings

Dior's famous Mise En Dior tribal inspired earrings is one of the hottest trend this year. Made of resin beads, the small pearl rests on the ear, while the large one peeks at the back. This has been a big favorite among Hollywood stars. It can be worn alone or as a pair, and price starts at $410.00 (USD)
Balenciaga Classic Pale Gold Bracelet

Balenciaga's classic arena bracelets have been very popular, but this pale gold bracelet is another must have. This cuff features the iconic giant Arena studs as seen on the motorcycle bags.
Retails for $585.00 (USD).
Hermes Rose de Compas Extra Wide Enamel Bracelet

The classic Hermes Enamel Bracelet comes in various design and sizes. This Rose de Compas design brings a colorful touch to your outfit this season. Create an arm party, and start it with Hermes' printed bracelets.
Retails for $725.00 (USD).
Fendi Bag Bug Strangee

Fendi's Bag Bug charms has gained a lot of followers since it first came out in 2013. Available in different designs, and even have its own name. Strangee is a multicolor bag charm which is made of fur and Swarovski crystal eyes. It also has a matching leather cord.
Retails for $800.00 (USD).
Chanel Silk Twill Square Scarf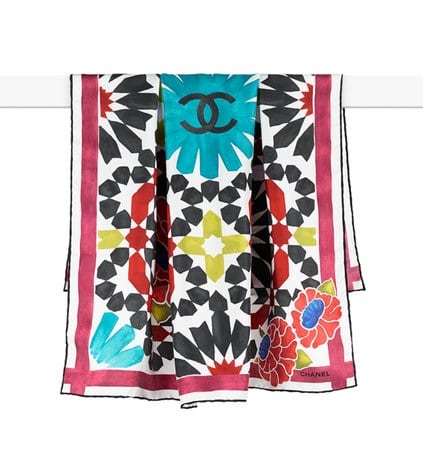 Everyone needs a scarf for the cold weather. Good thing Chanel has already released their Cruise 2015 Collection, and it includes this gorgeous floral scarf.
Retails for  $500.00 (USD), only available in stores. 
Louis Vuitton Tribal Mask Key Pouch

Keep your keys organized with this cute key pouch from Louis Vuitton's Cruise 2015 Collection dubbed the Louis Vuitton Tribal Mask Key Pouch. The pouch is made of the iconic Monogram Canvas and features the African Tribal mask from Gaston Vuitton's collection.
Retails for $660.00 (USD) available online from Louis Vuitton.
Saint Laurent Silver Monogram Flap Large Matelasse Wallet

The Saint Laurent Silver Monogram Flap Large Matelasse Wallet is made of metallic leather with matelasse stitching. It has a snap closure featuring the YSL logo in gold toned metal. It has 12 card slots, 1 coin pocket, 2 bill and 1 receipt compartment.
Retails for $745.00 (USD).
Givenchy Black Pandora Wristlet with Chain

This Givenchy Pandora wristlet is made in the same style as the classic Pandora. Perfect for the person that already owns the large version of the Pandora bag.  Made in soft goat leather complete with silver hardware.  This piece ca be carried from day to night.
Retails for $690 USD.
Mulberry Mini Lily Bag

The Mulberry Mini Lily bag can be used day or night. This is the perfect bag to use for all the parties that you are going to attend to, you can move freely as it can be used as a shoulder bag or crossbody bag. It also includes credit card slots and features the Mulberry signature Postman's lock.
Retails for $590.00 (USD).
Valentino Rockstud Ankle Strap Pumps

Who doesn't want to have new shoes for the New Year? The Valentino Rockstud Ankle Strap Pumps is the perfect pair to use on your New Year's Eve party. These ankle Strap pumps are made of calfskin and napa leather. Embellished with platinum finished rockstud detail. It has an adjustrable strap and a heel height of 4". The Black and Beige color makes a good choice as it easy to pair up with any outfit.
Retails for $995.00 (USD).