We hope you love the products we recommend! Just so you know, when you buy through links on our site, we may earn an affiliate commission. This adds no cost to our readers, for more information read our earnings disclosure.

Goyard has been personalizing its products for more than a century. House of Martin was established in 1792, which eventually became Goyard in 1853. The brand has been monogramming rich families' trunks and has continued this service up to the present day. Currently, Goyard has three painting workshop located in:
San Francisco, USA;
Tokyo, Japan;
Carcassone, France.
Goyard Boutiques worldwide will accept your product for personalization but the items will be sent into one of the said locations. This is why it may take up three weeks or more than a month to finish the personalization.  Check-out Goyard's interactive personalization widget to see how your new purse will look.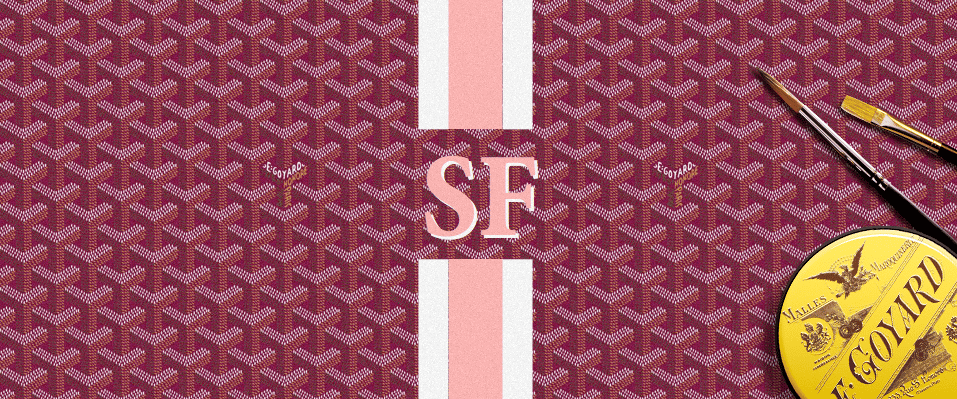 The personalization can be done any time, even if you have purchased the bag for quite some time already. It does not have to be brand new. Bags and small accessories like wallets, pouches and card holders can be personalized. Goyard offers a variety of choices for personalization.
Steps to personalizing your Goyard bag
First, you need to select a Goyardine color. Then, you will have the option to add a motif or stripes which comes in Central Stripe, Diagonal Stripe or Vertical Stripe. Customers gets to choose from 17 different colors for the wordings, which could be their initials or name, you can even add a symbol or image of your choice.
Just like all other Goyard bags, the personalization is painted by hand. Each coat of paint takes about 24 hours to finally dry. Prices vary depending on colors and sizes. Limited colors are valued more than the classic colors.  For informaton on the most classic style the St. Louis check-out our guide.
Personalization Price for Goyard Bags
Personalization costs €120.00 for a maximum of three stripes or six initials for classic colors, and €240.00 for metallic colors. Skulls are no longer available, while stars costs €480.00.

Image Source: Bergdorf Goodman, Goyard