Introducing the Best Shearling Bags for Fall 2018. What better way to upgrade your wardrobe, than to accessorize yourself with a shearling handbag. Now is the time to carry this plush bag, which perfectly matches the cold season. Check out these latest designs from top luxury brands including Louis Vuitton, Chanel, Saint Laurent and Balenciaga.
[tabs type="vertical"][tabs_head][tab_title]1[/tab_title][tab_title]2[/tab_title][tab_title]3[/tab_title][tab_title]4[/tab_title][tab_title]5[/tab_title][tab_title]6[/tab_title][tab_title]7[/tab_title][tab_title]8[/tab_title][/tabs_head]
[tab]Louis Vuitton Damier Ebene Normandy Bag - $3,500.00 (USD)
The Damier Ebene Normandy gets an update with soft shearling trim.


[/tab][tab]Chanel Shearling Deauville Shopping Bag - $7,900.00 (USD)
The iconic Deauville features the shearling lambskin material with calfskin and silver-tone metal.


[/tab][tab]Prada Shearling Tote Bag - $1,970.00 (USD)
This chic shearling tote features top handle and main compartment. It includes a pom-pom cherry charm.


[/tab][tab]Fendi Shearling Kan I Bag - $3,980.00 (USD)
Fendi has a variety of shearling bags available. This includes the Kan I with the FF pattern and comes in brown hues.


[/tab][tab]Saint Laurent Shearling Lou Lou Bag - $2,850.00 (USD)
The gorgeous Lou Lou Bag gets a plush finish with a convertible chain strap. It features the YSL logo in gold hardware.


[/tab][tab]Valentino Shearling Rockstud Flap Bag - $4,745.00 (USD)
This Rockstud brings in a mix of feminine and edgy, perfect to use from day to night.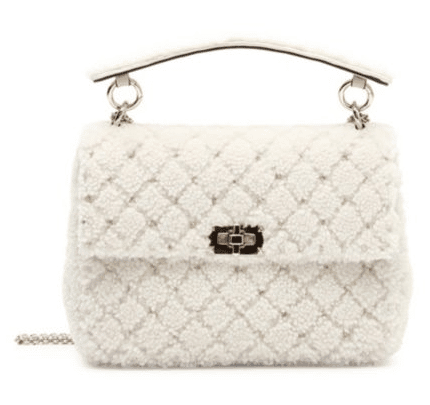 [/tab][tab]Balenciaga Shearling Logo Tote Bag - $2,650.00 (USD)
The Balenciaga is made of dyed lamb shearling and features the brand's signature logo in a contrasting color.


[/tab][tab]Givenchy Shearling Antigona Shopping Bag - $2,150,00 (USD)
This Antigona Shopping Bag is a reversible tote. It is made of lambskin leather with shearling edges, but when reversed it comes in a complete shearling material.


[/tab][/tabs]