We hope you love the products we recommend! Just so you know, when you buy through links on our site, we may earn an affiliate commission. This adds no cost to our readers, for more information read our earnings disclosure.
Updated September 2013
 
Chanel at the London Heathrow Airport Terminal 3 is considered one of the few places where you can get a good deal on a Chanel bag. However, this depends a lot on the exchange rate since the stronger the pound the lower your savings. That being said the alternative is to buy Chanel in Paris since EU countries participates in a VAT refund (approx. 13%) for for tourists visiting the country.  Since the bags purchased at Heathrow are excluding the VAT of 20% (2013), then the cost saving is an immediate 20% versus the 13% (much less depending on the EU country).  The VAT refund for EU countries requires more work to get the refund to be applied versus the reduced price at the Heathrow airport.
To date the Chanel at Heathrow will mostly sell the higher end current season collection stock.  They will have stock of WOC, PST and GST's; however, classic flaps and reissues are no longer being stocked.  Stock will include such things as the popular Chanel Boy Bags and other newer collection styles such as the Riviera bags and Crave bags.  Reservations are available but are held for limited periods so inquire with the store for appropriate stock close to when you will arrive otherwise they will not hold bags for you.

Chanel at London Heathrow Airport is at Terminal 3 opening hours are from 7:00 – 22:00. Their phone number is 44-20-87541000.  Airports typically allow transfer to other terminals; however, moving through security gates is required with your passport and boarding passes. This also takes a fair bit of time to travel from one security gate to another.

(FOR REFERENCE USE ONLY: Prices are approximate and it is important to contact the store directly for stock and price)
Expect to pay approximately 20% less for that are in UK boutiques
| Style | Price in pounds |
| --- | --- |
| Chanel GST Bag (updated) | £1,333.33 |
| Chanel Cerf Tote Bag (Updated) | £1,612.50 |
| Chanel WOC Bag (updated) | £888.00 |
| Chanel PST Bag (updated) | £1,020.00 |


Here is the map of Terminal 3 at the London Heathrow Airport where the Chanel Boutique is located.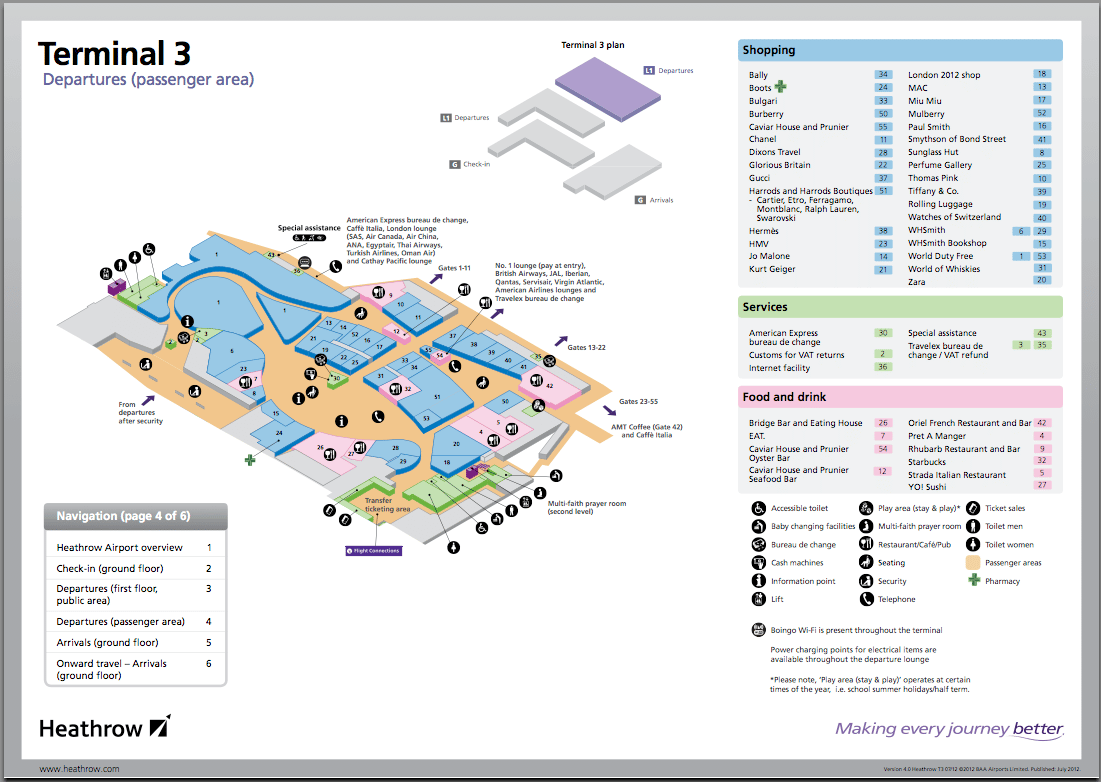 Photo from www.heathrow.com