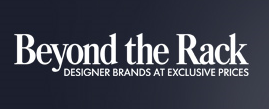 Beyond the Rack reviews and buyer beware
The newest Canadian bred equivalent to Gilt Groupe is Beyond the Rack based out of Montreal. This company has incredible deals that are sometimes too good to be true, for instance their incredible sales. Some of the complaints on the site include slow shipping, items not being described and bags priced at retail or above.
SLOW SHIPPING - This is partially due to the fact that Beyond the Rack is based in Canada. As any Canadian would know shipping out items through our border can sometimes be quite slow. Also, the model seems to be that they put the purchases up for sale, and don't buy it from the supplier until AFTER the order by the customer has been placed -- consistent with a dropship model since BTR is the agent in these transactions.
ITEMS NOT AS DESCRIBED - There have been reports that items were not as pictured when the customer received their item. The customer however has no claim since they typically warn buyers that "ALL SALES ARE FINAL". So the amazing prices they received, especially for designer goods in vintage condition aren't pictures at vintage quality, but BRAND NEW CONDITION. There are no verifiable reports of counterfeit items but just that the conditions as pictured and described were not comparable to the real product received.
Note under the Beyond the Rack caveats:
The Seller may make minor modifications / substitutions in the design and specification of the Goods at any time without notice to the Buyer, even if an Order Confirmation has been issued. In the case of material modifications to the Goods, the Seller shall notify the Buyer of such material modifications. The Buyer may accept or reject the Good as modified within 48 hours of the email being sent by the Seller. If the Seller has not received a response from the Buyer within this time period, the Seller will refund the Purchase Price as per the original payment method(s) and cancel the Order, even if an Order Confirmation has previously been issued.
Bags priced at retail or above - althought the same goes for any online sales site, make sure to double check and do your homework on prices. Try searching on Shopstyle.com for comparative prices on some of the online sales. Just because it is a flash sale, doesn't mean that it's probably the best price you can get for it.
If you have any comments regarding this please feel free to leave your thoughts down in the comment section.