Updated as of July 2014
The ad campaign for the Balenciaga Women and Men's Fall / Winter 2014 collection has been released. The most notable shot includes the photograph of male model Dzhovani Gospodinov carrying this interwoven flat backpack in the shape of the Le Dix Backpack.  For the women's campaign there was a notable lack of handbags; which, is a move away from what other brands such as Celine, Saint Laurent and Louis Vuitton have been focused on. However, the runway only featured the wire shopping totes, which aren't a compelling piece to be featured in a campaign.
Brazilian supermodel Gisele Bundchen stars in Balenciaga's Fall/Winter 2014 ad campaign. Shot by American photographer Steven Klein in a room full of mirrors, the images appears in black and white. Gisele is sporting a super short hair in the ads, her long wavy hair is actually hidden under a wig. She is seen wearing knee-high boots, tailored jacket and an embellished sweater. Balenciaga's Creative Director Alexander Wang, wanted to show in the ads how she sees Gisele for Balenciaga, "strong, powerful and mysterious".
New images have been released for the Fall/Winter 2014 Campaign wherein Gisele were seen with Balenciaga's latest handbags, the Cable Strap Shopper Bags and the Padlock Tote Bag.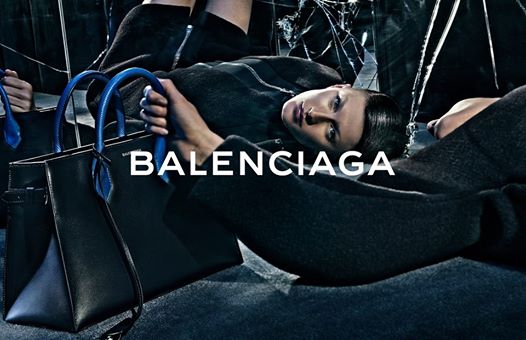 The Balenciaga Men's Fall/Winter 2014 Campaign features model Dzhovani Gospodinov. The men's campaign was photographed by the Joshn Olins and styled by Tony Irvine. Dzhovani is photographed in a garden background full or pink and purple leaves.
Source: Balenciaga