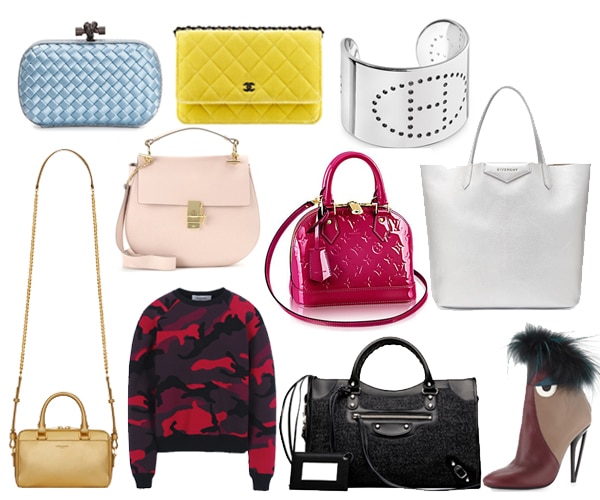 Since it is officially the season of gift giving we have compiled another list of gift ideas for those who are willing to spend more money to their loved ones. Below are some luxury goodies below $2,000 from Louis Vuitton, Balenciaga, Chanel, Givenchy and more!
For more options make sure to also check-out the new HOLIDAY SHOP.
Louis Vuitton Monogram Vernis Alma BB Bag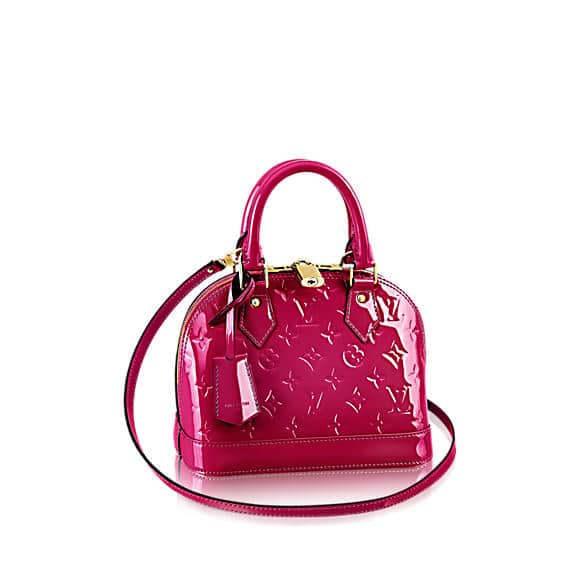 One of the best gifts to receive this season is something from Louis Vuitton. This mini version of the iconic Alma Bag comes in Monogram Vernis. It has a removable and adjustable strap and can be used as a handbag or shoulder bag and can also be worn across the body. It can fit your keys, wallet, lipstick and cellphone.
Retails for $1,820.00 (USD).
Balenciaga Alpaca City Bag

Balenciaga's famous City Bag has been made available in brushed alpaca. The bag's handles, strap and other details of the bag is made of soft calfskin leather and features shiny palladium hardware. A little cheaper compared to the usual leather City bag.
Retails for $1,685.00 (USD).
Chanel Velvet Wallet on Chain Bag

You will surely brighten your friend's day when you give her this Chanel Velvet Wallet on Chain Bag in Yellow. Perfect to use day or night.

Available in stores for $1,400.00 (USD).
Givenchy Metallic Antigona Medium Shopper Bag

What's a holiday season without a sparkle? This Antigona Medium Shopper Bag makes a great everyday bag that will definitely add shine to any outfit. It is made of metallic goatskin and has thin flat handles. It has unlined interior with a zip pouch.
Get this for $1,645.00 (USD).
Fendi Monster High-Heel Bootie

This trendy Monster High-Heel Booties features the Monster motif from the Fall/Winter 2014 Collection. It is made of Napa leather with dyed fox fur trim on the ankle cuff. Perfect to give to someone who loves to party and is not afraid to try something new.
Priced at $1,695.00 (USD).
Chloe Drew Shoulder Bag

The Chloe Drew Shoulder Bag in Cement Pink is for the sweet and feminine friend. It has a chain with leather strap and gold tone accents. The bag has a suede interior.
Retails for $1,950.00 (USD).
Bottega Veneta Satin Knot Clutch Bag

The Knot Clutch is the best gift you can give to your Mom this Holiday Season. Now she won't have any problem what bag to carry for those formal occasions. It is made of satin with the Bottega Veneta's iconic intrecciato weave. It has snakeskin trims and matte brunito hardware.
Get this for $1,550.00 (USD).
Hermes Silver Eclipse H Cuff Bracelet

The Hermes Eclipse H Cuff Bracelet is the perfect way to show off that you are wearing a designer brand. The cuff features the brand's signature H logo.
Buy it from Hermes for $1,675.00 (USD).
Saint Laurent Classic Duffle Toy Bag

For your best friend who loves to be the center of attention, you can surely cannot go wrong with the Saint Laurent Classic Duffle Toy Bag in Gold. This cute mini duffle bag is made of lambskin with a canvas lining. It has an adjustable and removable shoulder strap. Also available in Silver.
Buy it for $1,550.00 (USD).
Valentino Red and Rubin Camouflage Knit

Keep yourself cozy this cold season with this chic sweater from Valentino. The Valentino Red and Rubin Camouflage Knit is a boxy sweatshirt made of viscose. It has a jacquard camouflage design with a round neck.
Retails for $1,690.00 (USD).