We hope you love the products we recommend! Just so you know, when you buy through links on our site, we may earn an affiliate commission. This adds no cost to our readers, for more information read our earnings disclosure.

Introducing the Mulberry Tessie Collection. The Tessie Collection includes Clutch, Satchel, Hobo and Tote bags, as well as bracelets and keyrings, which are all part of the Fall/Winter 2014 Collection. As previously announced, Mulberry will reduce the prices for their new bag lines to try and regain lost customers.  Starting at the $1,000 USD mark the collection is the start of what Mulberry has promised its customers.
The classic and practical handbags are made of soft grained leather and features the iconic Mulberry tree in soft gold hardware.  The collection was inspired by equestrian leather pieces and early saddle bags. A croc stripe suede version is also available for the Satchel and Clutch bags.
Tessie Satchel
The Tessie Satchel was inspired by old satchels from the archives of Mulberry. It is an updated version of the Mulberry Effie Satchel. It includes an adjustable strap wherein the bag can be worn on the shoulder or across the body. It comes in two sizes, Tessie Small Satchel and Tessie Satchel.

| Style | Price | Size |
| --- | --- | --- |
| Mulberry Tessie Small Satchel Bag | $860.00 (USD) | 5.5″ H x 7.8″ W x 2.5″ D |
| Mulberry Tessie Satchel Bag | $990.00 (USD) | 7″ H x 11″ W x 3.1″ D |
| Mulberry Croc Stripe Suede Tessie Satchel Bag | $1,295.00 (USD) | |
Tessie Hobo
A soft and slouchy hobo bag, which has the signature Mulberry, belted strap. It has an adjustable shoulder strap and includes a tab to secure the bag's compartment.

| Style | Price | Size |
| --- | --- | --- |
| Mulberry Tessie Hobo Bag | $1,190.00 (USD) | 11″ H x 12.6″ W x 4.3″ D |
Tessie Tote
The Tessie Tote bag is a simple yet classic tote bag, which features a contrast stitching, and a single tab to secure the bag. It has two top handles and has a brushed leather interior.

| Style | Price | Size |
| --- | --- | --- |
| Mulberry Tessie Tote Bag | $990.00 (USD) | 11.4″ H x 18.1″ W x 6.7″ D |
Tessie Clutch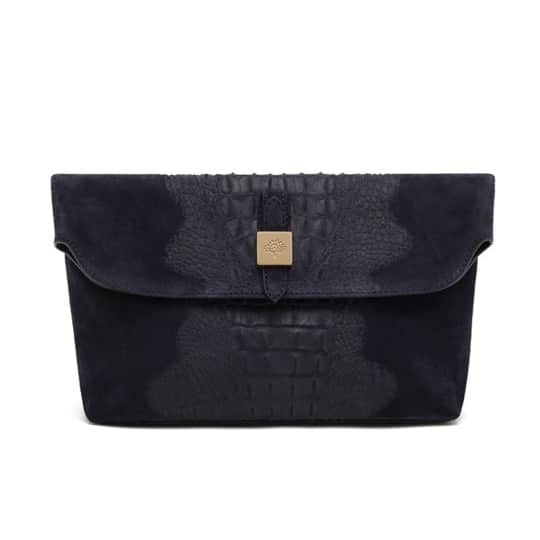 The Tessie Clutch is currently only available in suede material which features a croc stripe effect.
| Style | Price |
| --- | --- |
| Mulberry Croc Stripe Suede Tessie Clutch Bag | $990.00 (USD) |
Source: Mulberry