We hope you love the products we recommend! Just so you know, when you buy through links on our site, we may earn an affiliate commission. This adds no cost to our readers, for more information read our earnings disclosure.

Introducing a selection of bag charms to adorn your handbag for the Fall 2014 season. Bag charms are versatile as they can also double as a key ring depending on the charm's hook.  Charms are also inter-changeable and can be multiplied depending on the piece since charms can be hooked onto any purse, SLG or to each other (ie. two monsters together).  More and more designers have extended their line of bag charms to give owner's a more personalized look to their coveted handbags.  However, there are also plenty of adorable charms in various iconic designs that were created years ago only available through vintage store retailers.
Here's a summary of examples from some of the top luxury designers including: Fendi, Louis Vuitton, Hermes, Dior and Chanel.
Fendi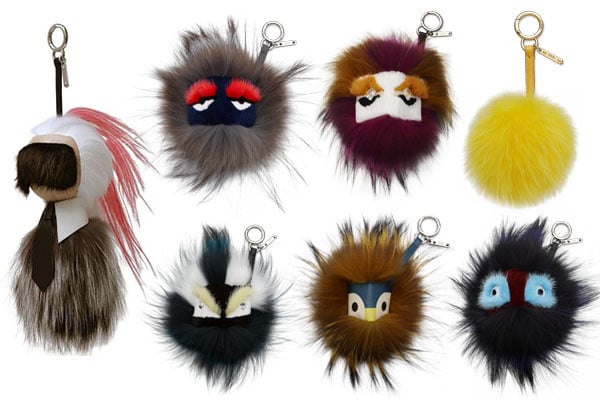 Fendi's Fur buggies was introduced last year and has been one of the biggest trends.The buggies comes in different designs, like Strangee, a multicolor fur with Swarovski crystal eyes and leather cord, and Lucy Junior, a fox fur charm with leather face and inlaid eyes. Fendi also offers simple charms in different colors, made of fox fur with a tonal leather cord. Recently, the brand has introduced Karlito, a fox and goat fur inspired by Karl Lagerfeld, which appeared on the runway carried by Cara Delevingne.  The full line of charms is available at Bergdorf Goodman and Luisaviaroma.
Louis Vuitton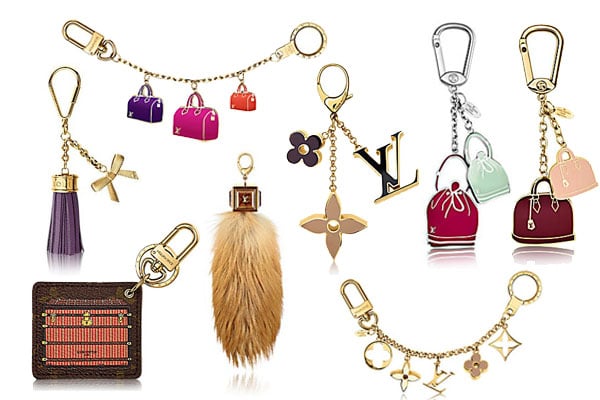 Louis Vuitton has created bag charms that can also double as key rings for years now. The brand's bag charms comes in different materials like leather, fox fur and silver/gold metallic pieces. Louis Vuitton has created charms for their iconic bags like Speedy, Alma ans Noe. The brand also has the Fleur De Monogram Bag Charm which is a classic Monogram design featuring the Monogram flowers and LV logo.  The items can be purchased directly online or in-store at Louis Vuitton.
| Style | Price |
| --- | --- |
| Louis Vuitton Pompon Bag Charm | $530.00 (USD) |
| Louis Vuitton Fleur De Monogram Bag Charm | $450.00 (USD) |
| Louis Vuitton Foxy Charm | $1,260.00 (USD) |
| Louis Vuitton Iconic Speedy Bag Charm Chain | $515.00 (USD) |
| Louis Vuitton Iconic Alma Bag Charm | $390.00 (USD) |
| Louis Vuitton Iconic Noe Bag Charm | $390.00 (USD) |
| Louis Vuitton Illustre Trunk Key Holder/Bag Charm | $235.00 (USD) |
| Louis Vuitton Fleur De Monogram Bag Charm Chain | $530.00 (USD) |
Hermes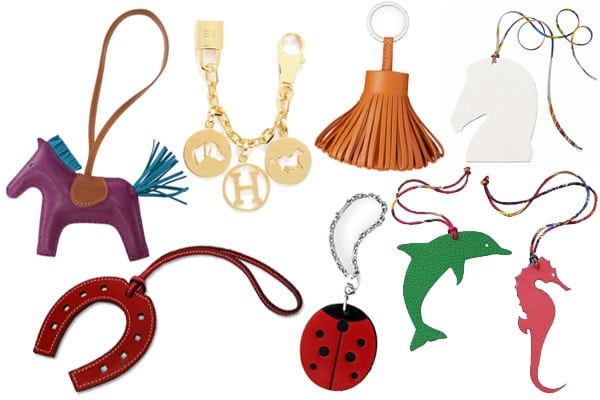 Aside from Hermes scarves, bag charms are also used to decorate Hermes Bags. Hermes has created Petit H Charms from leather and created bag charms featuring horses, fruits, insects and many more. There are also other bag bracelets, which are made of gold hardware that feature small charm iconic logos.  Availability of the bag charms is limited online, but you can check directly in-store for information.
| Style | Price |
| --- | --- |
| Hermes Petit H Charm | $195.00 (USD) |
| Hermes Rodeo MM Charm | $465.00 (USD) |
| Hermes Lucky Bug | $180.00 (USD) |
| Hermes Samarcande | $275.00 (USD) |
Dior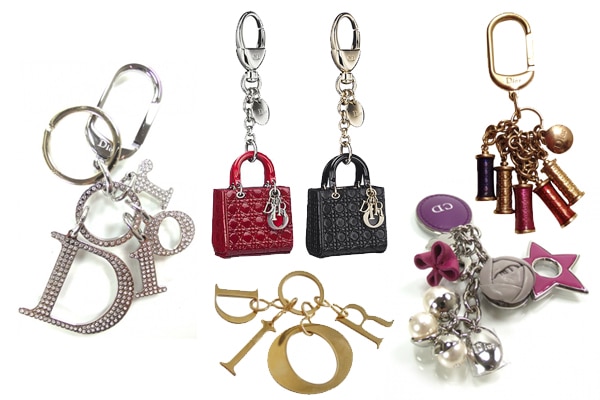 Dior's most famous bag charm is the DIOR letters that can also be seen on some of the brand's iconic handbags like the Lady Dior. Dior has also released a Lady Dior bag charm in Black and Red. For more information, check with the Dior store directly on the availability of their current line of Dior bag charms.

Chanel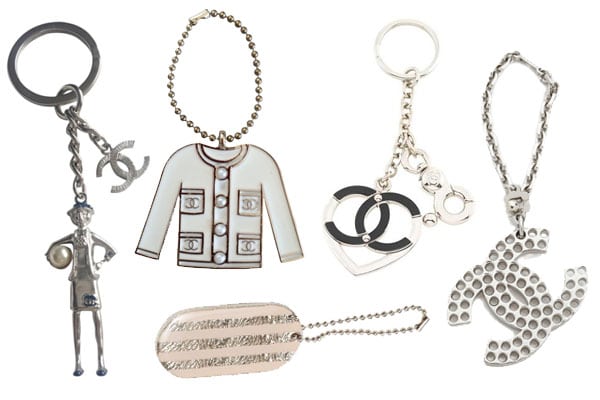 Chanel's bag charms includes a Coco Chanel in silver hardware holding a pearl and the iconic Chanel jacket. Check with Chanel boutiques for availability of bag charms or check out Spotted Mall some vintage selections of bag charms for Chanel.
Source: Fendi, Louis Vuitton, Hermes