Presenting the Saint Laurent Monogram Matelassé Flap Bag. The Monogram Matelassé bags have been a staple bag design and has appeared in a shopper tote and a cabas style.  The Matelasse design is a chevron that appears as a flat quilt usually in lambskin leather on the Saint Laurent bags.  The flap shoulder bag is one of the most popular styles and features a flap front that features the YSL interlocking metal logo. The bag has a magnetic closure and a chain/leather shoulder strap. It comes in four sizes, Baby, Small, Medium and Large.
Saint Laurent Matelassé Flaps: Side by side



This bag is a great bag to use from day to night. It can fit the basic essentials you need for everyday like phone, small wallet, lipstick and keys. The small size is almost the same size as the brand's Envelope Chain Wallet, but it is more expensive despite it's similarities due to the soft lambskin leather. The chain wallet has a smaller depth compared to the Small satchel, allowing it to carry more than just credit cards and a cellphone. The Baby size is the newest addition to this line, which was recently introduced for the Pre-Fall 2015 Collection.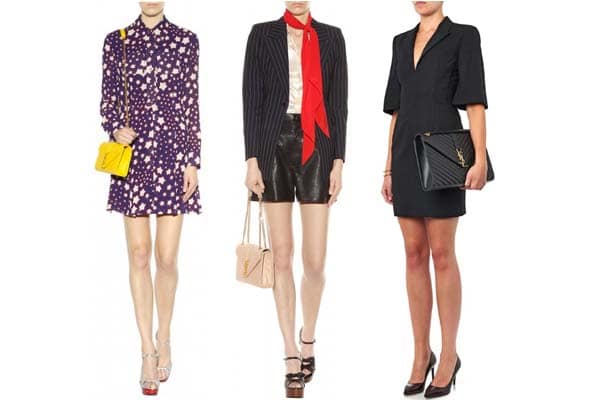 Baby Flap
| Style | Price | Size |
| --- | --- | --- |
| Saint Laurent Baby Monogram Matelassé Satchel Bag | $1,690.00 (USD) | 7.0" W X 3.9" H X 3.1" D |
Small Flap
| Style | Price | Size |
| --- | --- | --- |
| Saint Laurent Small Monogram Matelassé Satchel Bag (White, Oxblood, Black) | $2,690.00 (USD) | 8.2" W X 5.1" H X 2.3" D |
| Saint Laurent Small Monogram Matelassé Satchel Bag (Green, Yellow, Metallic Colors) | $2,750.00 (USD) | |
Medium Flap
| Style | Price | Size |
| --- | --- | --- |
| Saint Laurent Medium Monogram Matelassé Satchel Bag | $2,790.00 (USD) | 9.4" W X 6.8" H X 2.3" D |
Large Flap
| Style | Price | Size |
| --- | --- | --- |
| Saint Laurent Large Monogram Matelassé Satchel Bag | $2,690.00 (USD) | 12.1" W X 8.6" H X 2.9" D |