The Cruise 2018 Collections from various designer brands are now available in stores. Different designs are presented this season, from vintage styles, classic silhouettes and boho look. Check out the Cruise 2018 Collections from top luxury brands including Chanel, Gucci, Louis Vuitton, Saint Laurent and Valentino.

The Balenciaga Resort 2018 Collection features their signature handbags like the Classic City and Bazar bags. It comes in new prints such as graffiti and cities like London, Hong Kong, Paris and Tokyo. Balenciaga also introduces their latest designs which are the Chain Round S and Blanket Reporter.

Bottega Veneta introduces the Piazza bag for their latest collection. A structured top handle bag with a unique lock. Flower and butterfly embroideries are featured in the brand's signature handbags. Bright colors like Pink and Turquoise are some of this season's colors.

Celine returns the Big Bags for their Spring 2018 Collection. A new style was added to the line, the Big Bag Bucket, a bucket bag which is available in top handle and long shoulder strap. The Clasp is also back this season, as well as the brand's iconic designs such as the Luggage, Belt and Classic Box bags. New styles includes the Strap Clutch and Scarf bags.

The collection presents a touch of Greece, which has been an inspiration to the brand's latest designs. This season's handbags comes in details like pleats, eyelets, gold embellishments and Greek prints.

Metallic and pastel colors are featured in Chloe's latest collection. The Resort 2018 Collection includes the brand's iconic handbags such as the Faye, Drew, Nile and Marcie. The brand also introduces the new Pixie shoulder bag with chain strap.

Dior's latest designs includes handbags in tarot prints, embroideries and studs. Creative Director Maria Grazia Chiuri has taken inspiration from the tarot cards of Karen Vogel and Vicki Noble. Another new design is the brand's iconic bags in canyon grained lambskin material which features the Dior logo in mosaic, white howlite and onyx stone resin.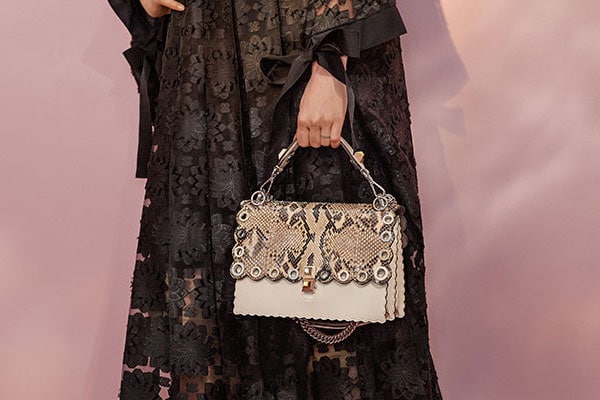 This season's Fendi Kan I bags comes with scalloped edges, studs and grommets. The iconic Peekaboo appears in a mix of leather and exotic materials. Backpacks are seen in the Bag Bug pattern and Fendi logo.

Logos in graffiti and bubble styles are featured in Givenchy's Resort 2018 handbags. These appears on the Pandora, Antigona and Stargate bags. The collection features basic colors such as red, black, gray and tan.

Gucci introduces their latest design for Cruise 2018, the Ophidia bag. A vintage shoulder bag which is available in rectangular and dome silhouettes. While the very popular Dionysus bag now comes in bucket style that has a chain shoulder strap. Oversized tote bags in different prints are also available this season.

Louis Vuitton's Cruise 2018 Collection features Japanese inspired pieces including the Kabuki Collection and Bento Box bags. The brand also introduces the Petite Boite Chapeau and Petite Noe Trunk which are the mini versions of their iconic bags. The classic Alma and Capucines bags are made available in new colors and styles this season.

Mulberry's Resort 2018 collection presents a mix of pastel and dark colors. The Amberley, Bayswater and Darley bags are made available with beautiful floral embroideries and quilted stitching.

In collaboration with Taiwanese-American artist James Jean, Prada presents whimsical rabbit prints in their latest handbags. The brand also introduces the new Diagramme line which features quilted leather on top handle and shoulder bags.

Proenza Schouler introduces their new bag for Resort 2018, the Hex Tote. The Hex tote also features the whipstitch design that can be seen on the bucket bag. The brand's signature bags like the PS1, Hava and Hobo bags are back this season with new colors.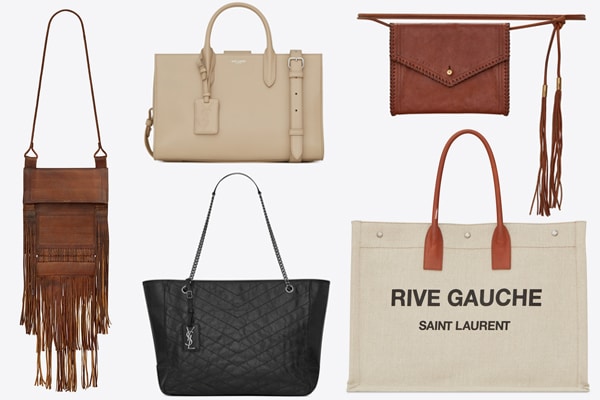 Saint Laurent presents various new designs this season including the Niki bags which appears in chain shoulder bag and shopping bag. Another new for Cruise 2018 are the Debbie and Jane tote bags. Shoulder bags with fringes and mini belt bags are also the latest additions to the collection.

The Valentino Resort 2018 Collection introduces the VLTN Collection which features glam sportswear. This includes the Free Rockstud, which has white studs in multicolor leather handbags. Colorful embroideries are featured in Rockstud bags.