Platform Loafers are one of the hottest shoes right now. It works perfectly well any season. You can match it with a short dress or skirt during Spring/Summer, while it looks great with skinny jeans for Fall/Winter. The Platform Loafers are perfect for a casual look with its sporty yet chic style. Prada's Wingtip Brogues has been one of the popular design. Stella McCartney also has various offerings, in different styles and materials. Many celebrities like Kourtney Kardashian, Rihanna, Ashley and Mary Kate Olsen and Jessica Alba were also seen in these fab shoes.
Prada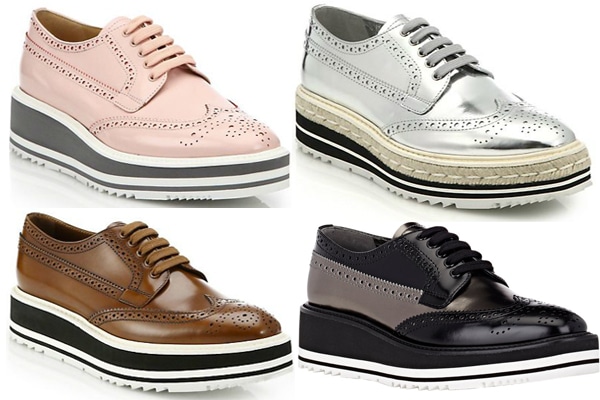 Prada's Wingtip Brogue Platform Sneakers have been around since 2011. It has gained a lot of followers as it can be worn by men and women. It has a lace up closure and a rubber sole. It is also available in a mixture of espadrille and rubber platform heel. These shoes comes in various colors.
Style

Price

Size

Prada Wingtip Brogue Platform Sneakers
$975.00 (USD)
Prada Espadrille/Rubber Metallic Wingtip Brogue Platform Sneakers
$990.00 (USD)
Stella McCartney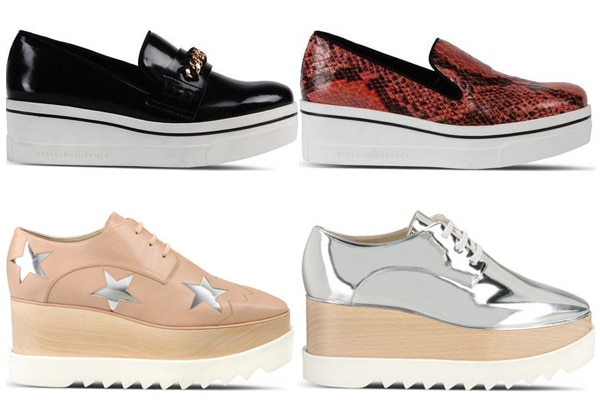 Stella McCartney's platform loafers have been gaining a lot of popularity especially to celebrities. The brand offers styles like Falabella, Elyse and Britt. The Elyse and Britt are oxford-style shoes with a lace fastening. It has a wood platform with a white chunky sole. While the Binx is a slip-on platform loafers which also has a white chunky sole and a black stripe.
| Style | Price |
| --- | --- |
| Stella McCartney Binx Falabella Loafers | $535.00 (USD) |
| Stella McCartney Python Blossom Binx Loafers | $470.00 (USD) |
| Stella McCartney Elyse Star Shoes | $1,080.00 (USD) |
| Stella McCartney Silver Britt Shoes | $1,070.00 (USD) |
Chanel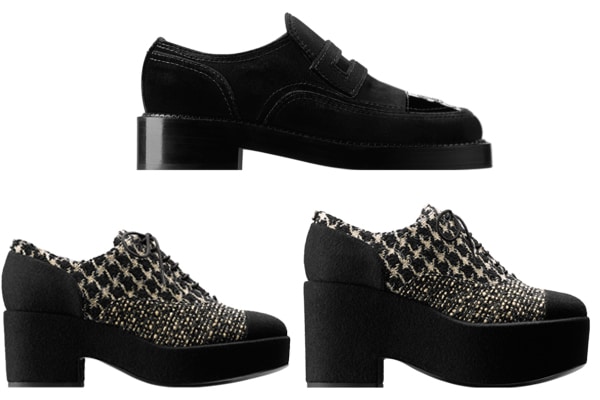 Chanel has released their own version of loafers for their Fall 2015 Collection which also features chunky heels. For a school girl look, the velvet and patent loafers are definitely a must have. While the tweed wedge lace-ups is just what you need for the Fall season.
| Style | Price |
| --- | --- |
| Chanel Velvet/Calfskin Loafers | $1,125.00 (USD) |
| Chanel Tweed Lace-up Wedges (55mm and 85mm heel) | $1,075.00 (USD) |
Alexander McQueen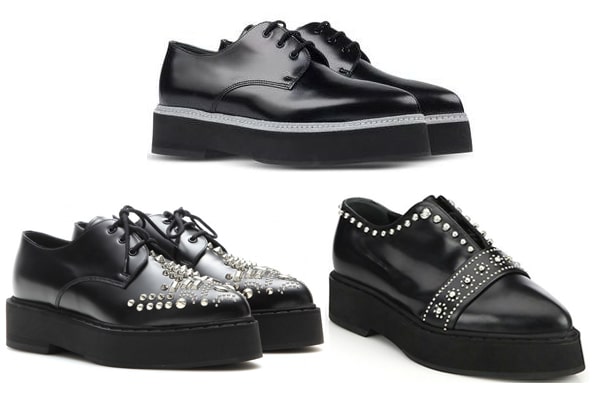 Alexander McQueen's take on these platform shoes are edgy and gothic. The brand's offerings are embellished with studs and trimmed with glitter. The shoes are made of leather with an almond toe and has rubber soles.
| Style | Price |
| --- | --- |
| Alexander McQueen Glitter Trimmed Platform Brogues | $745.00 (USD) |
| Alexander McQueen Embellished Platform Lace-Ups | $835.00 (USD) |
| Alexander McQueen Studded Platform Lace-Ups | $860.00 (USD) |