We hope you love the products we recommend! Just so you know, when you buy through links on our site, we may earn an affiliate commission. This adds no cost to our readers, for more information read our earnings disclosure.
Paris is the center of the luxury shopper's universe as every major Designer Brand has a store stationed there with exclusive product that are not normally available in every country. The best areas to go when deciding to plan your trip will include visiting the flagship stores and the department malls in each of the areas districts. The main streets in Paris which will have designer goods are along Rue Champs-Elysées, Rue Saint-Honoré, Rue Avenue Montaigne and Place Vendome.
Note that purchasing goods in Paris has tax already included so remember to obtain your paper work for the refund before you leave. Also most stores are closed on Sundays so plan accordingly.
Map Legend: Chanel, Louis Vuitton, Hermes, Givenchy, Celine, Other Designers, Department Stores
See Full Size Map

Department store or "Grand Magasins" locations:
Galeries Lafayette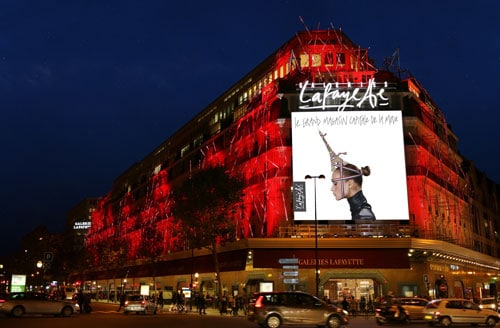 This very large department store houses a number of different brands including: Celine, Givenchy, Chanel, Louis Vuitton and more.  It is situated in the 9th District and would take a normal shopper a few hours to navigate the expanse of retail space.  The store does participate in the tax refund for non-EU residents, they include
detailed instructions of how your forms are completed
. One can only participate if spending more than 175 Euro at the store in that one day.
Hours
are: Monday-Saturday 9:30 – 7:30p,Thursdays until 9pm, closed Sunday
Listing of stores are found at the Galeries Lafayette Website: 
Here
Le Bon Marche Rive Gauche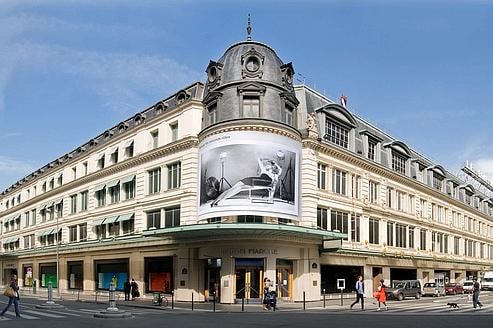 Le Bon Marche is the oldest department store in Paris which opened in 1852. It houses luxury brands for Men, Women and Children's Fashion, as well as, furnitures and housewares. It is also known for its "La grande épicerie de Paris", a food department store which offers thousands of products from around the world.
Hours are Monday-Wednesday/Saturday 10am – 8pm, Thursday-Friday until 9pm, closed Sunday.
Listing of stores are found at the Le Bon Marche Rive Gauche Website: Here
Printemps Department Store Paris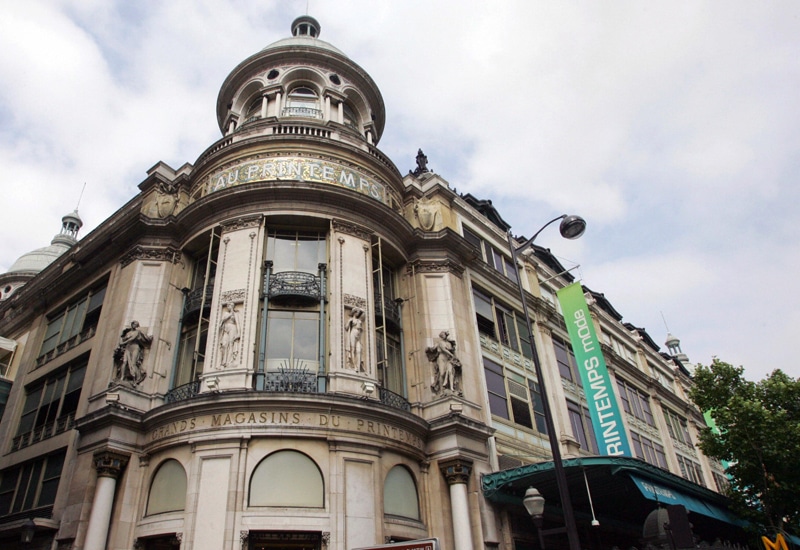 A Parisian monument which accomodates thousands of luxury brands and the largest beauty department in the world. The flagship Printemps store can be found at the Boulevard Haussmann in Paris. It offers a 360° view of Paris and exclusive advantages, 12% tax refund, foreign shipping and many more.
Hours are Monday-Saturday 9:30 – 7pm, Thursdays until 10pm, closed Sunday.
Listing of stores are found at the Printemps Department Store Paris Website: Here