Fashion is truly fast and ever-changing! Are you ready for the Fall 2021 Collection?
Designer Brands started releasing their Fall-Winter 2021 collections and we couldn't be more excited to see what's coming our way!
Louis Vuitton released its new handbags, crafted and ready for the next season. In this collection, creative director Nicolas Ghesquière explored the rich, 13,000-piece archive of prints and paintings as the starting point for his fall-winter 2021 collection, collaborating with Piero Fornasetti, an Italian artistic design atelier founded in 1940.
We're seeing classic bags in new prints and bright color Monogram-embellished handbags are designed better than ever.
Counterpoise sculptures are stamped on Neverfulls, Speedys, Capucines and more. While we can't wander off to the ruins of Ancient Greece, we can view the collection as a taste for what's to come, a little gush of wanderlust dopamine.
After all, to be able to move forward, we must learn how to look back and acknowledge the past.
Architettura
Style & Price
| Style | US Price | EU Price |
| --- | --- | --- |
| Louis Vuitton Architettura Butterfly Minaudiere | TBD | € 9,000.00 |
| Louis Vuitton Architettura Capucines BB | $5,100.00 (USD) | € 3,900.00 |
| Louis Vuitton Architettura OnTheGo MM | $3,900.00 (USD) | € 2,800.00 |
| Louis Vuitton Architettura NoeNoe MM | $3,500.00 (USD) | € 2,500.00 |
| Louis Vuitton Architettura Alma BB | $2,630.00 (USD) | € 1,900.00 |
| Louis Vuitton Architettura Petit Sac Plat | $1,820.00 (USD) | € 1,250.00 |
| Louis Vuitton Cannes Bag | TBD | € 2,800.00 |
| Louis Vuitton Petite Boite Chapeau | $5,200.00 (USD) | € 3,950.00 |
| Louis Vuitton Piero Fornasetti Petite Malle | $5,850.00 (USD) | € 4,200.00 |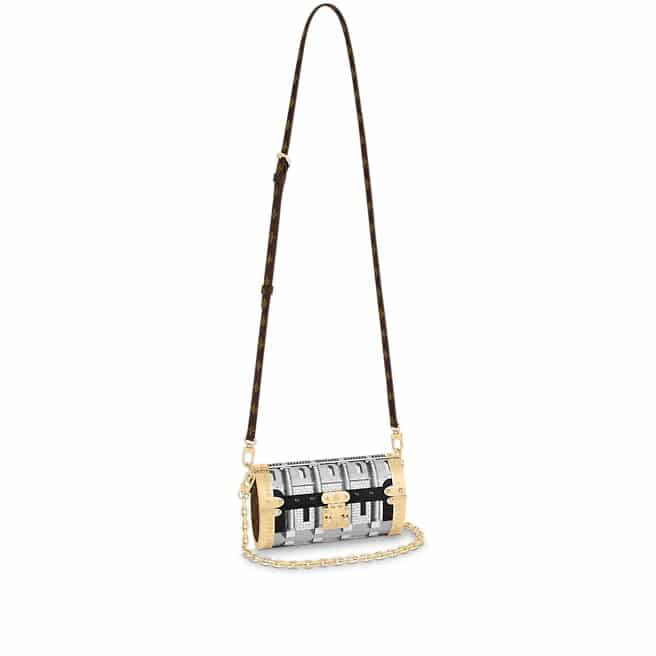 Faded Portrait
Style & Price
| Style | US Price | EU Price |
| --- | --- | --- |
| Louis Vuitton Faded Portrait Capucines MM | $5,350.00 (USD) | € 4,200.00 |
| Louis Vuitton Faded Portrait Petite Malle | $5,650.00 (USD) | € 4,050.00 |
| Louis Vuitton Faded Portrait Twist MM | $4,150.00 (USD) | € 3,000.00 |
Greco-Roman Motif
Style & Price
| Style | US Price | EU Price |
| --- | --- | --- |
| Louis Vuitton Cameo Dauphine MM | $3,500.00 (USD) | € 2,700.00 |
| Louis Vuitton Cameo Pochette Tete | $2,720.00 (USD) | € 2,000.00 |
| Louis Vuitton Greco-Roman Neverfull MM | $2,260.00 (USD) | € 1,650.00 |
| Louis Vuitton Greco-Roman Speedy Bandouliere 25 | $2,350.00 (USD) | € 2,300.00 |
| Louis Vuitton Monogram Cameo Alma PM | $2,320.00 (USD) | € 1,750.00 |
| Louis Vuitton Monogram Cameo OnTheGo MM | TBD | € 2,100.00 |
| Louis Vuitton Pochette Metis | $2,640.00 (USD) | € 1,950.00 |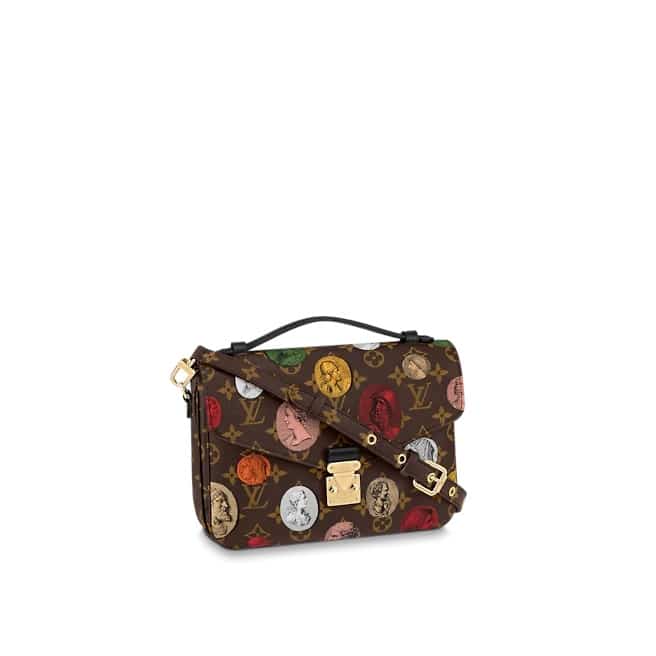 Shoulder Bags
Style & Price
| Style | US Price | EU Price |
| --- | --- | --- |
| Louis Vuitton Black Damier Capucines BB | $5,600.00 (USD) | € 4,300.00 |
| Louis Vuitton Monogram Trianon PM | $4,350.00 (USD) | € 3,200.00 |
| Louis Vuitton Troca MM | $3,950.00 (USD) | € 2,900.00 |
| Louis Vuitton Troca PM | $3,550.00 (USD) | € 2,600.00 |
| Louis Vuitton Coussin PM | $3,550.00 (USD) | € 2,600.00 |
| Louis Vuitton Pochette Troca | $2,580.00 (USD) | € 1,900.00 |