Introducing the Mono Earring for Fall 2014 collections that appeared on numerous collections. The mono earring comes in dangly, chunky and stud styles.  It was seen on some of the top luxury designer runway shows, including Louis Vuitton and Celine. Many celebrities have tried this trend out including Angelina Jolie, Emma Watson and Rihanna.  Check out the different types mono earring designs from brands such as Louis Vuitton, Celine, Chanel, Fendi and Givenchy.
Louis Vuitton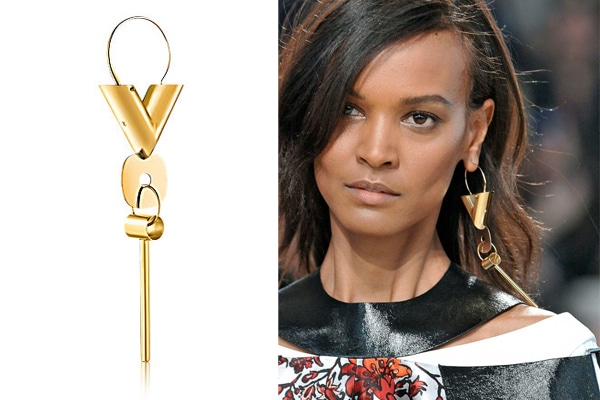 The Louis Vuitton Essential V Earring is inspired by the key that is used to open Louis Vuitton trunks. It is made of gold finished brass metal. It retails for $900.00 (USD).
Celine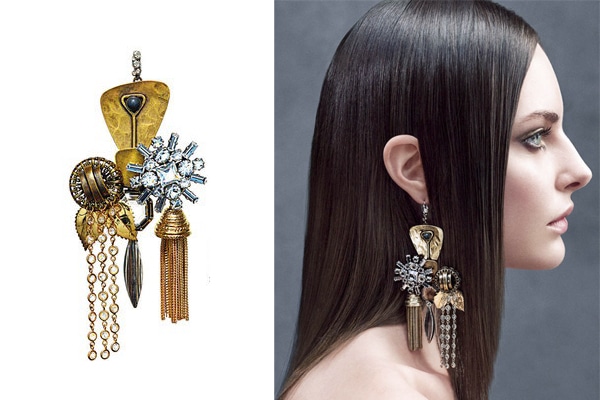 The Celine Mono Earring is a work of art as it includes different designs like tassels, floral embellishements and dangling rhinestones. This earring is priced at $1,200.00 (USD).
Chanel

This Chanel Mono Earring is made of metal that has natural stones and enamel. It was first seen in the Paris/Dallas 2014 Metiers D'Art Collection.  The earring retails for $1,400.00 (USD).
Fendi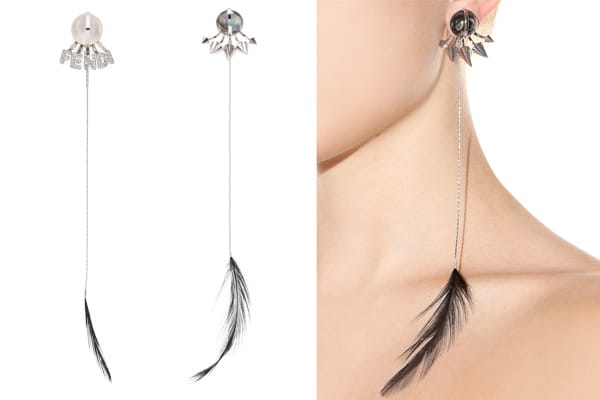 Fendi's Mono Earring named Gallasia Earring features a detachable feather pendant. It comes in two styles, one is adorned with spikes and semi-precious stone which retails for $550.00 (USD), while the one with the Fendi logo in Swarovski crystal and a jade stone stud is priced at $500.00 (USD).
Givenchy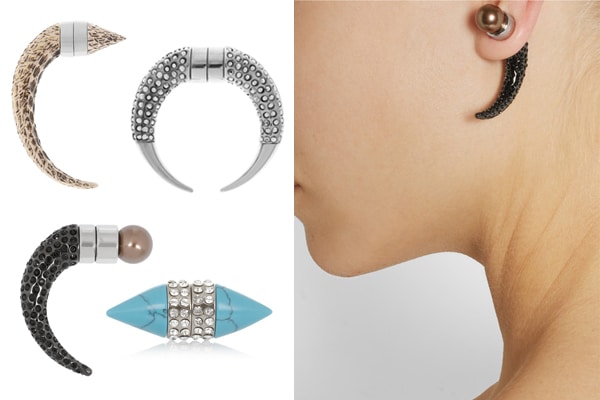 Givenchy has a variety of mono earrings which features their iconic shark tooth design.  It features various types of studs including a black pearl, studded horns and turquoise stones.
| Style | Price |
| --- | --- |
| Givenchy Large Shark Earring in Rose Gold and Gunmetal | $455.00 (USD) |
| Givenchy Double Horn Shark Earring | $785.00 (USD) |
| Givenchy Shark Round Earring with Ruthenium-Tone Brass, Faux Pearl and Crystal | $530.00 (USD) |
| Givenchy Turquoise Small Double Cone Shark Earring | $470.00 (USD) |
Source: Louis Vuitton, Celine, Chanel, Fendi, Givenchy