We hope you love the products we recommend! Just so you know, when you buy through links on our site, we may earn an affiliate commission. This adds no cost to our readers, for more information read our earnings disclosure.

It's not uncommon to be carrying a tablet, a note and a smartphone all in one. Large cases tend to get scratched or dinged over time so it's good to also protect the hardware by using matching accessories.  Designers such as Louis Vuitton, Valentino, Givenchy and Saint Laurent (to name a few) have offered different cases to house your tech essentials.
Here are some of the current collections available as well as the prices and color selections.
Louis Vuitton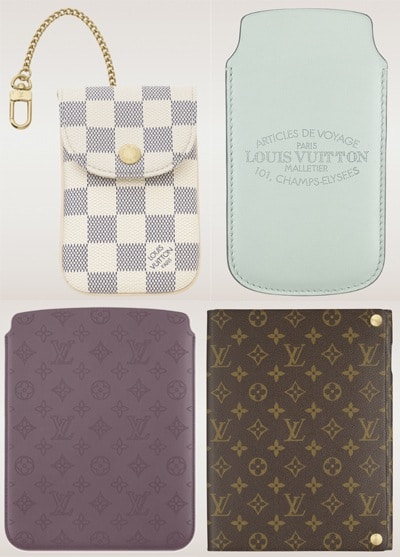 Style & Price
| Style | Price |
| --- | --- |
| Louis Vuitton Damier Azur Mobile Phone Case MM | $420.00 (USD) |
| Louis Vuitton Veau Soie Softcase iPhone 5 | $400.00 (USD) |
| Louis Vuitton Mahina Softcase iPad | $565.00 (USD) |
| Louis Vuitton Monogram Canvas iPad Case | $790.00 (USD) |
Valentino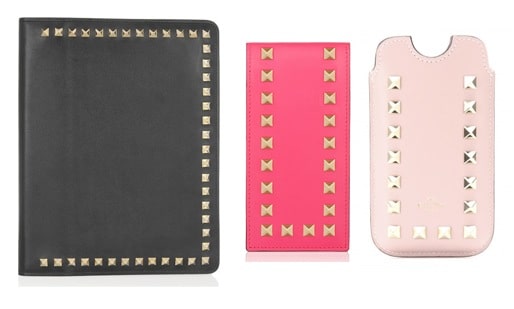 Style & Price
| Style | Price |
| --- | --- |
| Valentino Rockstud iPad Case | $795.00 (USD) |
| Valentino Rockstud iPhone 5 Case | $425.00 (USD) |
| Valentino Rockstud iPhone Case | $295.00 (USD) |
Givenchy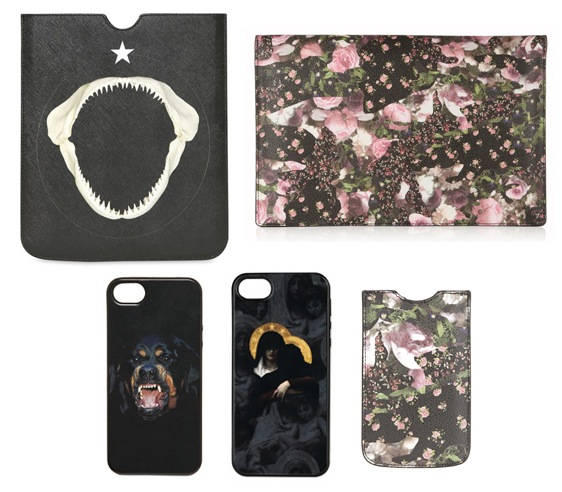 Style & Price
| Style | Price |
| --- | --- |
| Givenchy Shark Printed iPad Case | $335.00 (USD) |
| Givenchy Floral-Print iPad Case | $475.00 (USD) |
| Givenchy Rottweiler/Madonna iPhone Case | $90.00 (USD) |
| Givenchy Floral-Print iPhone Case | $220.00 (USD) |
Saint Laurent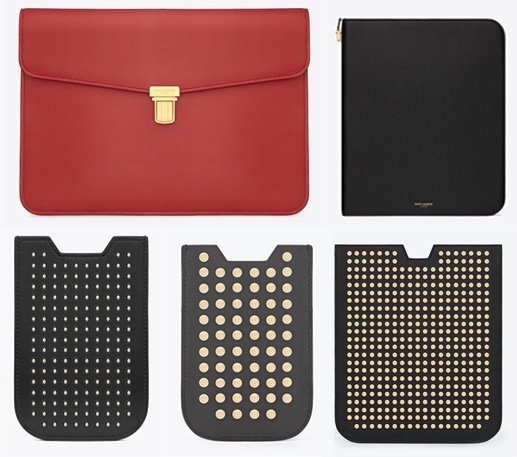 Style & Price
| Style | Price |
| --- | --- |
| Saint Laurent Tuc iPad Sleeve | $850.00 (USD) |
| Saint Laurent Tuc Zip Around Hard iPad Case | $1,295.00 (USD) |
| Saint Laurent Signature Clouse Studded iPhone Sleeve | $350.00 (USD) |
| Saint Laurent Classic Marquage iPhone Case | $385.00 (USD) |
| Saint Laurent Classic Marquage iPad Case | $1,450.00 (USD) |