We hope you love the products we recommend! Just so you know, when you buy through links on our site, we may earn an affiliate commission. This adds no cost to our readers, for more information read our earnings disclosure.

In celebration of Louis Vuitton's 160th Anniversary, the French fashion house has collaborated with six icons to reinterpret the iconic Monogram Canvas. Louis Vuitton has chosen, Christian Louboutin, Cindy Sherman, Frank Gehry, Karl Lagerfeld, Marc Newson and Rei Kawakubo to create these limited edition items. Information on prices and style descriptions are available under each section below, to jump to a section just click the name links above.
Christian Louboutin

Shoe Designer Christian Louboutin who is famous of introducing the red sole has designed a shopping bag and trolley. The iconic red color was incorporated in the shopping bag, with its back panel made of calf hair, as well as the bag's trim. The bag has a studded front pocket and includes interior pockets and compartments. The Shopping Trolley is a larger version of the Shopping Bag with wheels. It also includes a canvas clutch made of Damier canvas and red calf hair featuring a large LV logo.
| Style | Price | Size |
| --- | --- | --- |
| Louis Vuitton Shopping Bag by Christian Louboutin | $5,150.00 (USD) | 11.8″ X 12.2″ X 4.7″ |
| Louis Vuitton Shopping Trolley by Christian Louboutin | $23,300.00 (USD) | 8.6″ X 29.1″ X 12.2″ |
Cindy Sherman

Cindy Sherman, an image-maker and filmmaker since the 1970s has created a camera messenger bag and a vanity trunk which includes drawers, makeup mirror and even a stool. The trunk is designed with travel stamps from unreal destinations. The Camera Messenger bag features a top handle and includes a removable shoulder strap. It has 9 embroidered patches from the artist' own design. The Studio in a Trunk is only available in 25 pieces, it has 31 colorful drawers from small to large.
| Style | Price | Size |
| --- | --- | --- |
| Louis Vuitton Camera Messenger Bag by Cindy Sherman | $4,400.00 (USD) | 13″ X 10.6″ X 6.8″ |
| Louis Vuitton Studio in a Trunk by Cindy Sherman | TBD | 23.6″ X 63″ X 25.6″ |
Frank Gehry

Award winning Canadian-American Architect Frank Gehry designed a rectangular box with a twist. The Twisted Box features rigid lines and has blue lambskin interior. The interior has embossed LV logo design hand drawn by Frank Gehry. It has a golden brass clasp closure and also includes a detachable shoulder strap.
| Style | Price | Size |
| --- | --- | --- |
| Louis Vuitton Twisted Box by Frank Gehry | $4,400.00 (USD) | 8.3″ X 4.1″ X 4.7″ |
Karl Lagerfeld

Chanel and Fendi's Creative Director Karl Lagerfeld has shared his talents with Louis Vuitton by designing a punching bag and a trunk. Karl has also photographed the lookbook for this collection. The Punching Bags comes in three sizes, Baby, PM and GM. It is designed for city wear which has chain and leather handles. The Punching Suitcase is ideal as a travel bag and includes two punching gloves in Monogram Canvas. The Punching Trunk features four removable shelves. It includes the Punching Suitcase with gloves, and boxing mat. There is also an option to add a metal stand and 12 Monogram flower iron weights.
| Style | Price | Size |
| --- | --- | --- |
| Louis Vuitton Punching Bag Baby by Karl Lagerfeld | $3,400.00 (USD) | 9.9″ X 13″ X 6.1″ |
| Louis Vuitton Punching Bag PM by Karl Lagerfeld | $3,950.00 (USD) | 10.6″ X 15.4″ X 7.5″ |
| Louis Vuitton Punching Bag GM by Karl Lagerfeld | $4,400.00 (USD) | 15.4″ X 22″ X 11.9″ |
| Louis Vuitton Punching Suitcase by Karl Lagerfeld | $5,900.00 (USD) | 18″ X 15″ X 5″ |
| Louis Vuitton Punching Trunk by Karl Lagerfeld (Only 25 produced) | € 140,000.00 | 23.6″ X 65.4″ X 18.9″ |
Marc Newson

Australian born Industrial Designer Marc Newson has created a backpack made of Monogram Canvas and shearling. The backpack is able to stand on its own. It has a roomy interior with lots of pockets. It also has the signature Marc Newson strap adjusters. Available in three colors, Blue, Beige and Orange.
| Style | Price | Size |
| --- | --- | --- |
| Louis Vuitton Fleece Pack by Marc Newson | $5,900.00 (USD) | 12.2″ X 19″ X 8.5″ |
Rei Kawakubo

Japanese fashion designer and founder of Comme des Garçons, Rei Kawakubo who has also collaborated with Louis Vuitton back in 2008 returns for this one of a kind collection. Known for her unique designs, she has created a tote bag with three holes revealing the bag's interior. This updated version of the Sac Plat feature asymmetrical cutouts. It includes a Louis Vuitton textile insert pouch.
| Style | Price | Size |
| --- | --- | --- |
| Louis Vuitton Bag with Holes by Rei Kawakubo | $2,790.00 (USD) | 13″ X 16.5″ X 5.5″ |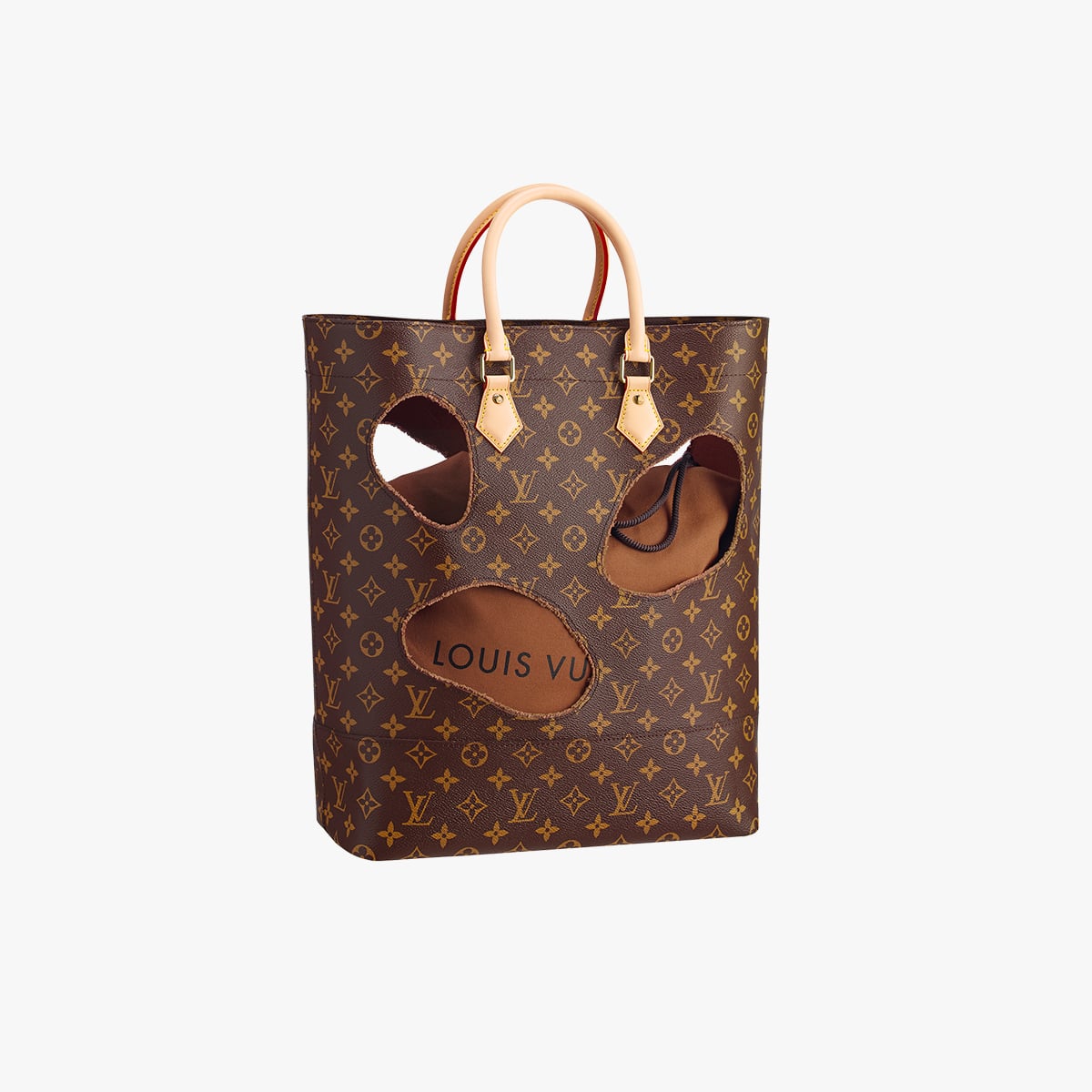 Source: Louis Vuitton