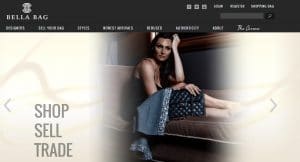 Bella Bag (http://www.bellabag.com)
Rating & review: A; Majority of the pieces are Chanel, Hermes and Louis vuitton.  They carry a large array of Chanel flaps and the most popular Hermes styles from Kelly's the Birkins.
The store will negotiate with a seller on the consignment arrangement whether it includes outright purchase by the store or a negotiated consignment rate. A form is available online to complete with the necessary details of the item that you wish to sell directly with the store.
Brands the store carries: Louis Vuitton, Chanel, Hermes, Gucci, Marc Jacobs
Types of items carried: Handbags and Accessories
International Shipping: Yes / $38.95 Internationally
Layaway available: Yes / Paypal conducts the layaway program; however a service fee is charged and items with higher value are required to be written in a formal document. More detail available on the website.
Accepted payment methods: Accept all major Credit Cards, Money Orders, and Cashier checks.