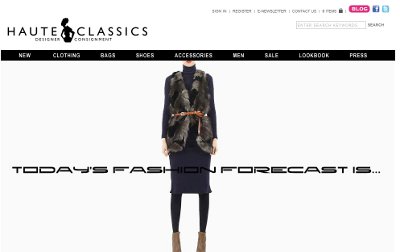 Haute Classics (http://www.hauteclassics.com")
Rating & review: A; This is a designer consigment store that's based in Toronto, Ontario Canada. They carry every degree of designer label under the sun, from Hermes Scarves to Chanel 2.55 Bags and Prada Mary-Janes -- all at below retail prices. The consignment agreement is a 60/40 split to the seller. Since the store is located in Canada, sellers will have to ship their items over the border.
Brands the store carries: Balenciaga, Bottega Veneta, Burberry, Cartier, Chanel, Chloé, Christian Louboutin, David Yurman, Dior, Dolce & Gabbana, Fendi, Ferragamo, Gucci, Hermès, Jimmy Choo, Lanvin, Louis Vuitton, Marc Jacobs, Manolo Blahnik, Missoni, Miu Miu, Prada, Tiffany & Co., Tod's, Valentino, Yves Saint Laurent, Zac Posen
Types of items carried: Handbags, Women's Apparel, Shoes and Accessories
International Shipping: Yes / Free shipping on all orders >$250; US shipping is less than $25 per item.
Layaway available: No
Accepted payment methods: Paypal and Email money transfer.