Belt bags, waist bags, fanny packs - whatever you want to call it, one thing's for sure, they are definitely going to be around in 2018. We've all seen Carrie Bradshaw in Sex and The City, sporting a Gucci belt bag but this trend is going to play out strong into 2018.
Many celebrities and fashion bloggers have been spotted in different brands, and it looks like the vintage styles from designer brands are among their favorites. Check out a variety of belt bags from luxury brands like Gucci, Louis Vuitton and Chanel below!
1. Gucci
Gucci offers a variety of design and shapes, from vintage style to modern ones. Their iconic handbags were transformed into mini bumbags, such as the GG Marmont ($980 USD) and Sylvie ($1,980 USD). The GG Supreme and Gucci logo print is also made available, priced at $750 USD and $1,290, respectively.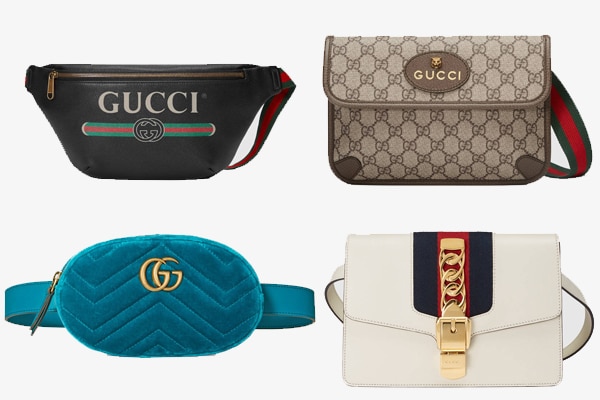 ]

[shop brand="50" title="belt bag" rows="1" ]
2. Louis Vuitton
Kendall Jenner has been seen multiple times wearing a vintage Louis Vuitton fanny pack. While this style is no longer available, and may be hard to find, the brand offers new styles like the Supreme in Epi leather and Khaki Camo print, as well as the Monogram Eclipse ($1,500 USD). The new bumbags can also be worn as cross-shoulder bags. While Louis Vuitton's bumbags are mostly designed for men, many women are still seen carrying it.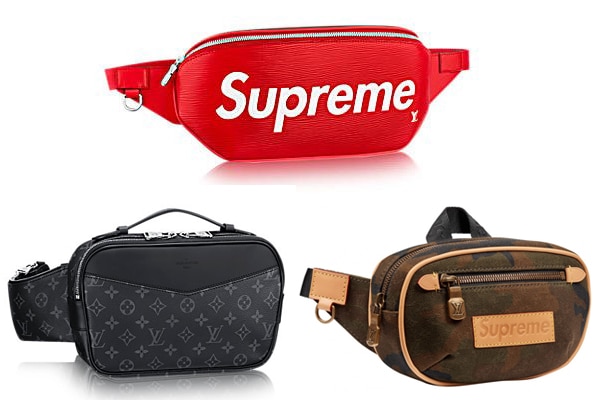 3. Chanel
Chanel offers a variety of belt bags, even from past seasons. In fact, in 2014 they have already released a quilted fanny pack with chain strap for their Fall/Winter 2014 Act 1 Collection. But the most in demand these days is the vintage quilted flap, it's like a belt bag version of their iconic Classic Flap.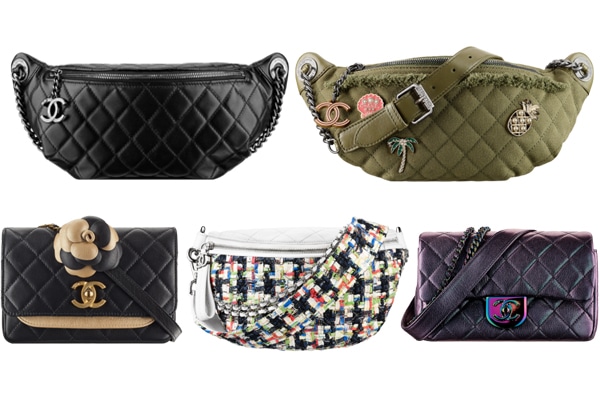 4. Prada
Prada's offerings comes in different materials such as calf leather, velvet and embroidered quilted fabric. It features Prada's signature details like gold buckle and metal rings. The Cahier Calf is priced at $1,660 USD, Velvet is at $1,850 USD. While the embroidered quilted fabric retails for $1,970 USD and the quilted velvet is priced at $1,220 USD.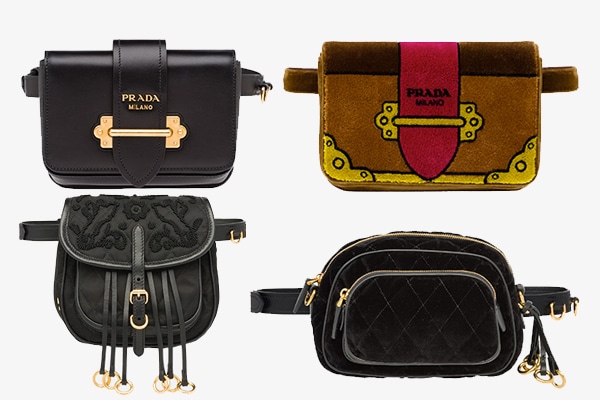 [shop brand="18" title="belt bag" rows="1" ]
5. Valentino
Valentino's latest fanny pack is part of the brand's Resort 2018 Collection. It features the new Free Rockstud Spike design. It comes in bright colors with white micro studs and stitching. Retails for $1,375 USD.