We hope you love the products we recommend! Just so you know, when you buy through links on our site, we may earn an affiliate commission. This adds no cost to our readers, for more information read our earnings disclosure.
Introducing the Chanel Fall/Winter 2019 Act 2 Bag collection or 19K, to signify Karl Lagerfeld's final collection with the brand before his passing earlier this year. For die-hard Chanel enthusiasts this is a collection that you should be buying into. The new style "Chanel 19" is introduced featuring a chunky two tone chain (silver and gold) and extra large puffy quilted leather. Luxurious fabric were incorporated in styles including the Coco Handle bag and classic flaps.  The Gabrielle bag gets an upgrade with a 'Chanel' logo on the top handle with embroidered bag body. The signature runway piece will also be made available, the Chanel Gondola clutch estimated at over $10k USD in Light blue, White and Black.
Information is also available on Pre-fall 2019 and Fall / Winter 2019 Act 1.
Chanel 19 Flap Bags
| | | |
| --- | --- | --- |
| Style |  Price | Size |
| Chanel 19 Small Tweed Flap Bag |   4,100.00 USD | 6.2″ x 10.1″ x 3.5″ |
| Chanel 19 Large Tweed Flap Bag |   5,000.00 USD | 9.8″ x 14″ x 4.3″ |
| Chanel 19 Waist Bag – Tweed |   3,300.00 USD | 4.3″ x 7.8″ x 2.0″ |
| Chanel 19 Small Leather Flap Bag |   4,600.00 USD | 6.2″ x 10.1″ x 3.5″ |
| Chanel 19 Medium Leather Flap Bag |   5,100.00 USD | 7.8 x 11.7 x 3.9 |
| Chanel 19 Large Leather Flap Bag |   5,600.00 USD | 9.8″ x 14″ x 4.3″ |
Chanel Gabrielle – Pop Colors
| | |
| --- | --- |
| Style |  Price |
| Chanel Gabrielle Bag – Small |   3,900.00 USD |
Chanel Logo Tote Bags
| | |
| --- | --- |
| Style |  Price |
| Chanel Giant Logo Large Shopping Tote |   3,700.00 USD |
| Chanel Giant Logo Shopping Tote |   3,500.00 USD |
Chanel Shearling Bags
| | |
| --- | --- |
| Style |  Price |
| Chanel Shearling Flap Bag – Large CC Brown |   4,600.00 USD |
| Chanel Shearling Waist Bag – Large CC Brown |   3,700.00 USD |
| Chanel Shearling Shopping Tote – Large CC Brown |   6,500.00 USD |
| Chanel Shearling Flap Bag – Furry |   4,700.00 USD |
| Chanel Shearling Large Backpack |   7,600.00 USD |
| Chanel Shearling Waist Bag |   3,600.00 USD |
| Chanel Shearling White Bag |   5,200.00 USD |
Chanel Top Handle Bags
| | |
| --- | --- |
| Style |  Price |
| Chanel Coco Handle Shearling Bag – Small |   4,300.00 USD |
| Chanel Coco Handle Shearling Bag – Medium |   4,700.00 USD |
| Chanel Coco Handle Iridescent Bag – Small |   4,000.00 USD |
| Chanel Coco Handle Iridescent Bag – Large |   4,300.00 USD |
| Chanel Top Handle Bag – Large |   5,300.00 USD |
| Chanel Top Handle Bag – Small |   4,900.00 USD |
Vintage Puffy Leather
| | |
| --- | --- |
| Style |  Price |
| Chanel Vintage Flap Bag Puffy – Small |   4,400.00 USD |
| Chanel Vintage Flap Bag Puffy – Medium |   4,700.00 USD |
| Chanel Vintage Flap Bag Puffy – Large |   4,900.00 USD |
| Chanel Vintage Flap Bag Puffy – Clutch |   3,700.00 USD |
Bags with Coin Purse
| | |
| --- | --- |
| Style |  Price |
| Chanel Flap Bag and Coin Purse |   4,300.00 USD |
| Chanel Bumbag and Coin Purse |   3,000.00 USD |
Grey and White Bags
| | |
| --- | --- |
| Style |  Price |
| Chanel Gabrielle Logo Handle Bag |   6,600.00 USD |
| Chanel Large Gabrielle Bag |   4,500.00 USD |
| Chanel Felt Deauville Bag – Large |   4,800.00 USD |
| Chanel Vertical Boy Bag |   4,200.00 USD |
| Chanel Embroidered Waist Bag |   5,700.00 USD |
Limited Edition – Chanel Gondola Bag (White / Lt. Blue / Black)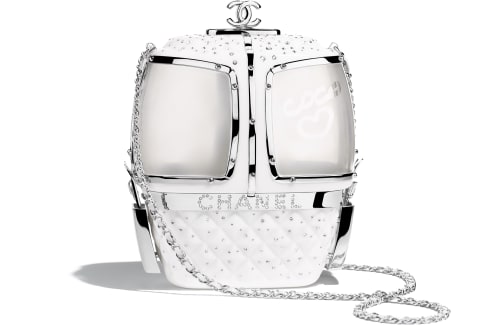 No price available but estimated to be over $10,000.00 (USD)
Chanel Fall / Winter 2019 Act 2 – Euro Prices
Chanel 19 Flap Bags
| | | |
| --- | --- | --- |
| Style |  Price | Size |
| Chanel 19 Small Tweed Flap Bag |   3,750.00€ | 6.2″ x 10.1″ x 3.5″ |
| Chanel 19 Large Tweed Flap Bag | 4,550.00€ | 9.8″ x 14″ x 4.3″ |
| Chanel 19 Waist Bag – Tweed | 3,000.00€ | 4.3″ x 7.8″ x 2.0″ |
| Chanel 19 Small Leather Flap Bag |   4,200.00€ | 6.2″ x 10.1″ x 3.5″ |
| Chanel 19 Medium Leather Flap Bag | 4,200.00€ | 7.8 x 11.7 x 3.9 |
| Chanel 19 Large Leather Flap Bag | 5,150.00€ | 9.8″ x 14″ x 4.3″ |
Chanel Gabrielle – Pop Colors
| | |
| --- | --- |
| Style |  Price |
| Chanel Gabrielle Bag – Small | 3,480.00€ |
Chanel Logo Tote Bags
| | |
| --- | --- |
| Style |  Price |
| Chanel Giant Logo Small Shopping Tote | 2,990.00€ |
| Chanel Giant Logo Large Shopping Tote | 3,150.00€ |
Chanel Shearling Bags
| | |
| --- | --- |
| Style |  Price |
| Chanel Shearling Flap Bag – Large CC Brown | 4,150.00€ |
| Chanel Shearling Waist Bag – Large CC Brown | 3,300.00€ |
| Chanel Shearling Shopping Tote – Large CC Brown | 5,900.00€ |
| Chanel Shearling Flap Bag – Furry | 4,350.00€ |
| Chanel Shearling Large Backpack | 6,900.00€ |
| Chanel Shearling Waist Bag | 3,250.00€ |
| Chanel Shearling White Bag | 4,600.00€ |
Chanel Top Handle Bags
| | |
| --- | --- |
| Style |  Price |
| Chanel Coco Handle Shearling Bag – Small | 3,690.00€ |
| Chanel Coco Handle Shearling Bag – Medium | 3,990.00€ |
| Chanel Coco Handle Iridescent Bag – Small | 3,400.00€ |
| Chanel Coco Handle Iridescent Bag – Large | 3,650.00€ |
| Chanel Top Handle Bag – Large | 4,730.00€ |
| Chanel Top Handle Bag – Small | 4,390.00€ |
Vintage Puffy Leather
| | |
| --- | --- |
| Style |  Price |
| Chanel Vintage Flap Bag Puffy – Small |   3,850.00€ |
| Chanel Vintage Flap Bag Puffy – Medium | 4,150.00€ |
| Chanel Vintage Flap Bag Puffy – Large | 4,450.00€ |
| Chanel Vintage Flap Bag Puffy – Clutch | 3,250.00€ |
Bags with Coin Purse
| | |
| --- | --- |
| Style |  Price |
| Chanel Flap Bag and Coin Purse | 3,750.00€ |
| Chanel Belt Bag and Coin Purse | 3,600.00€ |
| Chanel Bumbag and Coin Purse | 2,590.00€ |
Grey and White Bags
| | |
| --- | --- |
| Style |  Price |
| Chanel Logo Handle Gabrielle Bag | 5,950.00€ |
| Chanel Large Gabrielle Bag | 3,900.00€ |
| Chanel Felt Deauville Bag – Large | 4,250.00€ |
| Chanel Vertical Boy Bag | 3,590.00€ |
| Chanel Embroidered Waist Bag | 5,200.00€ |
Limited Edition – Chanel Gondola Bag (White / Lt. Blue / Black)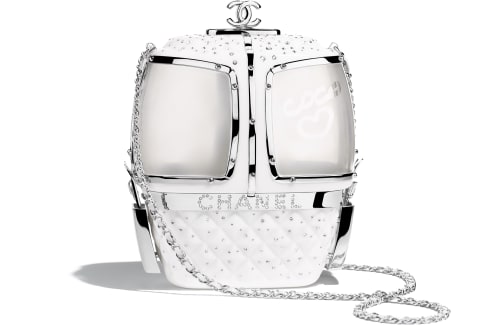 No price available but estimated to be over 8,000.00€
Chanel Fall / Winter 2019 Act 2 – UK Prices
Chanel 19 Flap Bags
| | | |
| --- | --- | --- |
| Style |  Price | Size |
| Chanel 19 Small Tweed Flap Bag | £3,360.00 | 6.2″ x 10.1″ x 3.5″ |
| Chanel 19 Large Tweed Flap Bag | £4,080.00 | 9.8″ x 14″ x 4.3″ |
| Chanel 19 Waist Bag – Tweed | £2,690.00 | 4.3″ x 7.8″ x 2.0″ |
| Chanel 19 Small Leather Flap Bag | £3,760.00 | 6.2″ x 10.1″ x 3.5″ |
| Chanel 19 Medium Leather Flap Bag | £4,210.00 | 7.8 x 11.7 x 3.9 |
| Chanel 19 Large Leather Flap Bag | £4,620.00 | 9.8″ x 14″ x 4.3″ |
Chanel Gabrielle – Pop Colors
| | |
| --- | --- |
| Style |  Price |
| Chanel Gabrielle Bag – Small | £2,950.00 |
Chanel Logo Tote Bags
| | |
| --- | --- |
| Style |  Price |
| Chanel Giant Logo Large Shopping Tote | £2,820.00 |
| Chanel Giant Logo Small Shopping Tote | £2,680.00 |
Chanel Shearling Bags
| | |
| --- | --- |
| Style |  Price |
| Chanel Shearling Flap Bag – Large CC Brown | £3,720.00 |
| Chanel Shearling Waist Bag – Large CC Brown | £2,960.00 |
| Chanel Shearling Shopping Tote – Large CC Brown | £5,290.00 |
| Chanel Shearling Flap Bag – Furry | £3,900.00 |
| Chanel Shearling Large Backpack | £6,190.00 |
| Chanel Shearling Waist Bag | £2,910.00 |
| Chanel Shearling White Bag | £4,120.00 |
Chanel Top Handle Bags
| | |
| --- | --- |
| Style |  Price |
| Chanel Coco Handle Shearling Bag – Small | £3,310.00 |
| Chanel Coco Handle Shearling Bag – Medium | £3,580.00 |
| Chanel Coco Handle Iridescent Bag – Small | £3,150.00 |
| Chanel Coco Handle Iridescent Bag – Large | £3,380.00 |
| Chanel Top Handle Bag – Large | £4,260.00 |
| Chanel Top Handle Bag – Small | £3,850.00 |
Vintage Puffy Leather
| | |
| --- | --- |
| Style |  Price |
| Chanel Vintage Flap Bag Puffy – Small | £3,450.00 |
| Chanel Vintage Flap Bag Puffy – Medium | £3,720.00 |
| Chanel Vintage Flap Bag Puffy – Large | £3,990.00 |
| Chanel Vintage Flap Bag Puffy – Clutch | £2,910.00 |
Bags with Coin Purse
| | |
| --- | --- |
| Style |  Price |
| Chanel Flap Bag and Coin Purse | £3,360.00 |
| Chanel Belt Bag and Coin Purse | £3,230.00 |
| Chanel Bumbag and Coin Purse | £2,320.00 |
Grey and White Bags
| | |
| --- | --- |
| Style |  Price |
| Chanel Logo Handle Gabrielle Bag | £5,340.00 |
| Chanel Large Gabrielle Bag | £3,500.00 |
| Chanel Felt Deauville Bag – Large | £3,810.00 |
| Chanel Vertical Boy Bag | £3,290.00 |
| Chanel Embroidered Waist Bag | £4,660.00 |
Limited Edition – Chanel Gondola Bag (White / Lt. Blue / Black)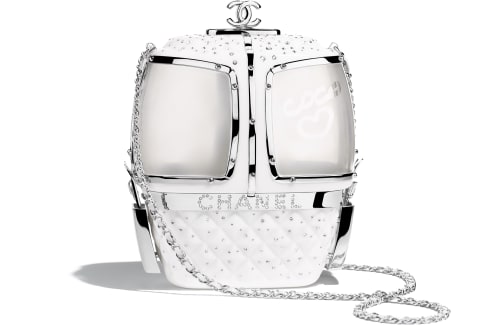 No price available but estimated to be over £7,800.00