Updated as of July 2023
Introducing the guide to Chanel bag prices as of November 2021. The prices below reflect the increases to the Chanel Classic Flap Bags effective November 03, 2021
Also, info below includes collections for Fall-Winter 2021 Act 2 Pre-Fall 2021 and Spring Act 2 and Pre-Spring 2021.
For information on prices in other countries see below:
Tracking changes to prices will serve as a record to track any foreseeable changes in the future for some of the popular styles.
This list is meant only as a guide and your personal experience may vary depending on your country and the particular retailer.
Please be aware that differences may occur depending on season stock, applicable taxes, and duties. For style information check out the Chanel Bag Reference Guide.
Best Buys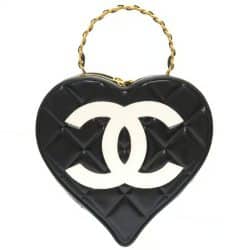 Chanel Heart Vanity
Chanel Patent Leather Handbag
---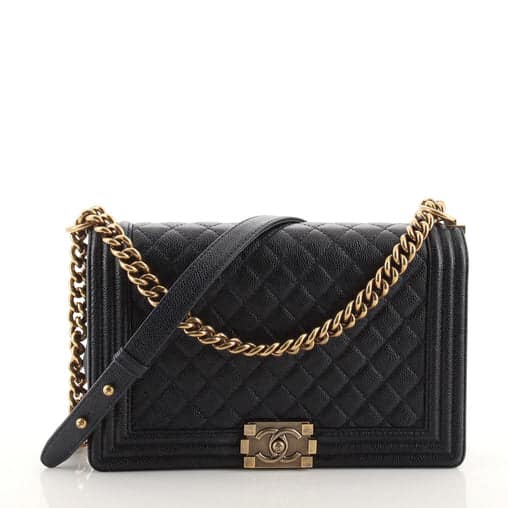 Boy Flap Bag Quilted Caviar Gold
Chanel Boy Bag Medium
---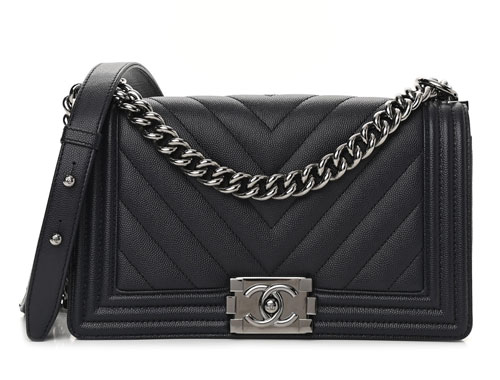 Caviar Chanel Boy Bag
Caviar Chevron Quilted Medium Boy Flap Black
---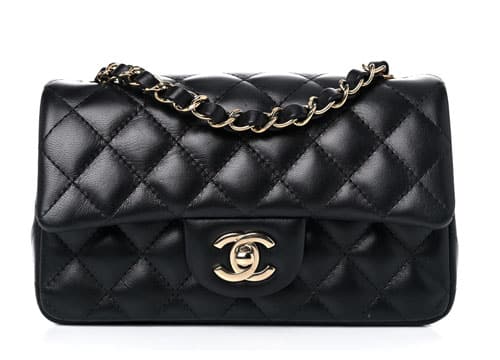 Classic Flap Bag
Lambskin Quilted Mini Rectangular Flap Black
---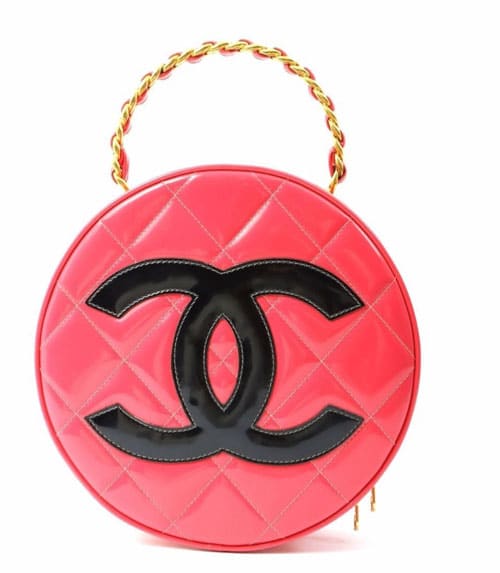 1995 Diamond Quilted Bag
1995 CC diamond-quilted vanity bag
---
Current Season Styles
Cruise 2022 Bag Collection
| | |
| --- | --- |
| Chanel Cruise 2022 Bag Collection | Current Price |
| Chanel Mini Tweed Flap Bag | $4,300.00 (USD) |
| Chanel Black Small Flap Bag Imitation Pearls | $5,200.00 (USD) |
| Chanel Black Small Flap Bag Embellished Glass Pearls | $7,000.00 (USD) |
| Chanel Light Pink Velvet Mini Flap Bag | $4,500.00 (USD) |
| Chanel Light Green Grained Calfskin Classic WOC | $2,950.00 (USD) |
| Chanel Black Crochet Vanity with Chain | $2,750.00 (USD) |
| *for all prices check the collection guide link | |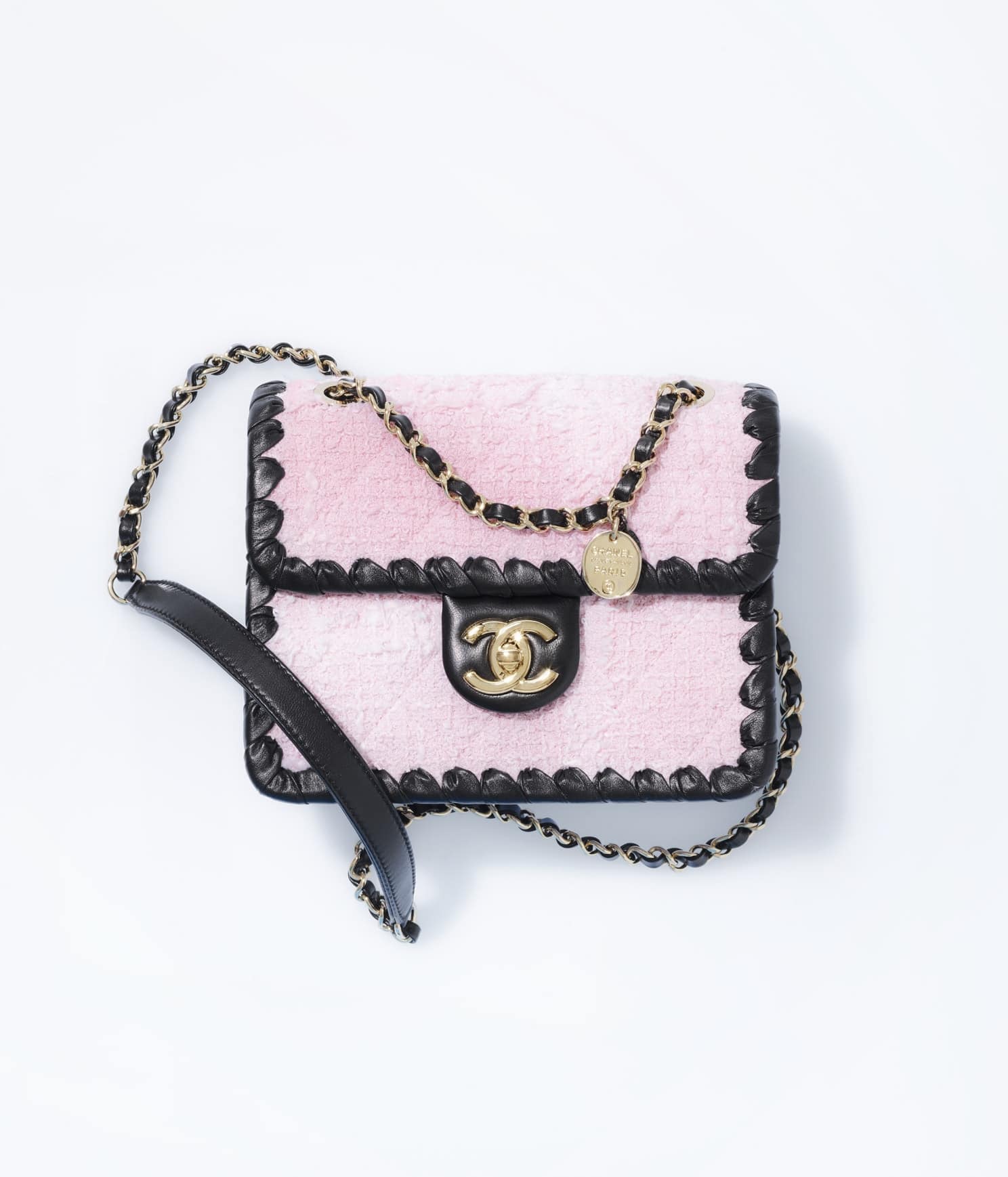 | | |
| --- | --- |
| Fall-Winter 2021 Act 2 Bag Collection | Current Price |
| Chanel Gold Metallic Mesh Mini Flap Bag | $10,400.00 (USD) |
| Chanel Printed Fabric Multicolor Flap Bag | $4,000.00 (USD) |
| Chanel Black Velvet Glass & Crystal Pearls Mini 2.55 Handbag | $10,500.00 (USD) |
| Chanel Black Lambskin Clutch With Chain | $2,800.00 (USD) |
| Chanel Faded Metallic Mesh Mini Bucket Bag | $11,000.00 (USD) |
| Chanel Plexi Mini Evening Bag | $10,500.00 (USD) |
| *for all prices check the collection guide link | |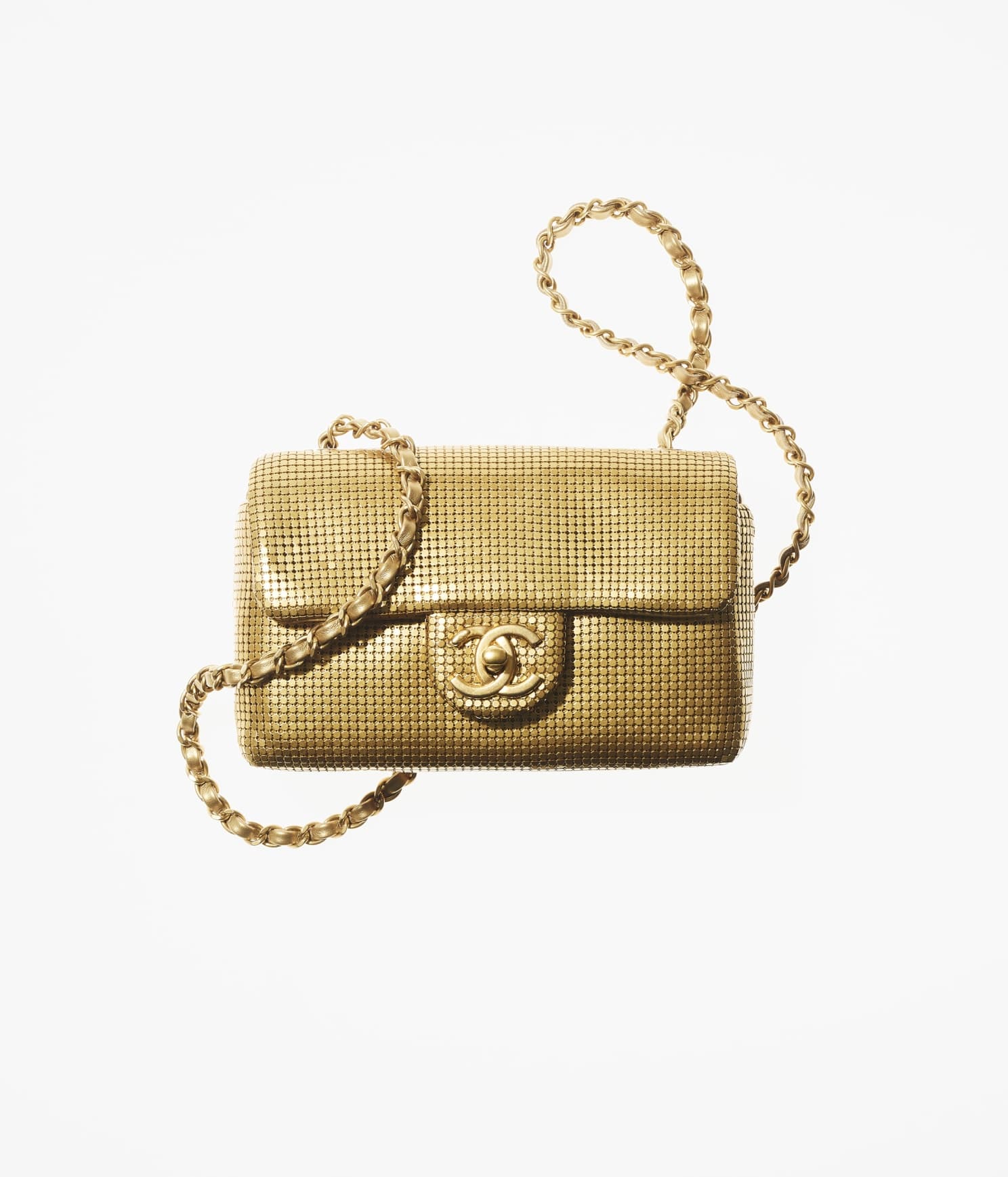 | | |
| --- | --- |
| Pre-Fall 2021 Bag Collection | Current Price |
| Chanel Velvet Camellia Bag | $3,800.00 (USD) |
| Chanel Shearling Checkered Drawstring Bag | $5,700.00 (USD) |
| Chanel Shearling Checkered Flap Bag | $5,000.00 (USD) |
| Chanel Pearl Drawstring Bag | $5,100.00 (USD) |
| Chanel Top Handle Coin Purse Flap with Chain | $1,825.00 (USD) |
| Chanel Hexagon Vanity Case | $4,800.00 (USD) |
| *for all prices check the collection guide link | |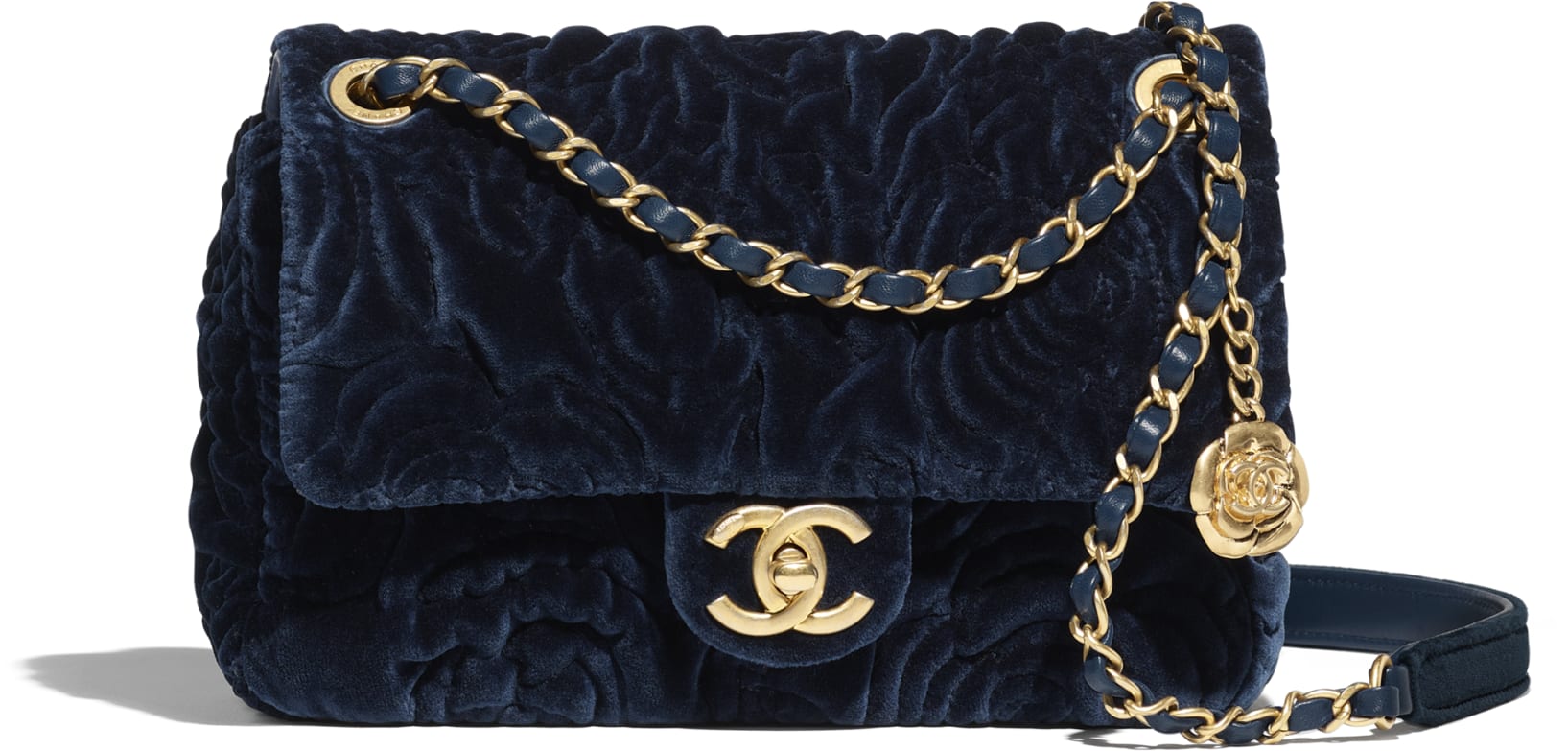 | | |
| --- | --- |
| Spring 2021 Act 2 Bag Collection | Current Price |
| Chanel Pearl Drawstring Bag | $3,300.00 (USD) |
| Chanel Mini Top Handle Caviar Flap Bag | $4,300.00 (USD) |
| Chanel Mini Messenger Bag | $4,100.00 (USD) |
| Chanel Strass Silver Sequins Bag | $9,100.00 (USD) |
| Chanel Trendy CC Silver Bag | $5,600.00 (USD) |
| Chanel Mini Flap with Braided Top Handle | $4,600.00 (USD) |
| *for all prices check the collection guide link | |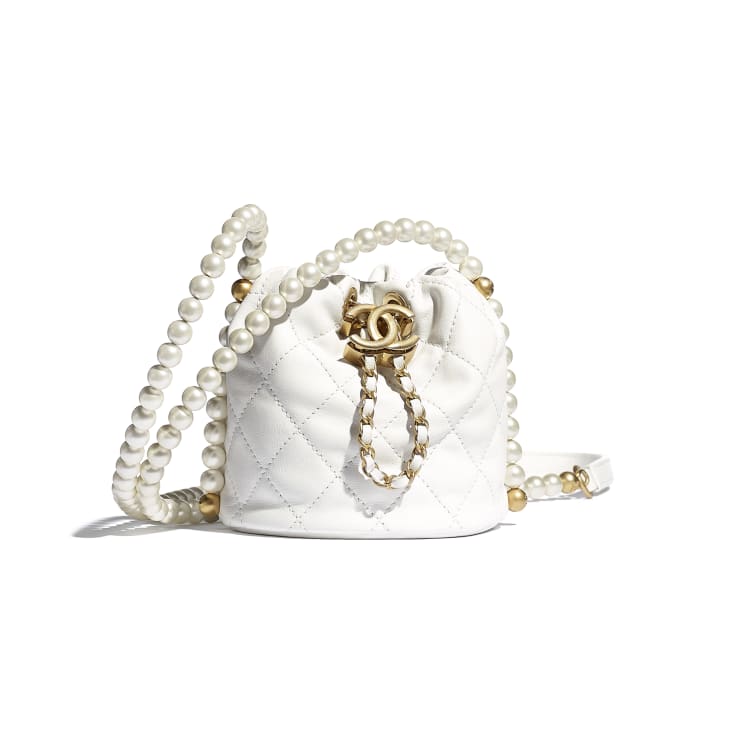 | | |
| --- | --- |
| Pre-Spring 2021 Bag Collection | Current Price |
| Chanel Raffia Deauville Tote Bag | $4,600.00 (USD) |
| Chanel 19 CC Printed Fabric Bag | $4,900.00 (USD) |
| Chanel Rainbow Metal Blue Flap Bag | $7,200.00 (USD) |
| Chanel Scarf Entwined Chain Yellow Flap Bag | $3,800.00 (USD) |
| Chanel Sequin with CC Logo Large Flap Bag | $5,700.00 (USD) |
| Chanel Red Drawstring Bag with Entwined Chain | $4,900.00 (USD) |
| Chanel See Through Flap Bag | $4,100.00 (USD) |
| Chanel Large Drawstring Tote with Chain Bag | $4,900.00 (USD) |
| *for all prices check the collection guide link | |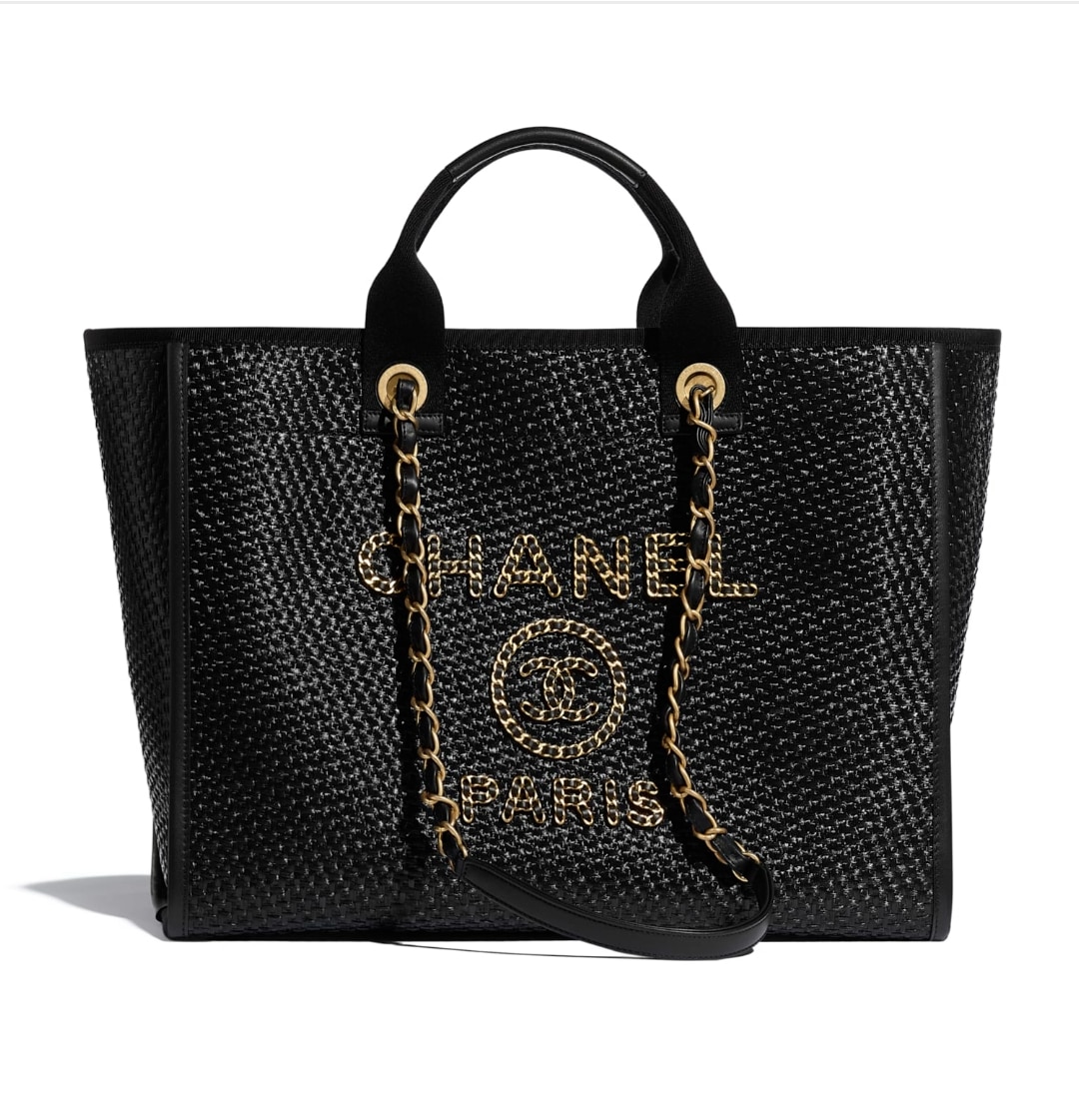 CLASSIC BAGS
Current Price (Nov03)
Previous Price (Jul01)
Chanel Classic Maxi Flap Bag
$10,000.00 (USD)
$9,200.00 (USD)
Chanel Classic Jumbo Flap Bag
$9,500.00 (USD)
$8,500.00 (USD)
Chanel Classic Medium Flap Bag
$8,800.00 (USD)
$7,800.00 (USD)
Chanel Classic Small Flap Bag
$8,200.00 (USD)
$7,100.00 (USD)
Chanel Classic Rectangular Mini Flap Bag
No Change
$4,400.00 (USD)
CLASSIC BAGS
Current Price (Nov03)
Previous Price (Jul01)
Chanel Reissue 227 Bag
$10,100.00 USD
$9,200.00 USD
Chanel Reissue 226 Bag
$9,500.00 USD
$8,500.00 USD
Chanel Reissue 225 Bag
$8,800.00 USD
$7,800.00 USD
Chanel Reissue 224 Bag
No Changes
$4,400.00 USD
BOY BAGS
Current Price (July01)
Previous Price (Jan21)
Chanel Old Medium Quilted Boy Flap Bag
$5,900.00 (USD)
$5,300.00 (USD)
Chanel Small Quilted Boy Flap Bag
$5,400.00 (USD)
$4,900.00 (USD)
Chanel New Medium Quilted Boy Flap Bag
$6,200.00 (USD)
$5,600.00 (USD)
GABRIELLE BAGS
Current Price (July01)
Previous Price(Jan21)
Chanel Large Gabrielle Hobo Bag
No Changes
$4,700.00 (USD)
Chanel Medium Gabrielle Hobo Bag
No Changes
$4,600.00 (USD)
Chanel Small Gabrielle Hobo Bag
No Changes
$4,400.00 (USD)
WALLET ON CHAIN
Current Price (July01)
Previous Price (Jan21)
Chanel Classic Quilted WOC
$2,950.00 (USD)
$2,650.00 (USD)
Chanel BOY WOC
$3,000.00 (USD)
$2,700.00 (USD)
Chanel 19 WOC
No Changes
$3,250.00 (USD)
Cruise 2021 Bag Collection
Current Price
Chanel Mixed Fibers Mini Flap Bag
$2,700.00 (USD)
Chanel Calfskin/Crochet Chanel 19 Flap Bag
$5,600.00 (USD)
Chanel Coco Charms Flap Bag
$4,700.00 (USD)
Chanel Lambskin and Crystal Vanity Case Bag
$5,100.00 (USD)
Chanel My Everything Flap Bag
$4,100.00 (USD)
Chanel Tweed/Lambskin Small Hobo Bag
$3,300.00 (USD)
Chanel Mixed Fibers Large Shopping Bag
$3,700.00 (USD)
Chanel Lambskin Evening Bag
$4,800.00 (USD)
*for all prices check the collection guide link
Fall/Winter 2020 Bag Collection
Current Price
Chanel Diamond Bag
$3,000.00 (USD)
Chanel Bag Romance Square Mini Flap Bag
$3,700.00 (USD)
Chanel Calfskin and Crystal Pearls Small Flap Bag
$4,200.00 (USD)
Chanel Shearling Lambskin and Strass Bucket Bag
$7,300.00 (USD)
Chanel Get Round Vanity Case Bag
$4,100.00 (USD)
Chanel Shearling Lambskin Mini Reissue 2.55 Bag
$3,700.00 (USD)
Chanel Velvet Chanel 19 Flap Bag
$4,400.00 (USD)
Chanel Mini Coco Handle Bag
$3,700.00 (USD)
*for all prices check the collection guide link