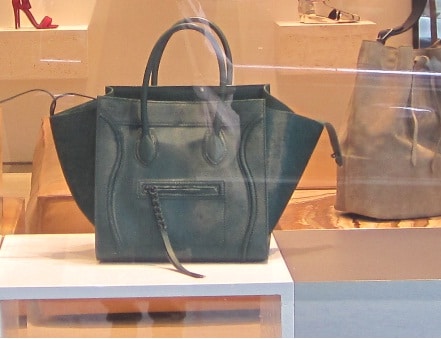 (Spotted @ Celine Store in NY - Celine Emerald Pony Hair Mini Phantom Bag)

I was in New York this weekend and visited Bergdorf Goodman on 5th avenue and the new Celine store on Madison Avenue to check out the latest colors --- IN PERSON! So much better selection than anywhere in Canada.. anyways the colors were amazing but something that really caught my eye was the "mini" Celine Phantom (not officially the name).

The size to be honest is VERY close to the micro.. at 10 inches per side. Dont quote me on this because it seemed that way in the store because I know the Mini is 12 inches. This "mini" phantom seemed a lot smaller.

Measurements on Bonanza for a similar "new" version of the Celine Mini Phantom for sale gave these measurements: 9.5"W x 11"H x 9.0"D ; 6.0" strap drop. Actually they should probably call this a "micro" phantom??