Fendi has started the trend for thick shoulder strap on their iconic handbags. Although these straps can be bought separately, more and more designer brands have released new designs which includes trendy thick straps. These includes Louis Vuitton, Dior, Gucci, Saint Laurent, Givenchy and Valentino.

Louis Vuitton's newest offering from their Spring/Summer 2017 Collection is the Tuileries Bag. Made of coated Monogram Canvas and colorful cowhide leather trim. The Tuileries is available in three styles, Hobo, Top Handle and Besace. The Top Handle and Besace includes a thick colored shoulder strap. The Top Handle is priced at $2,490 (USD), while the Besace is at $2,080 (USD).
2. Louis Vuitton Monogram Canvas Cluny Bag

Another bag from Louis Vuitton with a thick strap is the Cluny Bag in Monogram Canvas. Although the Cluny also comes in Epi, it has a thinner strap. The Monogram Canvas Cluny has recently been released and it includes a removable strap in bold colors. Available in two sizes, Cluny MM retails for $2,010 (USD) and Cluny BB is at $1,870 (USD).
3. Prada Plex Ribbon Bag

Prada's latest It bag is the Plex Ribbon Bag. In the recently concluded fashion week, many attendees were seen carrying this chic bag. It features a flap front with a geometric plexiglass closure. It can be used as a clutch, shoulder bag or cross body bag. Priced at $2,280 (USD).
4. Gucci Nymphaea and Dionysus Top Handle Bags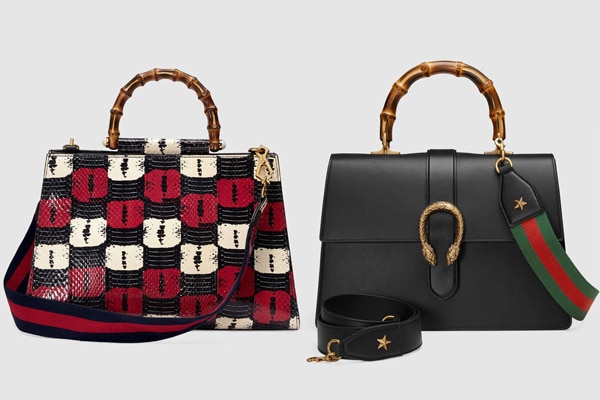 Two of the hottest Gucci Top Handle Bags are the Nymphaea and Dionysus. Both bags includes a removable Web nylon shoulder strap. While the Dionysus also comes with an adjustable leather strap. Prices vary depending on style. The snakeskin Nymphaea Top Handle retails for $4,700 (USD), while the large Dionysus Top Handle in leather is priced at $3,300 (USD).
5. Valentino Rolling Rockstud Bags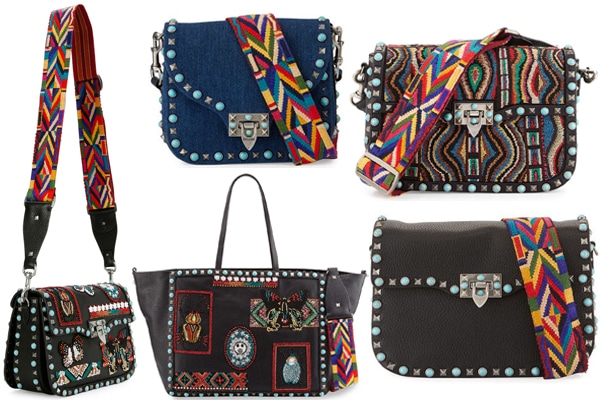 Most Rolling Rockstud bags from Valentino's Resort and Spring 2017 Collections were presented with a removable and adjustable guitar-style shoulder strap. It features colorful geometric woven pattern. The Beaded-Patch Shoulder Bag is at $4,945 (USD), Small Crossbody Bag is at $2,475 (USD), Beaded Shoulder Bag is $5,245 (USD), Beaded-Patch Tote is $4,595 (USD) and Leather Shoulder Bag is at $3,495 (USD).
[shop brand="20" title="guitar" rows="1" ]
6. Saint Laurent Monogram Downtown Cabas Bag

The Saint Laurent Monogram Downtown Cabas Bags for the brand's Spring/Summer 2017 Collection includes a wide removable strap. The strap is made of suede and leather, similar to the bag's materials. It comes in a variety of colors and priced $2,490 (USD) for the Small size.
[shop brand="23" title="downtown" rows="1" ]
7. Givenchy Logo Printed Strap Bags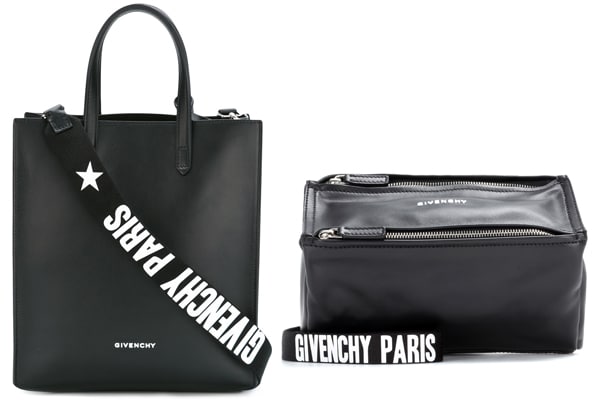 Another new design from Givenchy's Spring/Summer 2017 Collection is the logo printed strap bags. The bags comes in black color which has a canvas strap bag. The strap has a Givenchy Paris printed on it in white. This style is available in the Stargate tote bag and Pandora bags. The Stargate Tote is priced at $1,290 (USD), while the Mini Pandora is at $1,250 (USD).
8. Dior Spring/Summer 2017 Bags

The Dior Spring/Summer 2017 Collection features a variety of handbags with thick leather shoulder straps. This style also continues for their latest Fall/Winter 2017 Runway Collection. The brand's newest bags under Maria Grazia Chiuri comes in a more casual and trendy pieces. The wide straps are available in their classic Lady Dior bags and the latest Dior Flap and D-Fence Saddle Bags.