For Cruise 2015, Louis Vuitton, Dior and Saint Laurent have released a new set of chained wallet bags. Louis Vuitton has the Tribal Mask Chain Wallet, Dior releases the newest design for the Miss Dior Pouch and Saint Laurent has the Monogram Chain Wallet.  These chained wallets are perfect since they can hold your essentials like a smartphone, credit cards and lipstick if you're on the run, and can be easily worn in the evening as clutch when the chain is removed.  This option is great for those that already own the classic Chanel WOC flap since the new designs are more unique in their styling.
Check-out the comparison of these upcoming chain wallets below: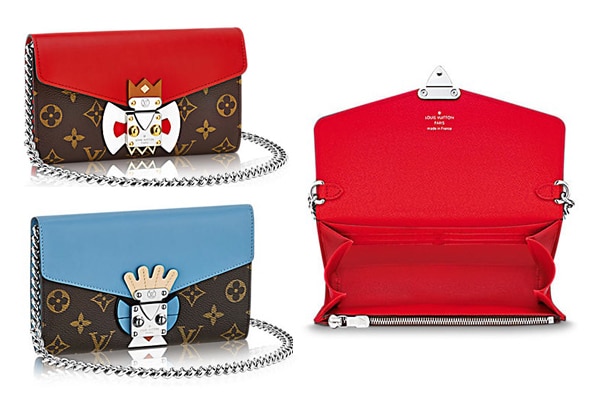 The Louis Vuitton Tribal Mask Chain features the tribal mask in the wallet's closure. It has a long silver metallic chain. This chain wallet is made of the iconic Monogram Canvas and calf leather which comes in red or bleuet. The interior is made of grained calf leather which has 16 credit card slots, a zipped coin pocket, a compartment for banknotes, tickets and cellphone, and a flat pocket.
It measures at 7.5" x 4.7" x 1.6" and retails for $1,910.00 (USD).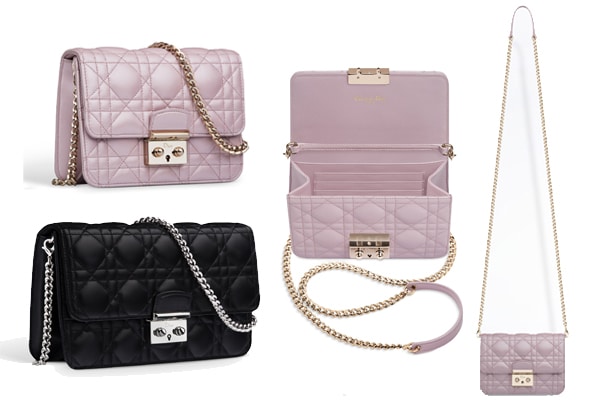 A new style for the Miss Dior Pouch Bag featuring the iconic Cannage pattern. It comes in Mini and Large size. Both sizes have interior and exterior flat pockets. The Mini has three credit card slots, while the Large one has seven credit card slots and a zip pocket. The bag's chain is also detachable, allowing it to be used as a clutch, shoulder bag and cross-body bag.
The Mini Pouch measures at 6.3" x 4.3" x 1.9" and retails for €1,350.00.
The Large Pouch is measured at 7.5" x 4.7" x 1.6", and priced at $2,050.00 (USD).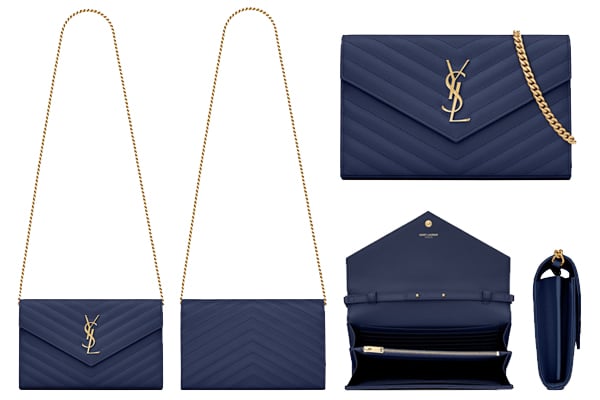 Saint Laurent Monogram Chain Wallet
The Saint Laurent Monogram Chain Wallet comes in two styles, the envelope style matelasse leather and the regular calfskin flap. It has a snap front closure with a removable metal chain.  It will be available in multiple colors including metallic pink, metallic silver, black, red and beige. The wallet features iconic interlocking YSL logo. It has 20 card slots, 1 coint pocket, 2 bill and 2 receipt compartments.
Measuring at 5.5" x 8.9" x 1.6", it retails for $1,490.00 (USD).
Conclusion:
It's really hard to choose on these three chain wallets. However, the Saint Laurent Monogram chain is available in multiple colors and at a much lower price point at $1,490.00 (USD).  The Matelasse Chevron exterior is also more eye catching than the traditional monogram canvas or the cannage pattern. This purse is currently available at Mytheresa and Saint Laurent in time for the Holidays!

Source: Louis Vuitton, Dior, Saint Laurent