Chloe has been on a roll lately! Their latest handbags have been getting a lot of praises. Two of the brand's hottest handbags are the Faye and Drew bags. Fashionistas and famous bloggers have been spotted with these two beautiful bags. Both bag presents a 70s vibe and features a jewelry-inspired accent on its closure. For this version of bag versus, let's check out the difference between these two.
Faye Bag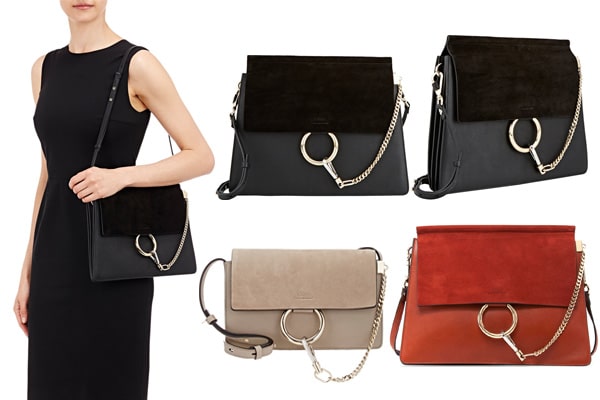 The Chloe Faye Bag was introduced for the brand's Spring/Summer 2015 Collection. It is a flap bag that features a ring buckle with a metal chain attached to it. The bag has a suede interior and has two compartments. It has an adjustable and detachable shoulder strap, allowing it to be carried as a clutch too. The Faye Bag comes in various styles like Python, Croc-effect, Patent, Patchwork Leather but the most common is Calfskin/Suede. Available in two sizes, Small and Medium.
| Style | Price | Size |
| --- | --- | --- |
| Chloe Calfskin/Suede Faye Medium Bag | $1,950.00 (USD) | 10" L x 12.5" W x 3" D |
| Chloe Calfskin/Suede Faye Small Bag | $1,390.00 (USD) | 6.3" L x 9.5" W x 3" D |
Drew Bag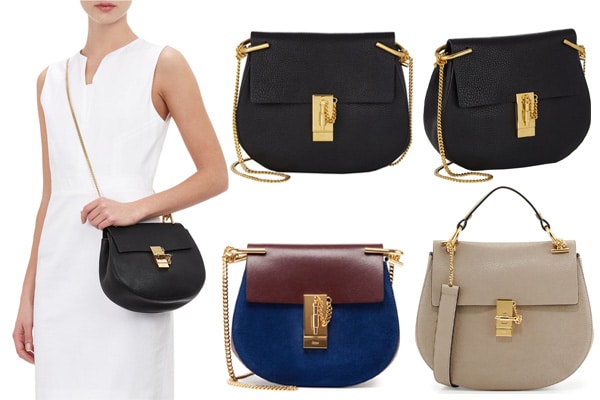 The Chloe Drew Bag was first introduced for the brand's Pre-Fall 2014 Collection. The Drew Bag has a rounded shape and features a chain strap and a turnlock flap closure with a pin accent. It also has a suede interior with a flap pocket. The bag's long strap can be worn on the shoulder or across the body. It is offered in different kinds of materials like Embellished, Python, Ayers, Perforated, Suede, Calfskin and Mirror Leather. The most common Drew Bag is the Calfskin one. Available in five sizes, Nano, Mini, Small, Medium and Large. The Large size features a leather handle and strap.
| Style | Price | Size |
| --- | --- | --- |
| Chloe Drew Large Bag | $2,050.00 (USD) | 10.25" H x 11.75" W x 3.5" D |
| Chloe Drew Medium Bag | $1,950.00 (USD) | 8.25" H x 9" W x 2.75" D |
| Chloe Drew Small Bag | $1,850.00 (USD) | 7.75" H x 9" W x 3" D |
| Chloe Drew Mini Bag | $1,650.00 (USD) | 7" H x 7.75" W x 2.75" D |
| Chloe Drew Nano Bag | $1,275.00 (USD) | 5.1" H x 6" W x 2.6" D |
Conclusion
Both bags are beautiful, but the Chloe Drew Bag stands out more. It's unique saddle silhouette and chain strap, brings in elegance and style. You can take this bag from day to night. The Drew Bag are offered in various designs, giving you more options to choose from.
https://instagram.com/p/4CQm4kHj6Q/