Updated as of June 2014
Introducing the YSL Muse Two Bag, the original Muse's doppelganger. This bag was launched back in Spring/Summer 2008. It comes in three different sizes, Small, Medium and Large. It has satchel straps and central metal closure on the front flap. The Small and Medium sizes comes with removable long shoulder strap, while the Large size has a top long handle perfect for shoulder wear. It also has metal feet to protect the base of the bag.
The Muse Two bag is discountined; however, is available at Spotted Mall at various trusted luxury resale stores.
Kate Moss was featured in the first campaign for the Muse Two back in 2008.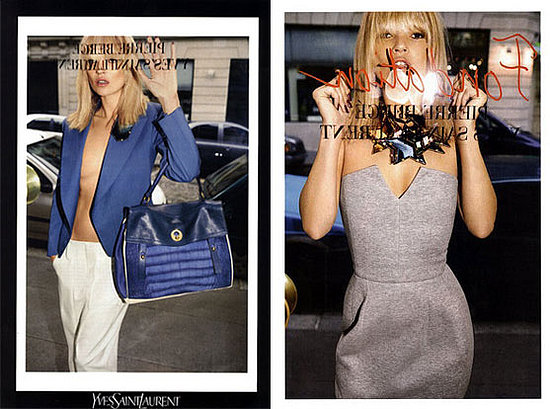 Style, Price & Size
| Style | Price | Size |
| --- | --- | --- |
| YSL Muse Two Textured Leather Small Bag | $1,450.00 (USD) | 10.5" x 7" x 5" |
| YSL Muse Two Leopard Printed Small Bag | $1,990.00 (USD) | 10.5" x 7" x 5" |
| YSL Muse Two Medium Bag | $1,380.00 (USD) | 13" x 9.5" x 5.5" |
| YSL Muse Two – Two Tone Medium Bag | $1,575.00 (USD) | 13" x 9.5" x 5.5" |
| YSL Muse Two – Multicolor / Lizard Bag | $1,990.00 (USD) | 13" x 9.5" x 5.5" |
| YSL Muse Two Medium Grey Leather Medium Bag | $2,495.00 (USD) | 13" x 9.5" x 5.5" |
| YSL Muse Two Large Bag | $1,495.00 (USD) | 15" x 11" x 6.5" |
| YSL Muse Two Leopard Printed Large Bag | $2,995.00 (USD) | 15" x 11" x 6.5" |
| | | |
Gallery