In December, Olivia Palermo went without her usual Birkin but was sporting on a few occasions the elusive Givenchy Croc Antigona bag. The size she is carrying appears to be the Medium as this style has only been spotted in two sizes, this being the larger.

Upon closer inspection it appears she may not be carrying the croc-embossed version but it could possibly be the actual "croc" version that is expected for release in the spring (see below). Otherwise, the new version that Givenchy will release is not going to be as "shiny".... unless it's a result of differences in photography.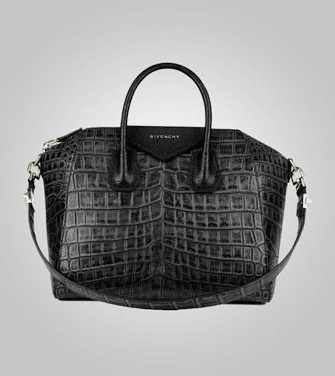 (From the Spring 2013 collection)

Previous to this there has been the patent croc-embossed version, which Chiara owns from The Blonde Salad (see also below). There were also versions made in washed leather stamped croc bag that has a dustier look and appeared in the nightingale and pandora styles as well (see here).  Check-out the Givenchy Antigona Bag Reference Guide for more information.


Gallery