We hope you love the products we recommend! Just so you know, when you buy through links on our site, we may earn an affiliate commission. This adds no cost to our readers, for more information read our earnings disclosure.
Louis Vuitton releases a number of new styles for January 2021 including new Bicolor Empreinte leather in Geant Monogram and a new PM size for the OntheGo tote. The Bicolor Empreinte print will be available in Dove Grey with Cream, Light Beige with Dove Grey and Black with Beige. Certain colorways are only available in specific styles, currently Light Beige with Dove Grey print is only available in small leather goods pieces and the new OntheGo PM size.
The  new size OntheGo in PM size, which will make the third size in the line up. Currently the line-up includes a GM and MM size, the new PM size is much smaller and almost closer to a BB size. It measures larger than the Celine Nano at 10″ across. Check out this comparison from @LVaddicted_24_7 of the MM versus the PM size.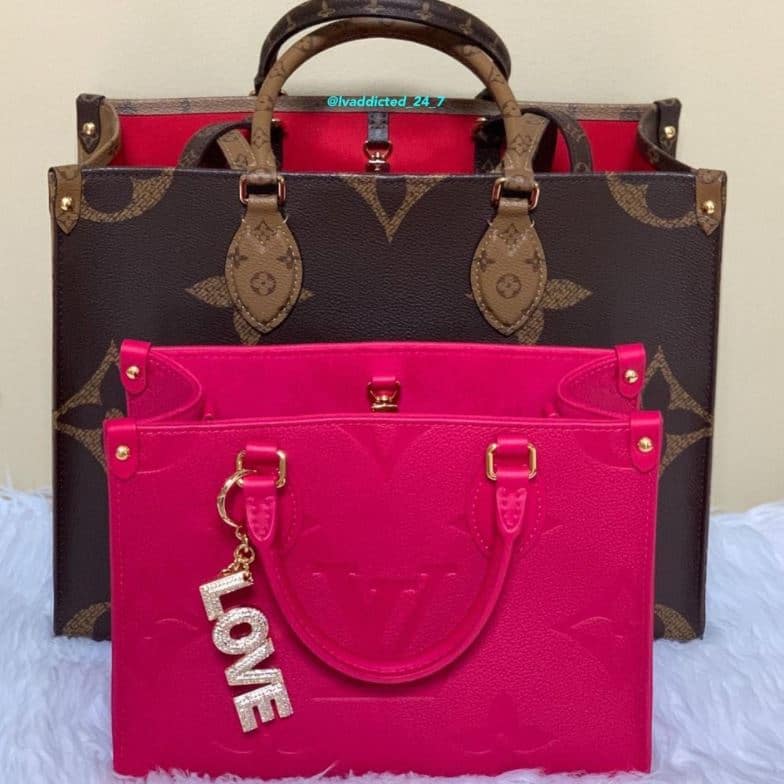 Size Comparison OntheGo Tote
| | |
| --- | --- |
| Style | Dimensions |
| Louis Vuitton OntheGo PM bag | 9.8″ x 7.5″ x 4.5″ |
| Louis Vuitton OntheGo MM Bag | 13.8″ x 10.6″ x 5.5″ |
| Louis Vuitton OntheGo GM Bag | 16.1″ x 13.4″ x 7.5″ |
Style and Price
| | |
| --- | --- |
| Louis Vuitton Vanity Black PM Bag | $2,970 USD |
| Louis Vuitton Vanity Dove Grey PM Empreinte Bag | $2,930 USD |
| Louis Vuitton Bicolor Empreinte MM Bag | $3,500 USD |
| Louis Vuitton Bicolor Empreinte PM Bag | $3,200 USD |
| Loius Vuitton Empreinte MM Bag | $3,150 USD |
| Louis Vuitton Empreinte PM Bag | $2,940 USD |
| Louis Vuitton Bicolor Empreinte Pochette Metis | $2,690 USD |
| Louis Vuitton Bicolor Empreinte Double Zip Pochette | $1,520 USD |