Introducing the Louis Vuitton Dauphine Bag. The Dauphine was originally introduced in the 70s, and Nicolas Ghesquière has updated it for the Cruise 2019 Collection. The bag also returns in the latest Spring/Summer 2019 Collection in new materials and sizes.
The bag features a flap front with the Louis Vuitton metal logo. It comes with a removable leather and chain strap, and has a magnetized lock. Aside from the flap bag, it is also available in belt bag, which can also be used as a pouch once the strap is removed.
Check out the difference between the old and new Dauphine.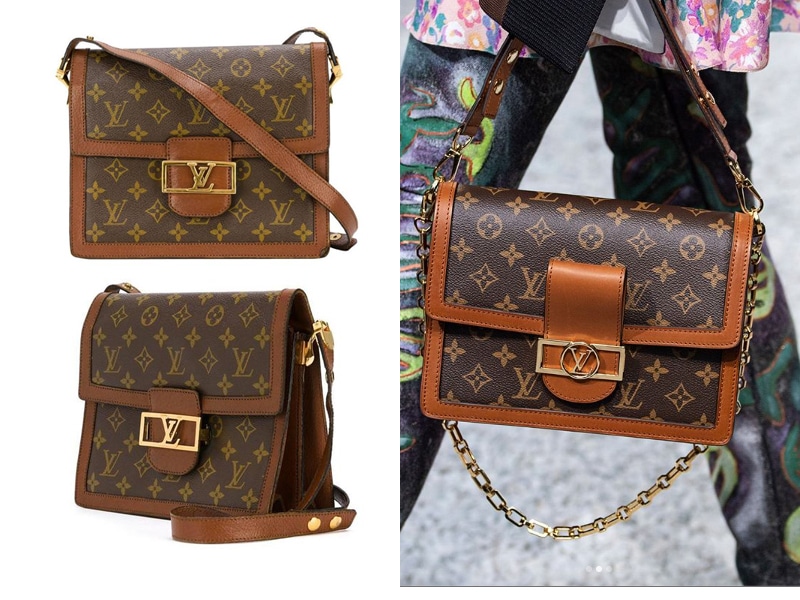 Photos from 1stdibs and Louis Vuitton
Gallery
| Style | US Price | Euro Price | Size |
| --- | --- | --- | --- |
| Louis Vuitton Taurillon Dauphine MM Bag | TBD | €2,580.00 | 9.8" L x 6.7" H x 4.1" W |
| Louis Vuitton Monogram/Monogram Canvas Dauphine MM Bag | $2,870.00 (USD) | €2,180.00 | |
| Louis Vuitton Monogram/Monogram Canvas Dauphine Belt Bag | TBD | €1,780.00 | 7.5" L x 4.7" H x 1.9" W |
| Style | US Price | Euro Price | Size |
| --- | --- | --- | --- |
| Louis Vuitton Taurillon Dauphine Mini Bag | TBD | €2,380.00 | 7.87" L x 5.91" H x 3.54" W |
| Louis Vuitton Monogram/Monogram Canvas Dauphine Mini Bag | $2,610.00 (USD) | €1,980.00 | |
| Louis Vuitton Tweed Dauphine Mini Bag | TBD | €6,500.00 | |