Updated as of July 2021
Featuring the Goyard Saint Louis Tote Bag. The Saint Louis Tote Bag is one of the most popular bags from Goyard.
The bag is made out of canvas which is made of cotton, linen, and hemp, and has been created in the image of a treasure chest.
The bag includes a detachable pochette.
The coated canvas is handmade in France and the signature chevron print is a three-dimensional pattern that is hand painted. The Saint Louis is a lightweight bag and reversible.
Available in three sizes, PM, GM, and XXL. there used to be a Junior size but it has already been discontinued.
The PM size is recommended for daily use, while the GM is mostly used for traveling or as a beach bag.
The XXL was recently introduced in 2018 and comes with extra large and wide handles.
The Saint Louis comes in a variety of colors.
It can be personalized by having names, initials, numbers, or stripes hand painted on the bag.
** In 2014, Goyard reclassified the Red color to special color.
Classic Colors are now black and black with trim, all other colors including red are considered Special colors.
Where to Buy the Saint Louis
Introduced: 1930s
Sizes: Junior (discontinued), PM, GM, XXL
Retailers: Fashionphile, Farfetch, Rebag
Unique Buys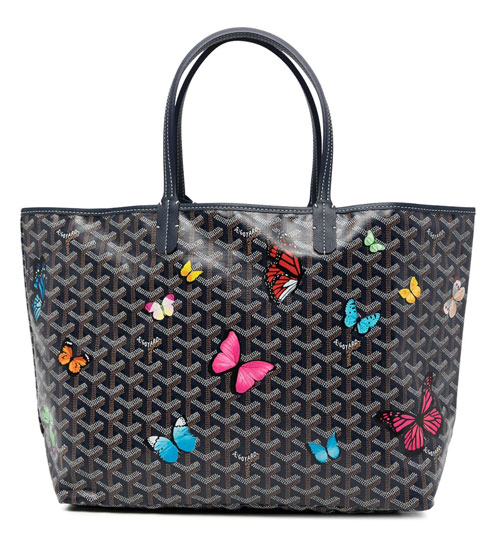 Goyard Butterfly Print
pre-owned St Louis PM tote bag
---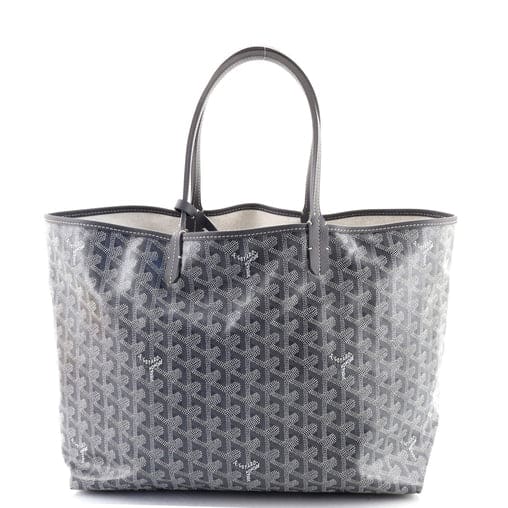 Goyard Canvas Grey
pre-owned investment PM bag
---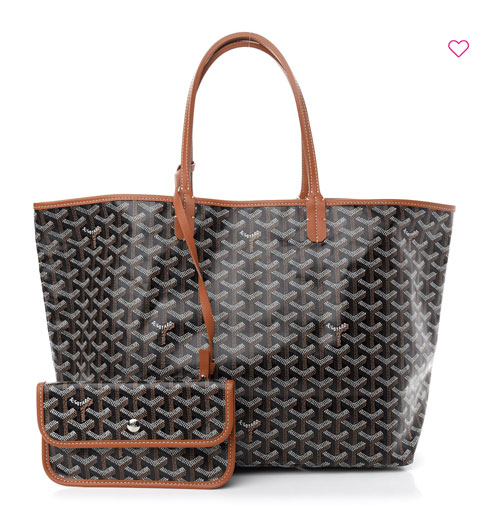 Traditional Goyard Chevron in black, white, and brown
Goyardine Saint Louis PM Black and Gold
---
---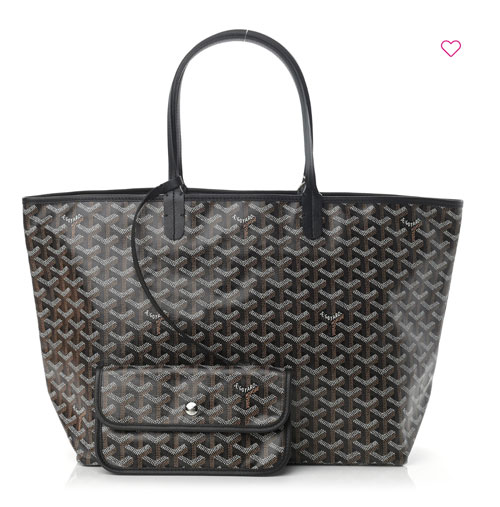 Goyard Classic Black
Goyardine Saint Louis PM Black Monogrammed
US Price
| Style | Current Price | Previous Price | Size |
| --- | --- | --- | --- |
| Goyard Saint Louis PM Bag - Classic Colors | $1,225.00 (USD) | $1,200.00 (USD) | 11" W x 19" H x 6" D |
| Goyard Saint Louis PM Bag - Special Colors | $1,595.00 (USD) | $1,560.00 (USD) | |
| Goyard Saint Louis GM Bag - Classic Colors | $1,425.00 (USD) | $1,375.00 (USD) | 13" W x 23" H x 7" D |
| Goyard Saint Louis GM Bag - Special Colors | $1,855.00 (USD) | $1,795.00 (USD) | |
| Goyard Saint Louis XXL Bag - Classic Colors | $1,780.00 (USD) | N/A | 24" W x 16.5" H |
| Goyard Saint Louis XXL Bag - Special Colors | $2,310.00 (USD) | N/A | |
Euro Price
| Style | Current Price | Previous Price |
| --- | --- | --- |
| Goyard Saint Louis PM Bag – Classic Colors | €835.00 | €800.00 |
| Goyard Saint Louis PM Bag - Special Colors | €1,085.00 | €1,065.00 |
| Goyard Saint Louis GM Bag - Classic Colors | €970.00 | €940.00 |
| Goyard Saint Louis GM Bag - Special Colors | €1,260.00 | €1,220.00 |
| Goyard Saint Louis XXL Bag - Classic Colors | €1,160.00 | N/A |
UK Price
| Style | Current Price | Previous Price |
| --- | --- | --- |
| Goyard Saint Louis PM Bag - Classic Colors | £785.00 | £780.00 |
| Goyard Saint Louis PM Bag - Special Colors | £1,050.00 | £875.00 |
| Goyard Saint Louis GM Bag - Classic Colors | £905.00 | £875.00 |
| Goyard Saint Louis GM Bag - Special Colors | £1,140.00 | £980.00 |
Singapore Price
| Style | Current Price | Previous Price |
| --- | --- | --- |
| Goyard Saint Louis PM Bag - Classic Colors | S$1,640.00 | S$1,610.00 |
| Goyard Saint Louis PM Bag - Special Colors | S$2,130.00 | S$2,040.00 |
| Goyard Saint Louis GM Bag - Classic Colors | S$1,910.00 | S$1,840.00 |
| Goyard Saint Louis GM Bag - Special Colors | S$2,480.00 | S$2,400.00 |
| Goyard Saint Louis XXL Bag - Classic Colors | S$2,280.00 | N/A |
| Goyard Saint Louis XXL Bag - Special Colors | S$2,960.00 | N/A |
Gallery

Photos from StockX
Style Inspiration