Updated as of July 2021
Presenting the Chanel Coco Handle Bag. The Coco Handle features a flap front with a single top handle and interlaced chain/leather shoulder strap. It has a trapezoid shaper with the interlocking CC closure and ruthenium hardware. This bag returns for Chanel Spring 2021 Collection Act 2 with Trendy CC Handle and Crumpled Lambskin. It can be carried by hand, on the shoulder or across the body. The interior is made of cloth, and it includes a flat pocket at the back of the bag. It comes in four sizes, Mini, Small, Medium and Large.
Check out the comparison between the Mini, Small and Medium sizes.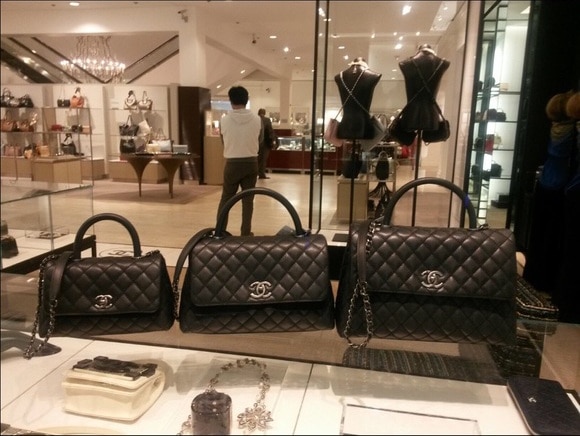 Style, Price & Size
Style

Current Price

Old Price

Size

Chanel Mini Coco Handle Bag
$4,200.00 USD
$3,300.00 USD
9.4" x 5.5" x 3.9"
Chanel Small Coco Handle Bag
$4,400.00 USD
$3,700.00 USD
9.8" x 6.7" x 4.7"
Chanel Silver Trendy CC Bag
$5,600.00 USD
n/a
Chanel Crumpled Lambskin Top Handle Bag
$4,600.00 USD
n/a
13" x 8.7" x 4.7"
Chanel Large Coco Handle Bag
$4,500.00 (USD)
$4,000.00 (USD)
13" x 9.8" x 4.3"
Gallery