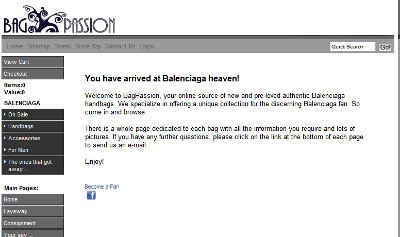 Bag Passion (http://www.bagpassion.com)


Rating & review: B; The store carries mostly Balenciaga; however styles are restricted to mainly regular hardware and not the silver giant hardware styles. I would recommend realdealcollection.com if you're looking to buy your second or third Balenciaga. The good part is they're based out of Ontario so shipping won't be terrible if your'e Canadian… prices are steep for shipment outside of Canada (see below).
Brands the store carries: Balenciaga
Types of items carried: Handbags and small accessories
International Shipping: Yes / Will charge $35 to Canada, $55 to USA and rest of the world is $105.
Layaway available: Yes / 60 and 90 day layaway terms are available with a requirement of 25%-40% installments
Accepted payment methods: Paypal, Major Credit Cards, Money Order's available for Canadian Orders.