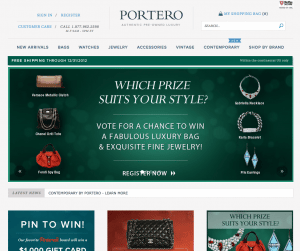 Portero Luxury (http://www.portero.com)


Rating & review: A; They have over 300 items that are less than $1,000 ranging from Prada, Fendi, Tod's, Christian Dior and Gucci. In total their inventory is immense with 900 handbags in stock alone.
Check-out their best value section for good deals to be had! They also have a service which lets them find a bag for you if you can't find it in their store — great for those that are looking for a specific style bag but don't trust any other sources.
Online consignment is available; however, no terms are stipulated. Check-out their current list of items they are accepting first before considering them to consign your goods.
Brands the store carries: Every designer brand one can think of.. you name it they have it.
Types of items carried: Handbags, Watches, Jewelry, Shoes, Accessories and Vintage goods
International Shipping: Yes / UPS Worldwide Expedited. Payment options are AMEX and Bank transfer.
Layaway available: No
Accepted payment methods: Every major credit card and bank wire transfer