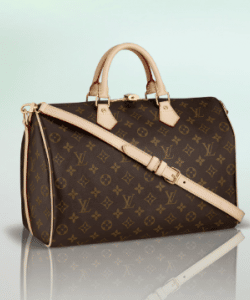 Prices Updated April 2013

Information on the Louis Vuitton Speedy 'Bandouliere' with a Strap, including prices, sizes and style names. The Speedy bag received a makeover back in 2011 getting a "face lift" and renamed the "Louis Vuitton Speedy Bandouliere", or really the Monogram Canvas Speedy with a strap. This bag is now part of the existing product line and will likely stay for many seasons to come.  This style is available in monogram canvas, damier ebene and damier azur.
Check out the Mon Monogram guide to customize your speedy bag.
Bandouliere Speedy Bags
| | | | |
| --- | --- | --- | --- |
| Style | 2013 | 2012 | Size |
| Louis Vuitton Speedy Bandouliere 25 | $1,250.00 (USD) | $1,110.00 (USD) | 10" x 8" x 6" |
| Louis Vuitton Speedy Bandouliere 30 | $1,270.00 (USD) | $1,135.00 (USD) | 12″ x 8″ x 7″ |
| Louis Vuitton Speedy Bandouliere 35 | $1,290.00 (USD) | $1,160.00 (USD) | 14" x 9" x 7" |
| Louis Vuitton Speedy Bandouliere 40 | $1,310.00 (USD) | $1,185.00 (USD) | 16" x 10" x 8" |
Gallery