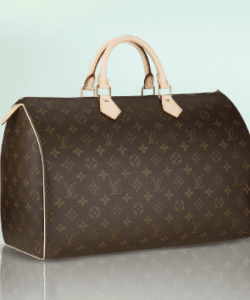 Prices Updated April 2013
Introducing the Louis Vuitton Speedy Bag Reference guide with information on the prices, sizes and existing offerings for this classic style. The Speedy is one of the most recognizable bags by the brand, and has been made in a variety of limited editions series including:  Murakami, Stephen Sprouse Roses and Camouflage.  The Classic Monogram Canvas was given a makeover and is now available with a strap named the Bandouliere, pricing varies slightly but the size and design is largely the same.
Check out the Mon Monogram post on how to personalize your Louis Vuitton bag.
Classic Speedy Bags
| | | | |
| --- | --- | --- | --- |
| Style | 2013 | 2012 | Size |
| Louis Vuitton Speedy 25 | $855.00 (USD) | $765.00 (USD) | 9.84 x 7.48 x 5.91 |
| Louis Vuitton Speedy 30 | $875.00 (USD) | $790.00 (USD) | 11.8" x 8.3" 6.7" |
| Louis Vuitton Speedy 35 | $895.00 (USD) | $815.00 (USD) | 13.8" x 9.0" x 7.0" |
| Louis Vuitton Speedy 40 | $915.00 (USD) | $840.00 (USD) | 15.8" x 9.8" x 7.5" |
*Note pricing is only for Monogram Canvas, Damier Ebene, Damier Canvas, Idylle and Epi are slightly more